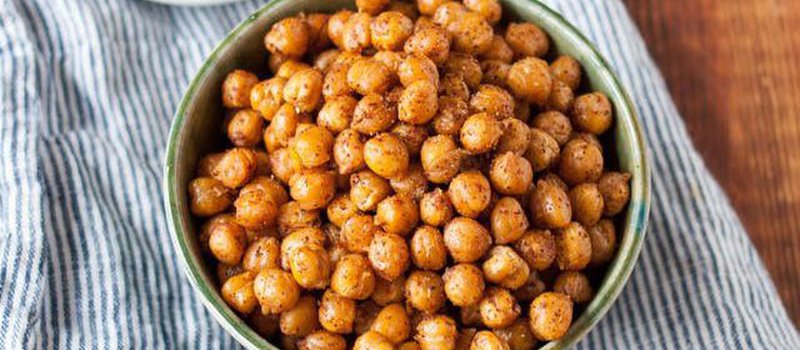 Crispy Roasted Chickpeas
Prep
Cook
Ready in
Servings
5 min
30 min
35 min

2
Scheduled for:
Snack on Saturday
Leftovers:
Snack on Sunday
Ingredients for 2
| | |
| --- | --- |
| 1/3 cup | Chickpeas, canned, drained (rinsed and dried well) |
| 3/4 tbsp | Extra virgin olive oil |
| 1/3 dash | Salt and pepper (to taste) |
Instructions
Heat the oven to 400°F: Place an oven rack in the middle of the oven.
Rinse and drain the chickpeas: Open the cans of chickpeas and pour the chickpeas into a strainer in the sink. Rinse thoroughly under running water.
Dry the chickpeas: Pat the chickpeas very dry with a clean dishtowel or paper towels. They should look matte and feel dry to the touch; if you have time, leave them to air-dry for a few minutes. Remove any chickpea skins that come off while drying, but otherwise don't worry about them.
Toss the chickpeas with olive oil + salt and pepper: Spread the chickpeas out in an even layer on the baking sheet. Drizzle with olive oil and sprinkle with salt and pepper. Stir with your hands or a spatula to make sure the chickpeas are evenly coated.
Roast the chickpeas in the oven for 20 to 30 minutes: Stir the chickpeas or shake the pan every 10 minutes. A few chickpeas may pop – that's normal. The chickpeas are done when golden and slightly darkened, dry and crispy on the outside, and soft in the middle.
Toss the chickpeas with the spices: Sprinkle any desired spices over the chickpeas and stir to coat evenly. Serve while the chickpeas are still warm and crispy. They will gradually lose their crispiness as they cool, becoming addictively chewy.
Advanced Preparation
1 - 3 days prior [optional], Chickpeas, canned, drained 1/3 cup
Instructions:
Place the chickpeas in a bowl and cover with plenty of water. Let soak for at least 8 hours, or overnight. Drain and rinse well. Place in a large pot, cover with water, bring to a boil and reduce to simmer with the lid on for about 50 minutes. Drain and store in a glass Tupperware in the fridge.
Nutrition Facts
Per Portion
Calories from saturated fat
7.5
Polyunsaturated Fat
0.9 g
Monounsaturated Fat
4.2 g
Dietary servings
Per Portion
| | |
| --- | --- |
| Meat Alternative | 0.2 |
| Vegetables | 0.3 |
Energy sources
About
Contact Us
Meal Garden, 326 1/2 Bloor Street West, Unit 4, Toronto, Ontario, M5S 1W5, Canada