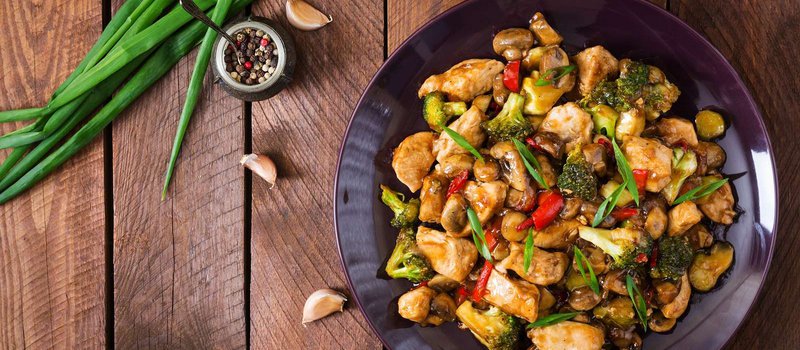 Simple Chicken Stir Fry
Prep
Cook
Ready in
Servings
10 min
25 min
35 min

3
Scheduled for:
Dinner on Monday
Leftovers:
Lunch on Wednesday
Dinner on Thursday
Ingredients for 3
| | |
| --- | --- |
| 225 gm | Chicken breast, boneless, skinless (marinaded overnight in homemade stir fry marinade) |
| 188 gm | Brown rice, medium-grain, dry |
| 3/4 medium | White onion |
| 1 1/2 cup | Broccoli, raw (chopped into small florets) |
| 1 1/2 cup | Cauliflower (chopped into small florets) |
| 1/3 cup grated | Carrots (or thinly sliced into matchsticks or coins) |
| 1 1/2 head(s) | Bok choy (chopped) |
Instructions
Prepare Brown rice

Meanwhile, in a large skillet or wok over medium-high heat, add the chicken and brown until completely cooked. When cooked, transfer chicken to a clean plate, using a slotted spoon, to keep as much of the liquid in the pan as
possible.

Add the onions, broccoli and cauliflower to the pan and cook, stirring occasionally until the onions are translucent, broccoli and cauliflower are fork tender (about 3-5 minutes). Add the carrots and cook for another 2-3 minutes. Then add the bok choy , cover and cook until the boy choy is wilted (about 2 minutes). Finally, add the chicken and excess liquid back into the skillet and stir till combined.
Serve the stir fry & vegetables on a bed of brown rice and enjoy!
Nutrition Facts
Per Portion
Calories from saturated fat
7.2
Polyunsaturated Fat
1.4 g
Monounsaturated Fat
1.1 g
Dietary servings
Per Portion
| | |
| --- | --- |
| Grain | 2.0 |
| Meat | 0.8 |
| Vegetables | 13.3 |
Energy sources
Recipe from:
The Power of 30+ by Kristine Peacock
About
Contact Us
Meal Garden, 326 1/2 Bloor Street West, Unit 4, Toronto, Ontario, M5S 1W5, Canada