Curry Roasted Veggie & Lentil Salad
15
30
466
Ingredients
Minutes
Calories
Prep
Cook
Meals
8 min
22 min

2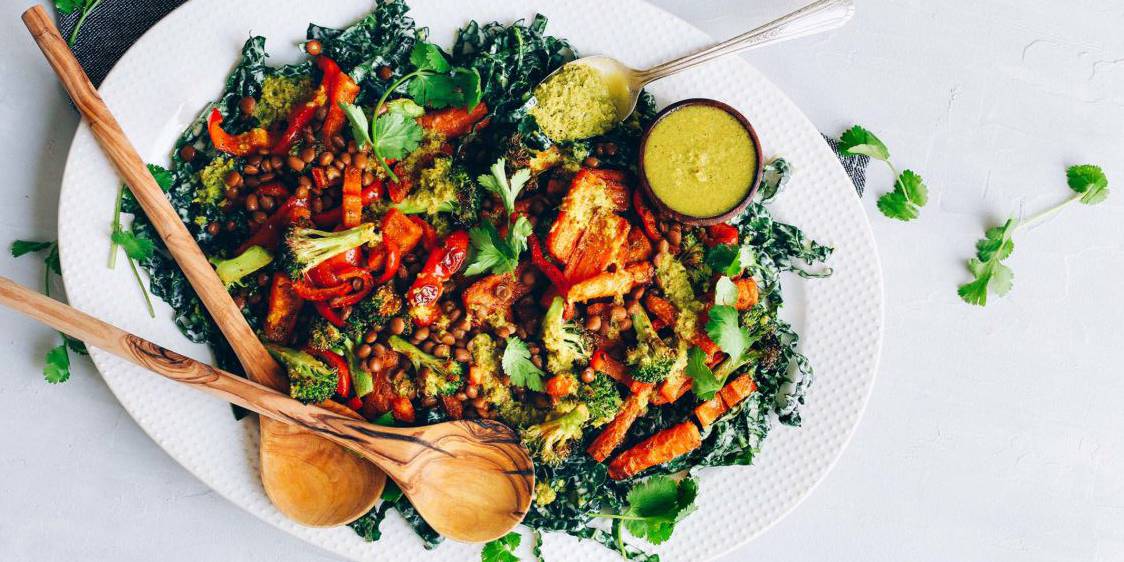 A hearty, intensely flavorful kale salad with roasted curried vegetables, lentils, and a tangy, spicy green curry dressing. 7.5 mg iron/serving
Ingredients for 2 meals
| | |
| --- | --- |
| 2 2/3 large | Carrots (cut into bite-size pieces; about 2 cups; Vegetables) |
| 1 1/3 tbsp | Coconut oil (melted and divided; or avocado oil; Vegetables) |
| 2/3 dash | Salt and pepper (Vegetables) |
| 2/3 tsp | Curry powder (homemade or store-bought, divided; Vegetables) |
| 2/3 bunch | Curly kale (stems removed; roughly chopped; about 4 cups; Salad) |
| 2 tbsp | Tahini (Salad) |
| 1 1/3 tbsp | Lemon juice (Salad) |
| 1/3 tsp | Apple cider vinegar (Salad) |
| 2 tbsp | Water, filtered (as needed to thin dressing; Salad) |
| 2/3 cup | Green lentils, canned (or brown lentils; Salad) |
| 1 1/3 tbsp | Green curry paste (homemade or store-bought; Dressing) |
| 2/3 whole lemon(s) | Lemon juice (or 2 Tbsp; Dressing) |
| 2/3 dash | Salt and pepper (Dressing) |
| 2/3 tbsp | Olive oil (optional; Dressing) |
| 2/3 tbsp | Water (to thin; Dressing) |
Instructions
Preheat oven to 375 degrees F (190 C) and line a large baking sheet with parchment paper.
Add carrots to a small mixing bowl with drizzle with 1 Tbsp (15 ml) oil, a pinch each salt and pepper, and 1/2 tsp curry powder. Toss to combine. Then arrange on the baking sheet.
Roast for 12 minutes. In the meantime, add bell pepper and broccoli to the same mixing bowl and drizzle with remaining 1 Tbsp oil, salt, pepper, and 1/2 tsp curry powder. Toss to combine.
Once the carrots reach the 12-minute mark, remove from the oven and increase heat to 400 degrees F (204 C). Add the peppers and broccoli to the pan. Then roast for 10-15 minutes more or until all vegetables are tender and slightly golden brown.
In the meantime, add the kale to a large mixing bowl. In a separate small mixing bowl, add the tahini, lemon juice, and apple cider vinegar and whisk to combine. Thin with water 1 Tbsp (15 ml) at a time until thin and pourable.
Pour dressing over the kale and massage with hands or tongs / serving spoons. Spread the kale over a serving platter or keep in mixing bowl for serving. Top with lentils and set aside.
To make the curry dressing, use the same small mixing bowl from the tahini sauce and add the curry paste, lemon juice, salt, pepper, and oil (optional). Whisk to combine. Then add water until thin and pourable.
Taste and adjust flavor as needed, adding more lemon juice for acidity, curry paste for intense curry flavor, salt for saltiness, or maple syrup for sweetness. Set aside.
Remove roasted vegetables from the oven and add to the salad and lentils. Top with half of the curry dressing and serve with the remaining curry dressing. Garnish with fresh cilantro (optional).
Enjoy immediately. Store leftovers in the refrigerator up to 3-4 days, though best when fresh.
Nutrition Facts
Per Portion
Calories from saturated fat
90
Polyunsaturated Fat
5.0 g
Monounsaturated Fat
7.1 g
Dietary servings
Per Portion
| | |
| --- | --- |
| Fruit | 0.2 |
| Meat Alternative | 0.9 |
| Vegetables | 4.7 |
Energy sources
Notes:
I haven't tried with the curried, roasted vegetables. But I have made the tahini dressing on the kale and topped with the lentils mixed with the homemade green curry dressing, which is the green curry paste with added lemon juice and some maple syrup to taste and texture.