Mango Beet Rosemary Lime Cauliflower Salad
8
35
207
Ingredients
Minutes
Calories
Prep
Cook
Meals
15 min
20 min

2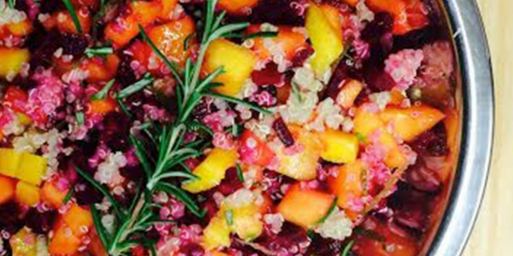 This refreshing salad is sure to bring you joy throughout the summer months.
Ingredients for 2 meals
| | |
| --- | --- |
| 1 cup | Beets, raw (peeled, diced (roast if desired)) |
| 1 whole lime(s) | Lime juice (fresh) |
| 1 whole lime(s) | Lime peel (zest) |
| 1 1/2 cup | Mango (peeled, diced) |
| 1 cup | Cauliflower crumbles/rice (cooked) |
| 2 tbsp | Rosemary, fresh (chopped) |
| 1/8 tsp | Sea salt (to taste) |
| 1 tbsp | Extra virgin olive oil (drizzle over completed salad) |
Instructions
Toss your already riced cauliflower in a drizzle of olive oil and place on a tray, then spread it out to a thin, even layer. Roast the 'rice' at 395 F/200C for 12 minutes, mixing it in the tray halfway through cooking. Season as desired.

Peel the beets and mango (see note to substitute). Dice them into small pieces.

Mix everything together along with the zest and lime juice. Drizzle the olive oil over the salad.

To infuse the salad with all the different flavors, let sit for 20 minutes before serving.

Enjoy! This makes enough for two servings.
Nutrition Facts
Per Portion
Calories from saturated fat
10.1
Polyunsaturated Fat
0.9 g
Monounsaturated Fat
5.2 g
Dietary servings
Per Portion
Energy sources
Notes:
You can substitute papaya, granny smith apples or nectarine for the mango.
You may reduce the fat by opting out of the use of olive oil.

You can add your choice of protein to make this a complete meal.

The glycemic index of a beet, a measure of how quickly foods raise your blood sugars, is a moderate 64. Any GI of 55 or less is considered low, and beets don't miss that mark by much. All of the sugar in this recipe comes from the plants, and not from added sugar.