Roasted Cauliflower, Chickpea and Arugula Salad
18
40
663
Ingredients
Minutes
Calories
Prep
Cook
Meals
20 min
20 min

2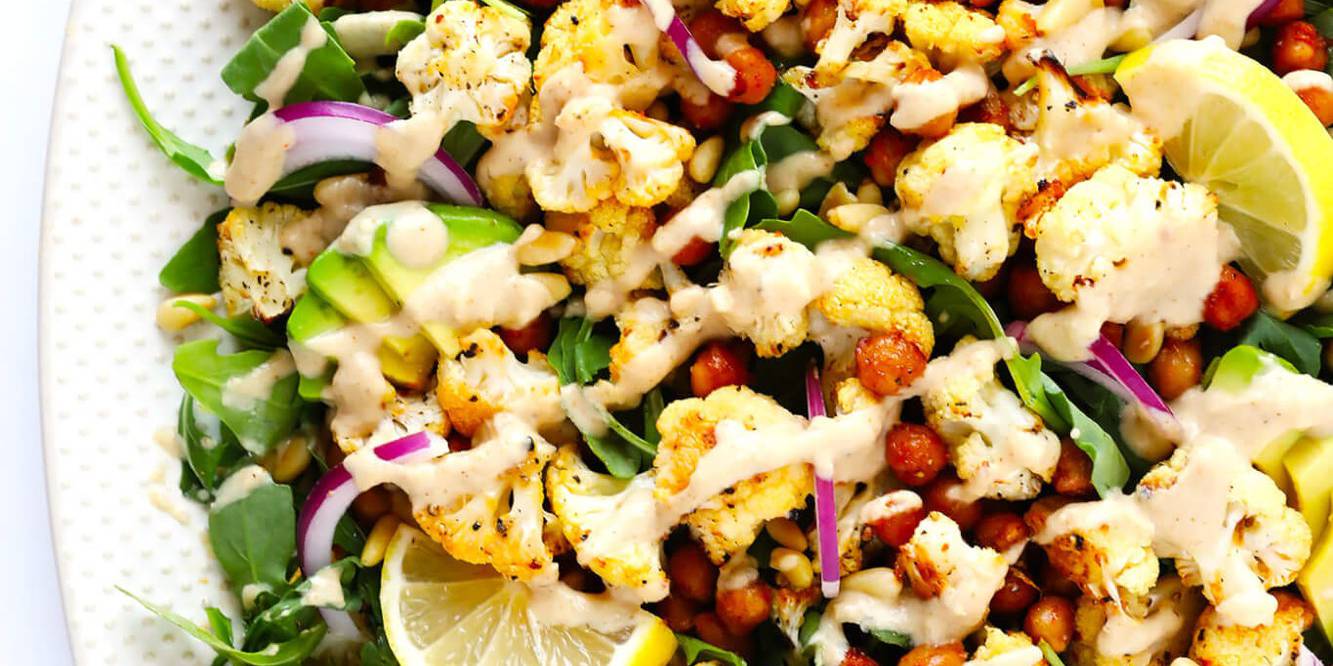 This Roasted Cauliflower, Chickpea and Arugula Salad is a fresh and feel-good salad that's bound to be a hit, especially when tossed with the creamy dressing.
Ingredients for 2 meals
| | |
| --- | --- |
| 2 cup | Arugula (about 4 large handfuls baby) |
| 1/2 avocado(s) | Avocado (ripe; peeled, pitted and thinly sliced) |
| 1/4 small | Red onion (small; thinly sliced) |
| 1/8 cup | Hemp seeds, shelled (lightly toasted) |
| 1/2 medium | Lemon (extra; slices/wedges for serving) |
| 1/2 medium head | Cauliflower (cut into small florets) |
| 1 tbsp | Olive oil (divided) |
| 1/2 can (15oz) | Chickpeas, canned, drained (rinsed and drained) |
| 1/4 tsp | Garlic powder |
| 1/8 tsp | Onion powder |
| 1/10 tsp | Cayenne pepper (just enough to taste) |
| 1/10 tsp | Himalayan sea salt (for taste) |
| 1/2 dash | Black pepper (for taste) |
| 1/8 cup | Sunflower seed butter |
| 1 1/2 tbsp | Lemon juice (freshly-squeezed) |
| 1 clove(s) | Garlic (pressed or minced) |
| 1/2 tbsp | Maple syrup |
| 1 tbsp | Water (warm) |
Instructions
To Make The Salad:
Prepare the Roasted Cauliflower and Chickpeas as directed below. Then to save time, prep the remaining ingredients while they are roasting in the oven.
Once the cauliflower and chickpeas are ready to go, spread the arugula out evenly on your serving platter or bowl. Top with the cauliflower, chickpeas, avocado, red onion, and hemp seeds. Then drizzle everything evenly with the dressing.
Serve immediately, garnished with extra lemon slices/wedges if desired.
To Make The Roasted Cauliflower and Chickpeas:
Heat oven to 425°F. Prepare the baking sheet with aluminum foil, if desired.
Spread the cauliflower out on the baking sheet, and drizzle with 1 tablespoon of olive oil. Toss to combine until the cauliflower is evenly coated. Then spread the cauliflower out evenly on the baking sheet, and set aside.
In a separate small bowl, toss together the chickpeas, cumin, garlic powder, smoked paprika, onion powder, cayenne, and remaining 1 tablespoon of oil until evenly combined. Sprinkle the chickpea mixture on top of the cauliflower, and give the pan a good shake so that everything forms one single layer. Season evenly with a few generous pinches of salt and pepper.
Bake for 20-25 minutes, or until the cauliflower turns slightly charred around the edges. Transfer the pan to a cooling rack until ready to use.
To Make The creamy dressing:
Whisk together the sunflower seed butter, lemon juice, garlic, maple syrup, plus a generous pinch each of salt and pepper in a bowl until smooth. Stir in 2 tablespoons of water until combined, then add an extra tablespoon of water if needed to thin. Taste, and season with extra salt and pepper if desired. Refrigerate in a sealed container for up to 3 days, or use immediately.
Nutrition Facts
Per Portion
Calories from saturated fat
28.1
Polyunsaturated Fat
4.3 g
Monounsaturated Fat
16.7 g
Dietary servings
Per Portion
| | |
| --- | --- |
| Fruit | 0.3 |
| Meat Alternative | 2.1 |
| Vegetables | 5.1 |
Energy sources
Notes:
You may sub hemp seed butter for sunflower butter, or just use tahini.

This recipe is perfect for your Shred salad.