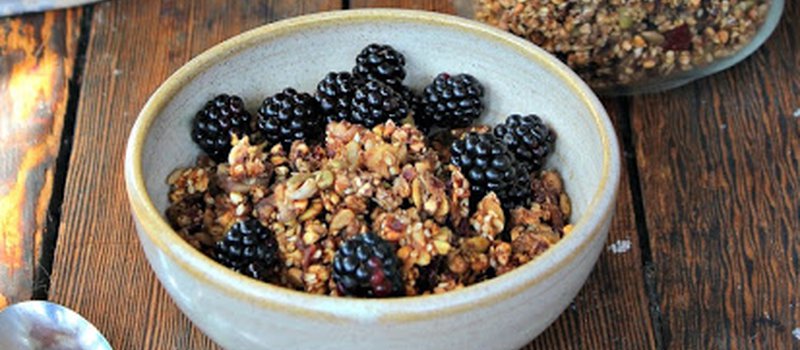 Sprouted Buckwheat Granola
Prep
Cook
Ready in
Servings
48 h
16 h
64 h

3
Scheduled for:
Breakfast on Monday
Leftovers:
Breakfast on Wednesday
Breakfast on Friday
Ingredients for 3
| | |
| --- | --- |
| 3/4 cup | Buckwheat (not kasha) |
| 3/4 medium | Apple |
| 1/8 cup pitted | Dates |
| 1/8 cup hulled | Sunflower seeds |
| 1/3 cup | Cranberries, dried (soaked in 1/2 cup water for 20 minutes, save the water) |
| 1/2 cup | Walnuts (soaked) |
| 1/8 cup | Pumpkin seeds (soaked) |
| 1/8 cup | Sesame seeds (soaked) |
| 1/2 tsp | Ginger, ground |
| 1/2 tsp | Sea salt, fine |
Instructions
Soak the buckwheat for at least 6 hours. Rinse well.

Leave it to sprout for approximately 2 days or until little white tails start to show. During this time, be sure to rinse the sprouts at least a couple of times per day.

After the sprouts have had 1 day to sprout, you can soak all of the seeds (the walnuts, pumping seeds, and sesame seeds can be soaked together, but make sure sunflower seeds are soaked separately). That way the buckwheat sprouts and seeds will be done at approximately the same time.

Once the buckwheat is ready, you can begin making the granola base.

Puree the apples, dates, and soaked sunflower seeds in a food processor until it resembles something similar to apple sauce. Empty into a mixing bowl.

Add the cranberries and their soaking water, pulse in a food processor until cranberries are coarsely chopped.

Mix cranberry mixture with the apple sunflower mixture. Add the soaked walnuts, sesame seeds, pumpkin seeds, ground ginger, and salt. Mix well.

Spread mixture on a dehydrator sheet or parchment lined pan. Dehydrate for about 8- 12 hours. Break the mixture up into clumps and dehydrate for another 8-12 hours, or until completely dry.

Once dry store in a airtight contained.
Nutrition Facts
Per Portion
Calories from saturated fat
26.9
Polyunsaturated Fat
15.9 g
Monounsaturated Fat
6.3 g
Dietary servings
Per Portion
| | |
| --- | --- |
| Fruit | 1.0 |
| Grain | 2.1 |
| Meat Alternative | 1.5 |
Energy sources
About
Contact Us
Meal Garden, 326 1/2 Bloor Street West, Unit 4, Toronto, Ontario, M5S 1W5, Canada