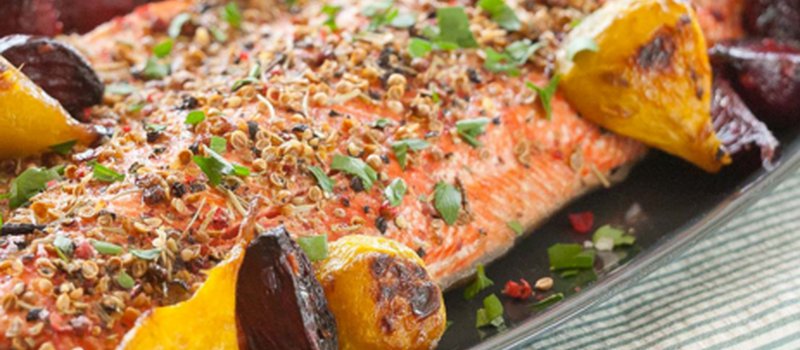 Spice-Crusted Roast Salmon with Ginger Beets
Prep
Cook
Ready in
Servings
15 min
1 h
1 h 15 min

2
Scheduled for:
Dinner on Monday
Leftovers:
Dinner on Tuesday
Ingredients for 2
| | |
| --- | --- |
| 1/4 whole fish | Atlantic wild salmon (boneless, approx 3 lb) |
| 2 beet(s) | Beets, raw (peeled, cut into wedges) |
| 3/4 tbsp | Chives (chopped) |
| 1/2 tsp | Coriander seed (cilantro) |
| 1/4 tbsp | Extra virgin olive oil (plus extra as needed) |
| 1/3 tbsp minced | Ginger |
| 3/4 tbsp | Parsley, fresh (chopped) |
| 1/8 tsp | Peppercorn |
| 1/8 tsp | Rosemary, dried |
| 1/8 tsp | Sea salt |
Instructions
Preheat the oven to 450°F.

Place beets on a rimmed baking sheet large enough to hold them in a single layer.

Sprinkle with ginger, fine sea salt and 1 tablespoon of the oil; toss to coat.

Roast in the middle of the oven, stirring once or twice during cooking, until tender and lightly browned, 25 to 30 minutes.

Meanwhile, place black peppercorns in a spice grinder and pulse once or twice until cracked, or place them on a cutting board and crack with a rolling pin.

Add coriander seeds, rosemary and coarse sea salt; continue to pulse or crush until the mixture is very coarsely ground.

Line a large rimmed baking sheet with parchment paper, oil the paper, and place salmon on top; fold the thin tail section under if the fillet is too large for the baking sheet.

Brush salmon with remaining 2 teaspoons oil and sprinkle with peppercorn mixture.

After beets have roasted for about 15 minutes, place salmon on the top rack of the oven and roast until just lightly pink in the center, about 15 minutes.

Loosen salmon from the parchment with a spatula, then use 2 large spatulas to transfer salmon to a platter. Spoon beets around salmon and sprinkle them with chives and parsley.
Nutrition Facts
Per Portion
Calories from saturated fat
11.2
Polyunsaturated Fat
2.8 g
Monounsaturated Fat
3.4 g
Dietary servings
Per Portion
Energy sources
About
Contact Us
Meal Garden, 326 1/2 Bloor Street West, Unit 4, Toronto, Ontario, M5S 1W5, Canada