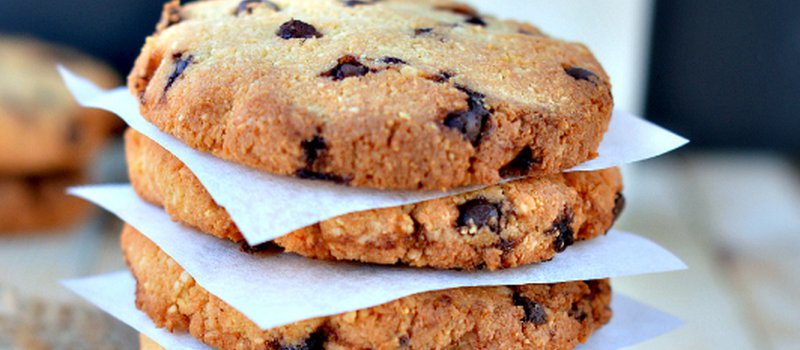 Grain Free Chocolate Chips Cookies
Prep
Cook
Ready in
Servings
10 min
15 min
25 min

2
Scheduled for:
Snack on Wednesday
Leftovers:
Snack on Saturday
Ingredients for 2
| | |
| --- | --- |
| 1/2 cup | Coconut, shredded, unsweetened |
| 1/2 tbsp | Coconut flour |
| 1/8 cup | Cashew nuts, raw (chopped) |
| 1/10 cup | Coconut oil |
| 1/2 medium egg | Egg |
| 1/10 cup | Dark chocolate chips, vegan |
| 1/2 tbsp | Stevia |
| 1/4 tbsp | Vanilla bean paste |
Instructions
Preheat oven 160°C.

Prepare a baking tray covered with baking paper. Set aside.

In a food processor add all the ingredients except the chocolate chips and process until it forms a dough ball.

Transfer the cookie dough into a mixing bowl and using your hands incorporate the chocolate chips into the dough.

Remove from the bowl and shape 8 cookie ball, golf ball size.

Place cookie balls on the prepared baking tray leaving 1 cm between each cookies.

Flatten with your hand palm. If crumbly on the side reshape slightly with your finger until the sides looks smooth.

Bake 15 minutes or until slightly golden. on the edges. Do not over bake or they will be too hard.

Some oil may slightly release on the tray and that ok.

Remove from oven and using a spatula transfer the cookies on a rack to cool down for 1 hour to firm up.

Enjoy anytime!

Tips: Store well in an airtight container like a metallic cookie jar up to 1 week.
Nutrition Facts
Per Portion
Calories from saturated fat
137
Polyunsaturated Fat
1.4 g
Monounsaturated Fat
4.3 g
Total Carbohydrate
15.8 g
Dietary servings
Per Portion
Energy sources
About
Contact Us
Meal Garden, 326 1/2 Bloor Street West, Unit 4, Toronto, Ontario, M5S 1W5, Canada