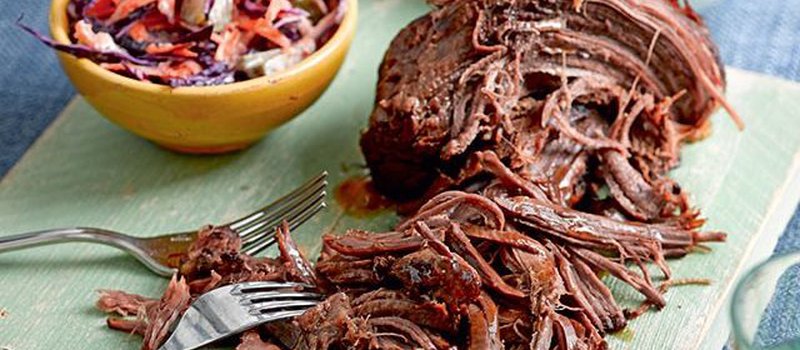 Florentine Beef Brisket - Slow Cooker
Prep
Cook
Ready in
Servings
15 min
11 h 40 min
11 h 55 min

2
Scheduled for:
Dinner on Thursday
Leftovers:
Lunch on Sunday
Ingredients for 2
| | |
| --- | --- |
| 1/3 kg | Beef brisket (Buy from farm butcher. Should come trimmed and trussed. Can be anywhere from 12-20 lbs) |
| 1/2 l | Water, filtered (Enough to cover brisket) |
| 1/2 large | Carrots (Roughly chopped) |
| 1/2 large stalk(s) | Celery (Roughly chopped) |
| 1/2 medium | White onion (Roughly chopped) |
| 3/4 leaf | Bay leaf |
| 1/2 tbsp | Sea salt |
| 1/4 tsp | Black pepper (freshly ground ) |
Instructions
1. Leave the trussing on the meat. Sprinkle one tbsp of course salt and fresh black pepper around the brisket, and rub in with your hands to coat evenly.

2. On medium -high heat in a non-stick sauce pan, begin to sear the brisket. You are aiming to seal the meat, so only look for a of bit of colour. Shouldn't be longer than 2-3min per side. Take the time to sear the whole brisket on all sides, even the fat. You can use kitchen tongs or two forks to move the meat about, just be careful not to splash excess fat over the sides of the pan.

3. In a slow cooker set to high, add your brisket, chopped carrots, celery, onion, bay leaves, and the rest of the salt. Fill up with water until the brisket is just covered. Cover with the lid.

4. Once the water has begun to bubble, place the temperature on low. This can be left overnight as it is safe in the slow cooker.

5. Cook for minimum 8 hours - 12 hours. You know it's ready when the meat pulls apart VERY easily with a fork and all the fat has rendered from between the meat fibres.

6. To clean the brisket, take out of liquid and let cool for 10minutes in a large pan. The excess fat should come off like butter, you may remove it with a knife and discard. Begin to pull the brisket with two forks.

7. Strain the broth and either freeze or reserve for soup base.

8. The meat can be served with coleslaw, vegetables, or with a side of homemade pesto.

9. Store the remainder in the fridge and use as your protein source through out the week.
Nutrition Facts
Per Portion
Calories from saturated fat
126
Polyunsaturated Fat
1.3 g
Monounsaturated Fat
15.9 g
Dietary servings
Per Portion
Energy sources
Notes:
Ideal for meal prep sunday as a mother ship meal.

The leftover liquid can be used as a base to make a soup. Just strain and blend with the flesh of a roasted butternut squash.
About
Contact Us
Meal Garden, 326 1/2 Bloor Street West, Unit 4, Toronto, Ontario, M5S 1W5, Canada