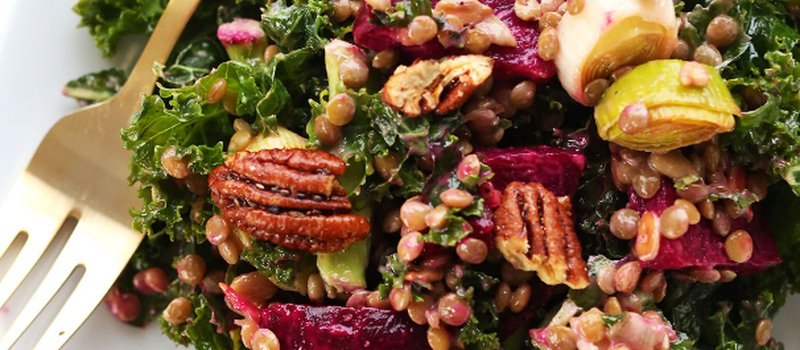 Kale, Lentil & Roasted Beet Salad
Prep
Cook
Ready in
Servings
10 min
20 min
30 min

1
Scheduled for:
Lunch on Wednesday
Ingredients for 1
| | |
| --- | --- |
| 1 medium leek(s) | Leek (trimmed, sliced lengthwise and chopped) |
| 1/3 beet(s) | Beets, raw (quartered, rough skin removed) |
| 2/3 tbsp | Extra virgin olive oil |
| 1/10 tsp | Salt and pepper |
| 1/8 cup | Green lentils, raw (rinsed) |
| 1/3 cup | Vegetable stock/broth, low sodium (or water) |
| 1 1/3 cup | Kale (or baby spinach) |
| 1/10 cup | Tahini (for dressing) |
| 1/8 whole lemon(s) | Lemon juice (for dressing) |
| 2/3 tbsp | Maple syrup (for dressing) |
| 1 1/3 tbsp | Extra virgin olive oil (for dressing) |
| 1/3 pinch | Salt and pepper (for dressing) |
Instructions
Preheat oven to 400 degrees F and lightly grease a baking sheet.

Once thoroughly rinsed, add lentils and stock or water to a small saucepan and bring to a rapid simmer over medium-high heat. Then reduce heat and simmer for 20-30 minutes uncovered, or until all liquid is absorbed. Set aside.

Add chopped leeks and beets to the baking sheet, drizzle with olive oil and season with salt and pepper. Toss to coat, then bake in preheated oven for 15-20 minutes, or until fragrant and lightly browned. For crispier beets, remove leeks from pan and continue roasting beets for an additional 10-15 minutes (I prefer mine crispier). Set aside.

While veggies and lentils are cooking, prepare dressing by adding all ingredients to a mixing bowl and whisking to combine. Taste and adjust seasonings as needed.

If using kale, add to large mixing bowl with a bit of olive oil and lemon juice and massage with hands to soften. For all other greens, skip this step.

Add greens, beets, leeks and lentils to a large mixing bowl, add dressing and toss to coat. For additional protein / crunch, add your favourite nut or seed (such as lightly salted sunflower seeds or roasted pecans).

Leftovers keep for up to a few days, though best when fresh.
Nutrition Facts
Per Portion
Calories from saturated fat
58
Polyunsaturated Fat
10.3 g
Monounsaturated Fat
28.2 g
Dietary servings
Per Portion
| | |
| --- | --- |
| Meat Alternative | 1.5 |
| Vegetables | 4.1 |
Energy sources
About
Contact Us
Meal Garden, 326 1/2 Bloor Street West, Unit 4, Toronto, Ontario, M5S 1W5, Canada