30-Minute Sheet Pan Potatoes and Chicken Sausage
8
120
457
Ingredients
Minutes
Calories
Prep
Cook
Servings
1 h
1 h

4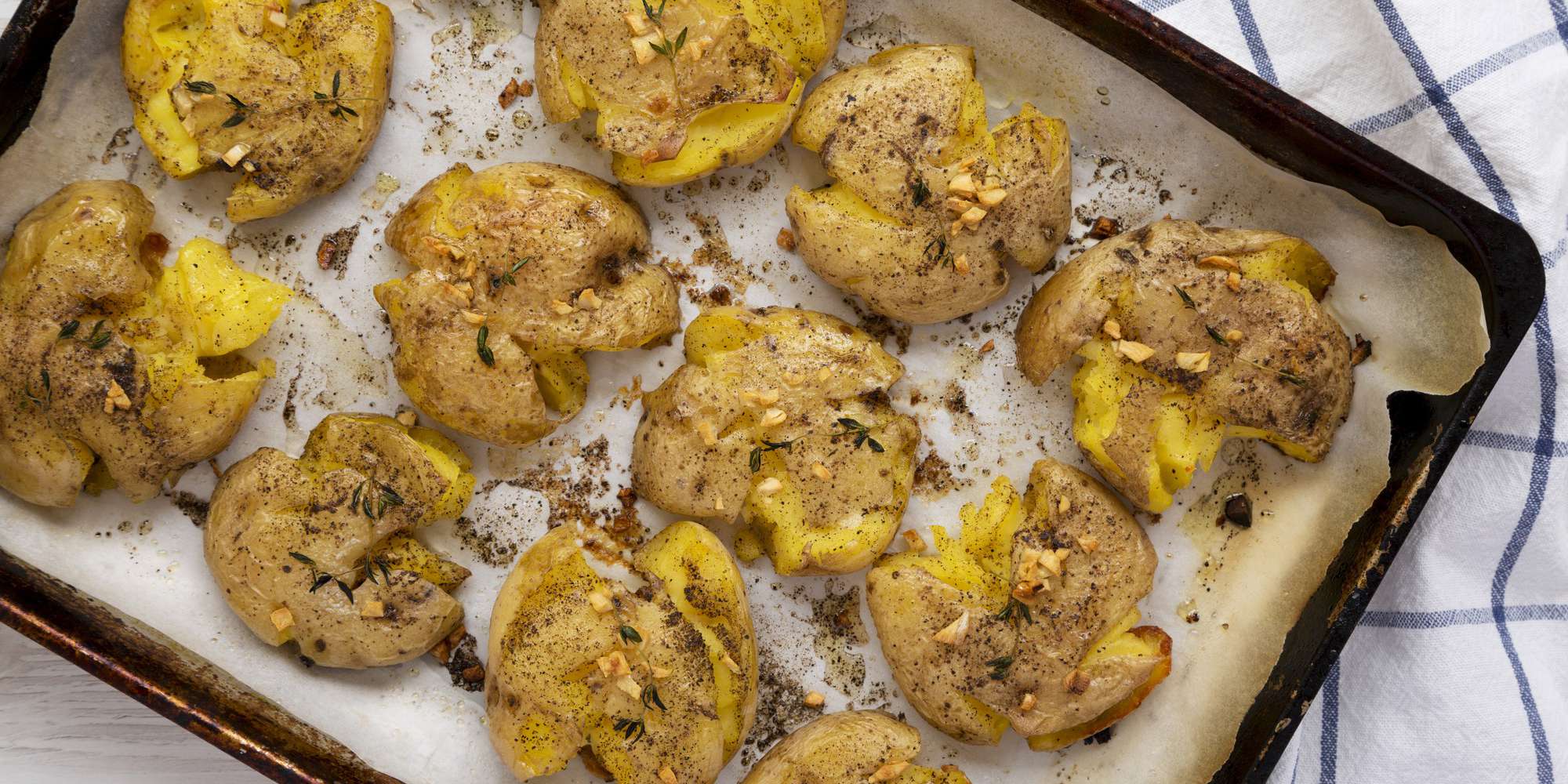 Easy and quick smashed potatoes and protein dinner.
Ingredients
| | |
| --- | --- |
| 681 gm | Red mini potato (with peel) |
| 1 pinch | Kosher salt |
| 3 tbsp | Olive oil |
| 1 clove(s) | Garlic (minced) |
| 1 pinch | Salt and pepper |
| 2 tbsp | Parmesan cheese, grated (or vegan shredded cheese) |
| 454 gm | Sausage, frankfurter, chicken (you can use any cooked chicken sausage, cut in 2 inch pieces) |
| 1 tbsp | Parsley, fresh (optional) |
Instructions
1. Place the potatoes in a medium saucepan, season generously with salt, and add enough water to cover the potatoes by about 1 inch. Bring to a boil over high heat, then reduce the heat to medium-low and simmer uncovered until the potatoes are cooked through, about 12 to 15 minutes.
2. Drain the potatoes and set aside to cool slightly. (The potatoes can be boiled and stored in the refrigerator up to 2 days ahead.)
3. Place the potatoes on one half of a rimmed baking sheet. Using the palm of your hand, press down on each potato to smash to a uniform thickness of about 1/2 inch (the potatoes will split open and the flesh might crumble slightly).
4. Mix the oil and garlic in a small bowl. Brush half of the oil mixture onto the potatoes and season with salt and pepper. Using a flat spatula, flip the potatoes over, brush with the remaining oil mixture, and season with salt and pepper.
5. Roast until the bottoms of the potatoes are browned, 15 to 20 minutes. Using the flat spatula, flip the potatoes and sprinkle with the cheese. Place the sausages on the other side of the baking sheet. Roast until the edges and tops of the potatoes are golden-brown, 15 to 20 minutes more. Sprinkle the potatoes with the parsley, if using, and serve.
Nutrition Facts
Per Portion
Calories from saturated fat
58
Polyunsaturated Fat
5.6 g
Monounsaturated Fat
14.5 g
Total Carbohydrate
25.5 g
Dietary servings
Per Portion
Energy sources
Notes:
Quick Tips:
Vegan
You can make this entire dish vegan by using vegan shredded cheese and sausage, or black beans instead.
---
Nutritional Facts:
Potatoes
Potatoes especially when eaten with peel are high in fiber, potassium, B vitamins. They are filling and a naturally gluten-free carb alternative.