4-Ingredient Zucchini Latkes
10
30
115
Ingredients
Minutes
Calories
Prep
Cook
Servings
20 min
10 min

10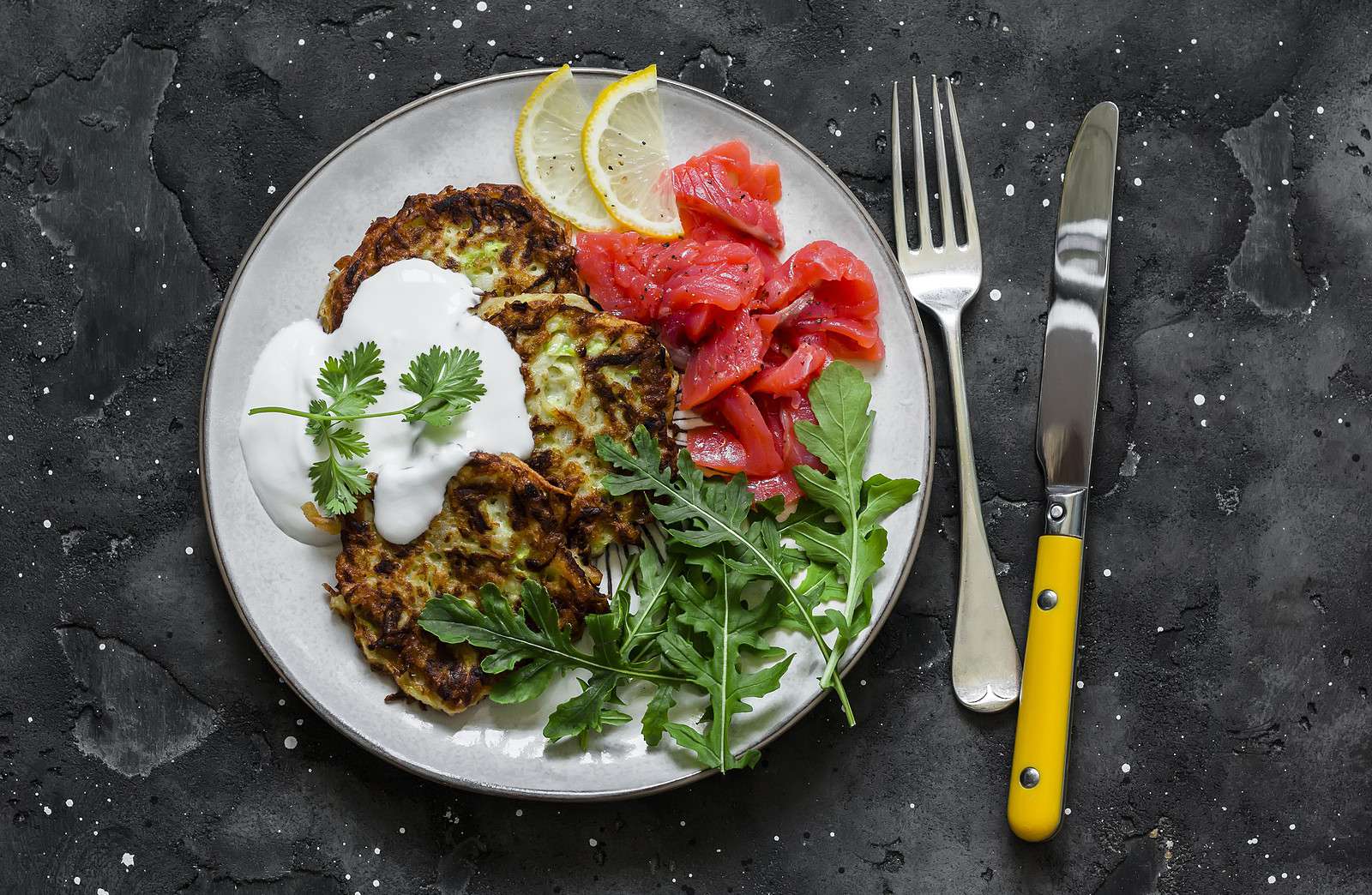 These crispy Zucchini Latkes make a great vegetarian main course, appetizer, or side! It is also a great way to use up all that extra zucchini from your garden!
Ingredients
| | |
| --- | --- |
| 3 medium | Zucchini |
| 1 can (15oz) | Black beans, canned |
| 1/4 cup | Parmesan cheese, grated (optional) |
| 1 medium egg | Egg |
| 1 tbsp | Onion powder |
| 1 tbsp | Garlic powder |
| 1 tsp | Dill, dried |
| 1 tbsp | Salt and pepper (to season) |
| 1/4 cup | Spelt flour (+ 1.5 tbsp, any flour works) |
| 2 tbsp | Avocado oil (any cooking oil works here like coconut oil or butter.) |
Instructions
Step 1: Line a strainer with a dish towel or cheesecloth and set the strainer with the towel over a bowl.
Step 2: Shred or grate the zucchini and place it in the towel lined strainer. Pack down on the zucchini tightly to drain the water. Allow the zucchini to continue draining while preparing the remaining ingredients.
Step 3: In a separate bowl, mash the black beans. Add the parmesan (if using), the egg, onion powder, garlic powder, dill, salt, and pepper.
Step 4: When the zucchini has released some water, add it into the bowl with the mashed beans. Add flour and mix everything very thoroughly.
Step 5: Heat a medium sized frying pan over medium heat. Add cooking oil of choice and allow it to heat through. Use a 1/2 cup measuring cup (smaller if you prefer smaller latkes) to scoop out portions of the batter. Place the latkes on the pan and press down with the back of a spatula.
Step 6: Cook for about 5 minutes on each side. The latkes should be browned and should not fall apart. Remove from heat and place on a paper towel-lined dish.
Step 7: Serve with a dollop of sour cream, tzatziki, or plain Greek yogurt. Enjoy!
Notes:
Nutritional Notes:
Zucchini is high in fiber, which is helpful in maintaining healthy digestion, it is also high in vitamin C which makes it a great antioxidant!
Black Beans are high in fiber and are a great source of plant-based protein.
Nutrition Facts
Per Portion
Calories from saturated fat
9.0
Polyunsaturated Fat
0.6 g
Monounsaturated Fat
2.4 g
Total Carbohydrate
13.1 g
Dietary servings
Per Portion
| | |
| --- | --- |
| Grain | 0.2 |
| Meat Alternative | 0.3 |
| Vegetables | 1.2 |
Energy sources