Asian Cauliflower Fried "Rice"
15
40
124
Ingredients
Minutes
Calories
Prep
Cook
Servings
10 min
30 min

6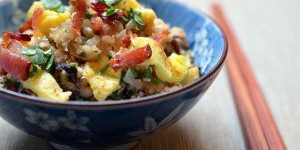 Looking for a Whole30-friendly Asian Cauliflower Fried Rice that will rival whatever you'd order at your favorite Chinese takeout joint? Make this dish!
Ingredients
| | |
| --- | --- |
| 454 gm | Cauliflower crumbles/rice |
| 3 medium slice | Bacon (cut into small dice; make sure it's sugar-free & junk-free if you're doing a Whole30) |
| 2 large egg | Egg |
| 1 pinch | Kosher salt |
| 1 dash | Black pepper (freshly ground) |
| 1 large | White onion (minced) |
| 114 gm | Cremini (Italian) mushroom (stemmed and thinly sliced) |
| 1 piece, 1-inch | Ginger root (peeled and grated with a microplane) |
| 2 tbsp | Coconut aminos, Coconut Secret |
| 2 green onion (stem) | Green onion, scallion, ramp (thinly sliced) |
| 2 tbsp | Cilantro (coriander) (chopped) |
| 2 tbsp | Basil, fresh (chopped) |
| 1 tbsp | Mint, fresh (chopped) |
| 1 tbsp | Fish sauce |
| 1 tbsp | Coconut vinegar (or rice vinegar; optional) |
Instructions
Pulse the cauliflower florets in a food processor until the pieces resemble rice or couscous. (You skip this part above if you bought a bag of riced cauliflower.)
Toss the diced bacon into a large cast iron skillet over medium heat and fry until the bits are crispy.
While the bacon's cooking, whisk the two eggs in a small bowl with some salt and pepper.
When the bacon's done, remove the crunchy swine to a separate plate with a slotted spoon.
Pour the whisked eggs into the hot bacon grease and fry a thin egg omelet, about 2 minutes on one side and then 30 seconds on the other side. Transfer the egg omelet to a cutting board and slice it thinly. Set it aside.
Crank up the heat for the cast iron skillet to medium-high heat and add the chopped onions (along with a dash of salt and pepper). Once the onion soften, toss in the sliced mushrooms (along with yet another sprinkle of salt and pepper) and stir-fry everything until the mushroom liquid has evaporated and the 'shrooms have browned a bit.
While the 'shrooms are cooking, grab your ginger. I always keep a large knob of ginger on hand in my freezer because that way I'll always have it handy. When I need to use it, I take it out of the freezer, peel off the skin with a vegetable peeler, and microplane it. It's almost like making ginger-flavored shaved ice.
The microplane is the best tool for grating ginger – no stringiness and the ginger blends in really well into your dish. (The microplane is one of my all-time favorite kitchen tools. If you don't have one, stop reading this post and get one immediately.)
When the mushrooms are cooked, add the ginger and stir it around for 30 seconds or until fragrant. Toss in the cauliflower and even more salt and pepper.
Place a lid on the skillet and lower the heat to low and cook it covered for about 5 minutes. When the cauliflower's tender (but not too mushy), add the coconut aminos, the herbs, and the sliced egg omelet. You can also add a little coconut vinegar to add a tiny bit of tang to the dish. And splash on some fish sauce for good measure! Taste for seasoning and adjust if necessary.
Before serving, I toss on the reserved crispy bacon bits. Voila!
Nutrition Facts
Per Portion
Calories from saturated fat
20.7
Polyunsaturated Fat
0.8 g
Monounsaturated Fat
3.0 g
Dietary servings
Per Portion
| | |
| --- | --- |
| Meat | 0.1 |
| Meat Alternative | 0.2 |
| Vegetables | 2.4 |
Energy sources