Asian Chicken Edamame Salad
14
30
359
Ingredients
Minutes
Calories
Prep
Cook
Servings
10 min
20 min

4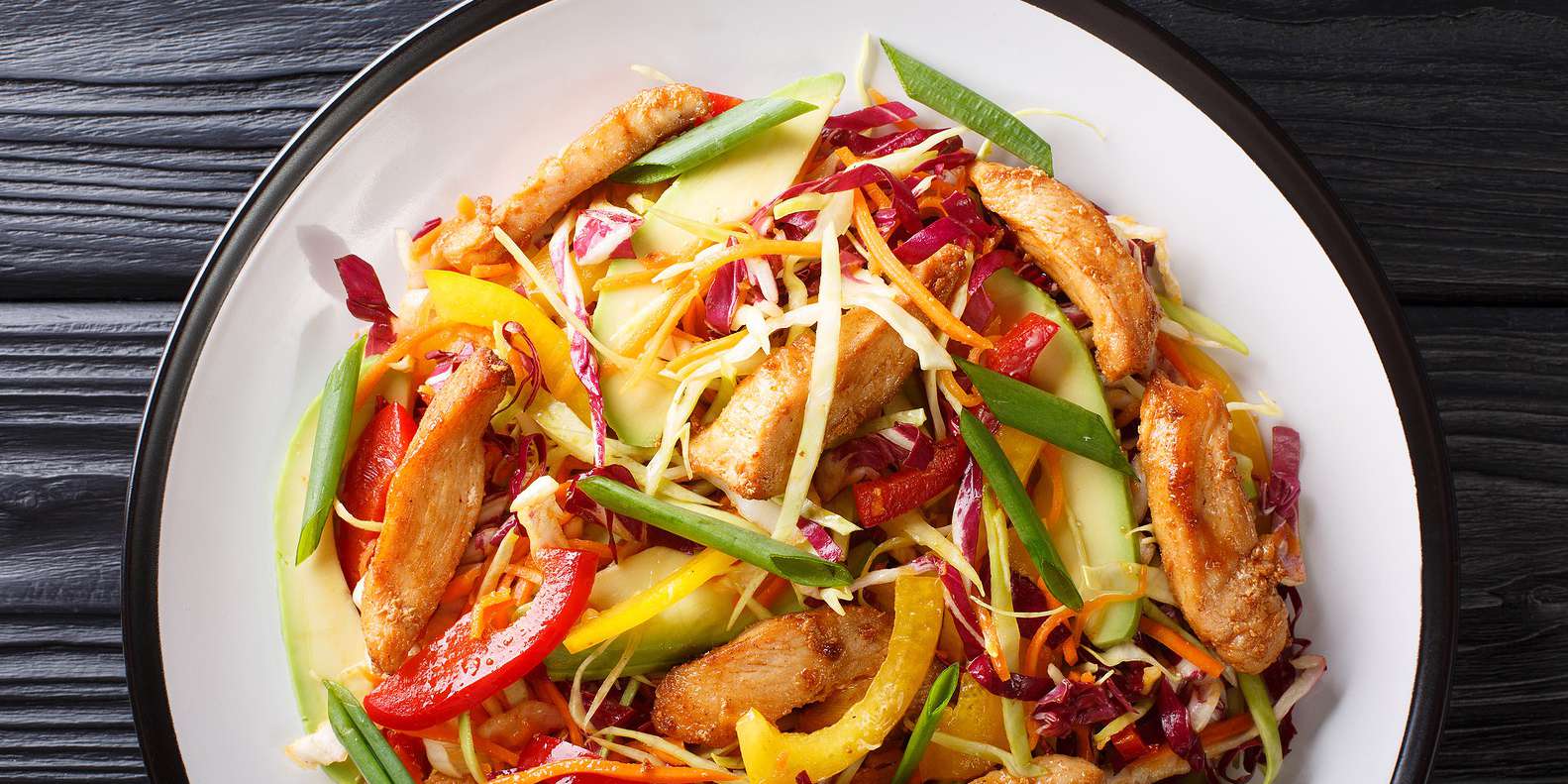 A delicious and nourishing salad loaded with protein, healthy fats and designed to keep you feeling full!
Ingredients
| | |
| --- | --- |
| 2 breast | Chicken breast, boneless, skinless (shredded) |
| 1 cup grated | Carrots |
| 2 medium pepper(s) | Red bell pepper (diced) |
| 4 cup | Coleslaw mix |
| 3 stalk(s) | Green onion, scallion, ramp (chopped) |
| 1/2 cup | Cilantro (coriander) (chopped) |
| 1 tsp | Garlic (minced) |
| 1/4 cup | Soy sauce, low sodium |
| 2 tbsp | Rice vinegar |
| 1 1/2 tbsp | Honey (or maple syrup) |
| 1/4 tsp | Ginger, ground |
| 1 cup | Edamame (soybeans), cooked |
| 1/4 cup | Almonds, toasted (optional) |
| 1 tbsp | Sesame seeds (optional) |
Instructions
Preheat oven to 425 degrees F. Set aside an 8x8 baking dish.
Place chicken breasts in the baking dish, and place in the hot oven. Bake for 20 minutes, or until the internal temperature reaches 165 degrees F. Remove from oven, let cool for 10 minutes before shredding.
While the chicken is baking, prep your carrots, and peppers according to ingredient instructions and place them in a medium-sized mixing bowl. Add the coleslaw mix to the veggies. Prep your cilantro and green onions and set them aside.
Next, prepare the dressing. Mince the garlic and place in a small mixing bowl. Add the soy sauce, rice vinegar, honey, and ginger to the mixing bowl with the garlic and whisk to combine.
Place the shredded chicken into the bowl with the vegetables, then add the edamame and almonds. Toss everything to combine. Add the dressing to the salad, and combine until the salad is fully coated. Add the cilantro and green onions and toss again.
Sprinkle sesame seeds on top and serve immediately, or let chill in the fridge for 1-2 hours before serving. Store in an air-tight container in the fridge for up to 2 days.
Notes:
Quick Tips:
If you have an instant pot or pressure cooker, steaming the chicken in your instant pot is way faster and creates a nice shredded chicken. Simply close the valve, add 1 cup of water to the bottom, place the rack so the chicken isn't touching, set steam to 11 minutes. Once cooked and steam released, remove the chicken from the instant pot and let cool. Shred with a fork.
For vegetarian/vegan, you can use tofu or tempeh as the main protein source, or add buckwheat noodles to the mix, and swap out the honey for maple syrup.
Nutrition Facts
Per Portion
Calories from saturated fat
12.1
Polyunsaturated Fat
3.5 g
Monounsaturated Fat
4.5 g
Total Carbohydrate
28.2 g
Dietary servings
Per Portion
| | |
| --- | --- |
| Meat | 1.3 |
| Meat Alternative | 0.7 |
| Vegetables | 4.0 |
Energy sources