Avocado Cauliflower Toast
8
25
394
Ingredients
Minutes
Calories
Prep
Cook
Servings
10 min
15 min

2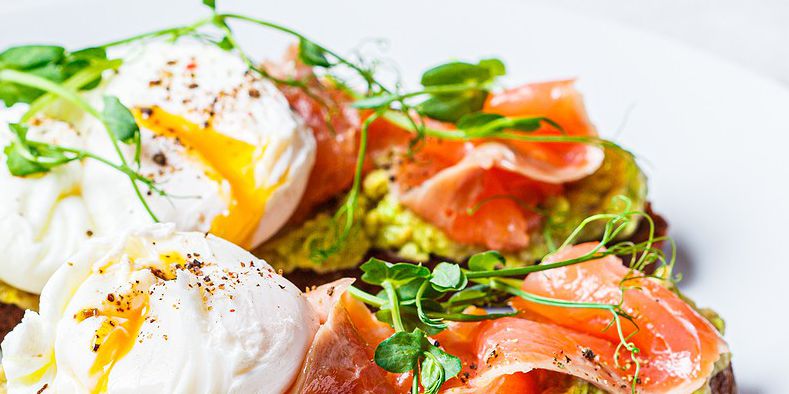 A grain-free avocado toast great for a breakfast, light lunch or snack.
Ingredients
| | |
| --- | --- |
| 1 small head | Cauliflower (or 1/2 medium) |
| 1 large egg | Egg (for cauliflower toast) |
| 2 large egg | Egg (for frying) |
| 1 avocado(s) | Avocado (peeled, pitted) |
| 1 whole lemon(s) | Lemon juice |
| 1 tbsp | Extra virgin olive oil |
| 1/8 tsp | Kosher salt |
| 1/8 tsp | Hot pepper (chili) flakes |
Instructions
Wash and chop the entire cauliflower into quarters.
Using a box grater, on the large-holed side, grate each cauliflower quarter over a large bowl. Crack the egg into the bowl with the cauliflower. Add salt, and mix well. Set aside.
Cut, pit, and peel avocado. See notes.
Chop the avocado into small pieces. Add to a small bowl. Mash the avocado with a fork until smooth, with some chunks left for texture. Add lemon juice and season with a pinch of salt if desired. Set aside.
Heat a large skillet to medium heat. Add olive oil and swirl it in the skillet. Make sure the oil doesn't smoke.
Add two heaping tablespoons of cauliflower mixture on top of each other in the skillet. Shape it into a patty or toast. Repeat to make a second patty. Fry until golden brown, about 5 minutes, then carefully flip. Cook for 3 more minutes. Transfer to a plate.
In the same skillet, crack the eggs into the skillet. Fry them until the desired doneness. Remove from skillet.
To prepare the avocado cauliflower toast, spread the avocado mash on top of cauliflower patties. Top each with a fried egg. Sprinkle with red chili flakes.
Notes:
To remove the avocado skin
Cut into the avocado lengthwise until you hit the pit. Rotate the knife around the entire pit until you have two halves. Carefully hit the pit with the knife until it punctures it. Turn the knife to pop out the pit. Push a spoon between the avocado and the skin and carve the avocado out of its skin. Discard the skin.
Alternative Toppings
Top with smoked salmon or sliced turkey bacon.
Nutritional Highlights
Cauliflower is high in vitamin C, K, fiber, and antioxidants. Makes a great carb and grain replacement.
Avocado is loaded with potassium and heart-healthy monounsaturated fats as well as fiber, folate and vitamin C. Avocados help in the absorption of fat-soluble vitamins A, D, E and K.
Nutrition Facts
Per Portion
Calories from saturated fat
50
Polyunsaturated Fat
3.7 g
Monounsaturated Fat
18.2 g
Total Carbohydrate
17.3 g
Dietary servings
Per Portion
| | |
| --- | --- |
| Fruit | 0.1 |
| Meat Alternative | 0.9 |
| Vegetables | 3.5 |
Energy sources