Avocado Chickpea Lettuce Wraps
8
15
247
Ingredients
Minutes
Calories
Prep
Cook
Servings
15 min
0 min

4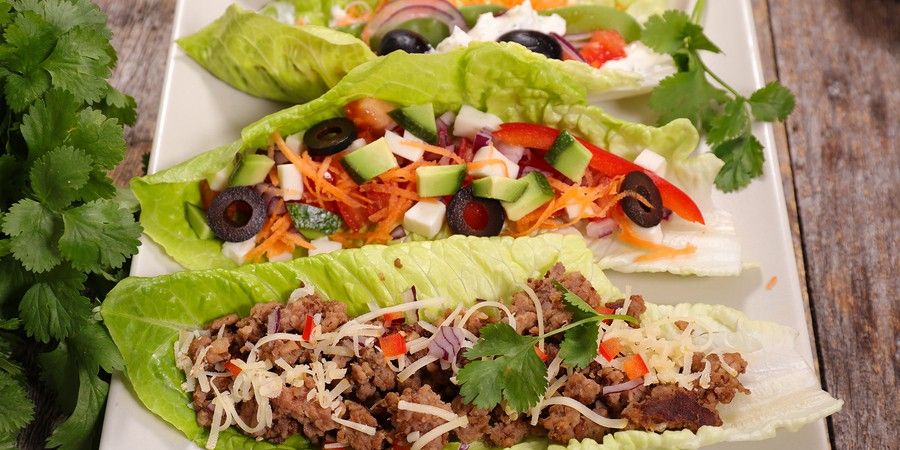 A great vegetarian light lunch!
Ingredients
| | |
| --- | --- |
| 1 avocado(s) | Avocado |
| 1 can (15oz) | Chickpeas, canned, drained (rinsed) |
| 2 medium stalk(s) | Celery |
| 2 green onion (stem) | Green onion, scallion, ramp (finely chopped) |
| 1 tbsp | Lemon juice |
| 4 large leaf | Lettuce, butterhead (Boston) |
| 1 pinch | Himalayan sea salt |
| 1 dash | Black pepper |
Instructions
1. Prepare four lettuce leaves
2. To remove the avocado skin: Cut into the avocado lengthwise until you hit the pit. Rotate the knife around the entire pit until you have two halves. Carefully hit the pit with the knife until it punctures it. Turn the knife to pop out the pit. Push a spoon between the avocado and the skin and carve the avocado out of its skin. Discard the skin.
3. Finely chop the celery and green onions. Set aside.
4. Drain and rinse the chickpeas using a sieve. Set aside.
5. Finely chop the avocado. Add to a medium bowl.
6. Using a fork, mash the avocado until it is smooth. Then, add the celery and green onions.
7. Pour chickpeas into a separate medium bowl. Mash the chickpeas with a fork until about half of the way mashed. Add to the avocado bowl.
8. Add lemon juice, salt, and pepper to the avocado bowl. Mix well.
9. Divide avocado and chickpea mix into 4 servings. Spoon each serving into a lettuce leaf.
Notes:
Quick Tip
Top with sprouts, peppers, tomatoes, cucumbers, and enjoy!
Nutritional Highlights:
Avocado
is high in monounsaturated fatty acids that are beneficial for heart health, they are high in B vitamins and fiber
Chickpeas
is a super nutritious plant-based protein that is high in fiber and helps to promote digestive health
Nutrition Facts
Per Portion
Calories from saturated fat
11.8
Polyunsaturated Fat
2.0 g
Monounsaturated Fat
5.5 g
Dietary servings
Per Portion
| | |
| --- | --- |
| Meat Alternative | 0.6 |
| Vegetables | 2.1 |
Energy sources