Avocado Prosciutto Stuffed Mushrooms
12
26
59
Ingredients
Minutes
Calories
Prep
Cook
Servings
10 min
16 min

12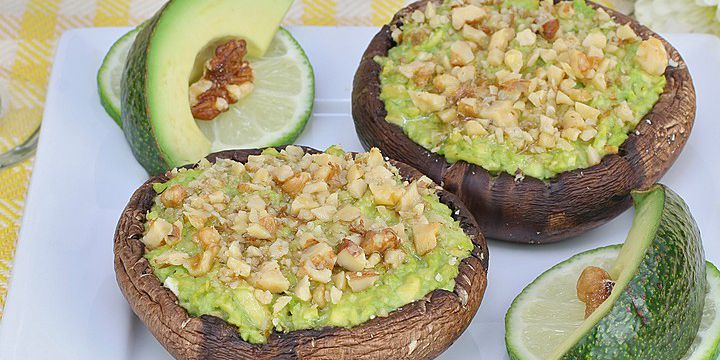 Stuffed mushrooms with avocados, prosciutto, and fresh herbs make a healthy snack or side dish.
Ingredients
| | |
| --- | --- |
| 227 gm | Cremini (Italian) mushroom (also known as baby bella mushrooms - stems removed) |
| 1 avocado(s) | Avocado (large) |
| 1/2 cup | Baby spinach |
| 3 slice | Prosciutto (2-3 pieces) |
| 1 tbsp | Lemon juice |
| 1 tbsp | Basil, fresh |
| 1 tbsp | Parsley, fresh |
| 1 tbsp | Extra virgin olive oil (for baking mushrooms) |
| 1/2 clove(s) | Garlic |
| 2 tsp | Onion powder |
| 1/8 tsp | Himalayan sea salt |
| 1/4 tsp | Black pepper |
Instructions
1. Line 2 baking sheets with foil and preheat your oven to 425 degrees.
2. Fold pieces of prosciutto in half and bake on lined baking sheet for 5 minutes, flip and bake for another 5 minutes on the other side. If it still isn't crispy enough, set oven to broil and cook for an additional minute. Set aside to cool.
3. Remove mushroom stems. Gently rinse under cool water and pat dry with paper towel. Place mushrooms gill side up on lined baking sheet and use a basting brush to coat caps and sides of mushrooms with olive oil. Sprinkle pink salt on each mushroom if desired and place into 425 degree oven for about 5-6 minutes.
4. Remove mushrooms from oven and dump out any moisture that collected inside the mushrooms while baking. Gently pat each mushroom dry with a paper towel. Set aside to cool.
5. Slice avocado and remove pit. place avocado flesh into a high speed blender (I used a Vitamix) or food processor along with baby spinach, lemon juice, basil leaves, parsley, garlic, onion powder, salt, pepper and blend until smooth. Taste test and adjust flavor as needed.
6. Crumble your cooled prosciutto into bite sized pieces and sprinkle a tiny inside your mushrooms. Scoop avocado filling mixture into each mushroom topped with more crumbled prosciutto pieces. Garnish with dried cilantro, flavor god everything spice mix and almond flour.

Serve and Devour!


Notes:
Quick Tips:
To make this AIP friendly, omit pepper, flavor god spice mix and almond flour garnish
Nutritional Highlights:
Mushrooms
are a great source of antioxidants which are important for healthy immunity!
Nutrition Facts
Per Portion
Calories from saturated fat
6.7
Polyunsaturated Fat
0.5 g
Monounsaturated Fat
2.7 g
Dietary servings
Per Portion
Energy sources