Baked Egg Cups
6
25
269
Ingredients
Minutes
Calories
Prep
Cook
Servings
10 min
15 min

2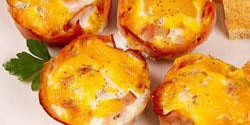 Pair with whole grain toast, or fresh fruit and yogurt!
Ingredients
| | |
| --- | --- |
| 4 slice | Turkey, deli cut |
| 1/2 cup chopped | Green bell pepper (or any vegetable you like) |
| 1/2 cup | Baby spinach (chopped; or any vegetable you like) |
| 4 medium egg | Egg |
| 1/4 tsp | Black pepper |
| 1/3 cup shredded | Mozzarella cheese |
Instructions
Place oven rack in centre of oven. Preheat oven to 375°F (190°C). With pastry brush or small piece of waxed paper dipped in butter or shortening, grease four 3-inch (125 mL) ovenproof ceramic ramekins or custard cups, or spray with nonstick baking spray; set aside.
On cutting board, stack turkey slices one on top of the other. With small knife and using cookie cutter or jar as guide, cut turkey into 5-inch (12 cm) circles.
Press 1 slice onto bottom and up side of each ramekin. Cut turkey scraps pieces into small pieces; set aside.
Distribute green pepper and spinach into each ramekin.
Break 1 of the eggs into separate small bowl; pour on top of green pepper and spinach in 1 ramekin. Repeat with remaining eggs and ramekins.
Sprinkle turkey pieces, black pepper and cheese on top.
Place ramekins on baking sheet. Bake for about 15 minutes or until whites are set, yolks are still runny and cheese is bubbly.
Wearing oven mitts, remove baking sheet from oven; place on wire cooling rack. Let cool for 5 minutes.
Nutrition Facts
Per Portion
Calories from saturated fat
54
Polyunsaturated Fat
1.7 g
Monounsaturated Fat
5.6 g
Dietary servings
Per Portion
| | |
| --- | --- |
| Meat | 0.7 |
| Meat Alternative | 1 |
| Milk Alternative | 0.4 |
| Vegetables | 0.7 |
Energy sources