Baked Salmon Fillets with Herbs
9
20
535
Ingredients
Minutes
Calories
Prep
Cook
Servings
5 min
15 min

4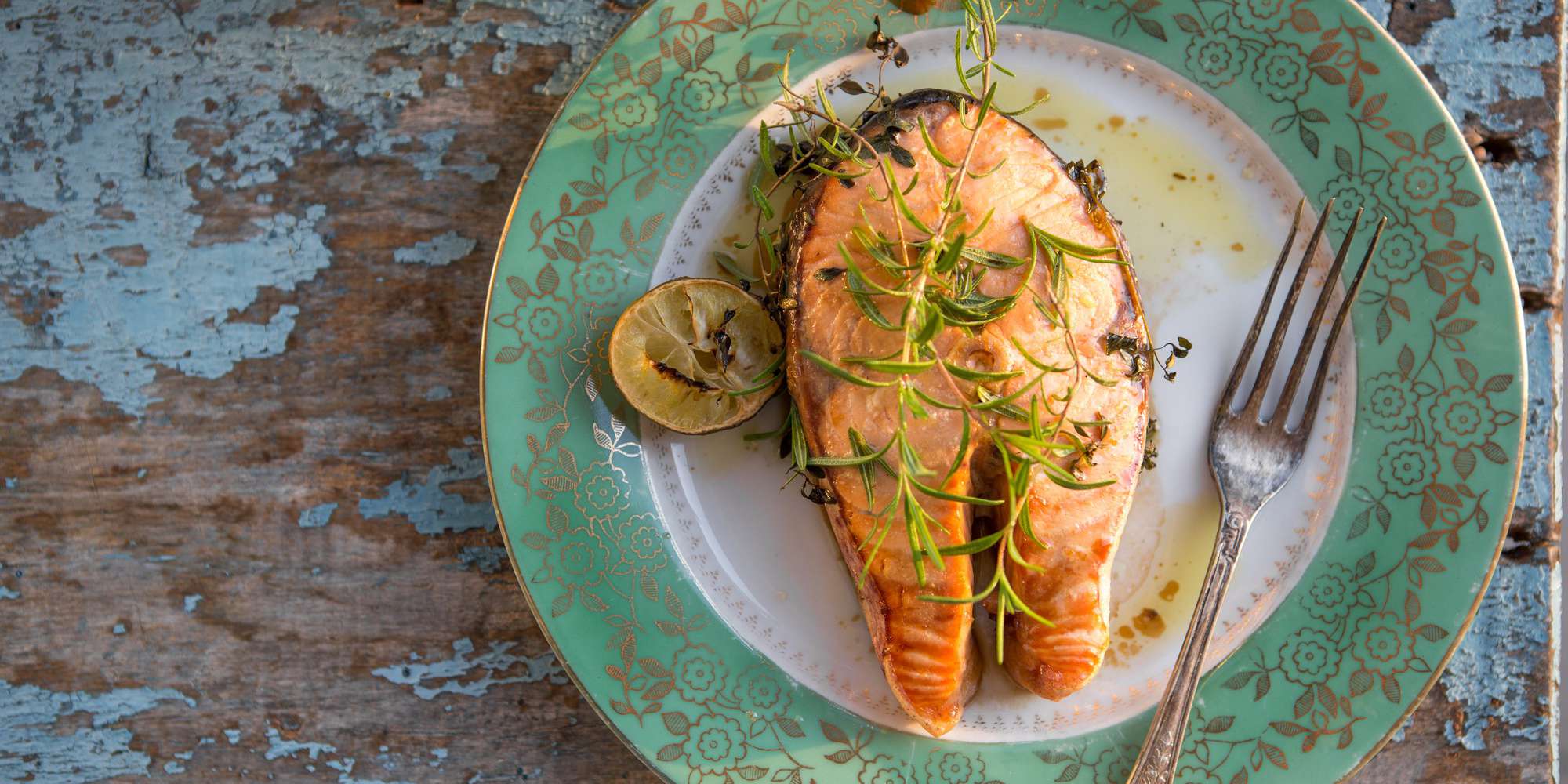 Enjoy this delicious main course served with whole grains and steamed vegetables.
Ingredients
| | |
| --- | --- |
| 4 fillet (384g) | Atlantic salmon,wild, boneless (12 to 16 oz fillets) |
| 2 tbsp | Soy sauce, tamari (more or less to taste) |
| 2 tbsp | Lemon juice (or lime juice; more or less to taste) |
| 2 tsp | Parsley, dried (crushed) |
| 1/2 tsp | Paprika (more or less to taste) |
| 1/4 tsp, leaves | Basil, dried (crushed) |
| 1/8 tsp, leaves | Tarragon, dried (or dill weed; optional) |
| 1 pinch | Sea salt, fine (more or less to taste) |
| 1/8 tsp | Cayenne pepper (dash; more or less to taste) |
Instructions
1. Preheat oven to 375F degrees.
2. Place salmon skin side down in a lightly oiled, low glass baking dish. Add about 1/4 to 1/3 inch water. Pour the tamari then the lemon juice over the fillets.
3. Sprinkle the parsley, paprika, basil, tarragon, salt and cayenne evenly on top.
4. Bake, basting once or twice, for 9 to 14 minutes or until fish flakes, changes colour and is cooked evenly throughout (add a bit of extra hot water around the fish if needed during cooking).
5. Serve with lemon/lime wedges, parsley sprigs and/or fresh chopped parsley, chives/green onion tops and 1-2 tsp unsalted butter or olive oil if desired.
Nutrition Facts
Per Portion
Calories from saturated fat
34
Polyunsaturated Fat
9.8 g
Monounsaturated Fat
8.1 g
Dietary servings
Per Portion
Energy sources
Notes:
Quick Tips:
Safety
Never eat seafood that is raw, or not cooked through. Internal temperature of fish should be 158F or 70C degrees and for shellfish 165F or 74C degrees.
---
Nutritional Highlights:
Salmon
High in omega-3s important for heart, brain and hormone health.
Recipe from:
Genuine Health