Baked Tilapia with Pecan Rosemary Topping
10
30
234
Ingredients
Minutes
Calories
Prep
Cook
Servings
10 min
20 min

4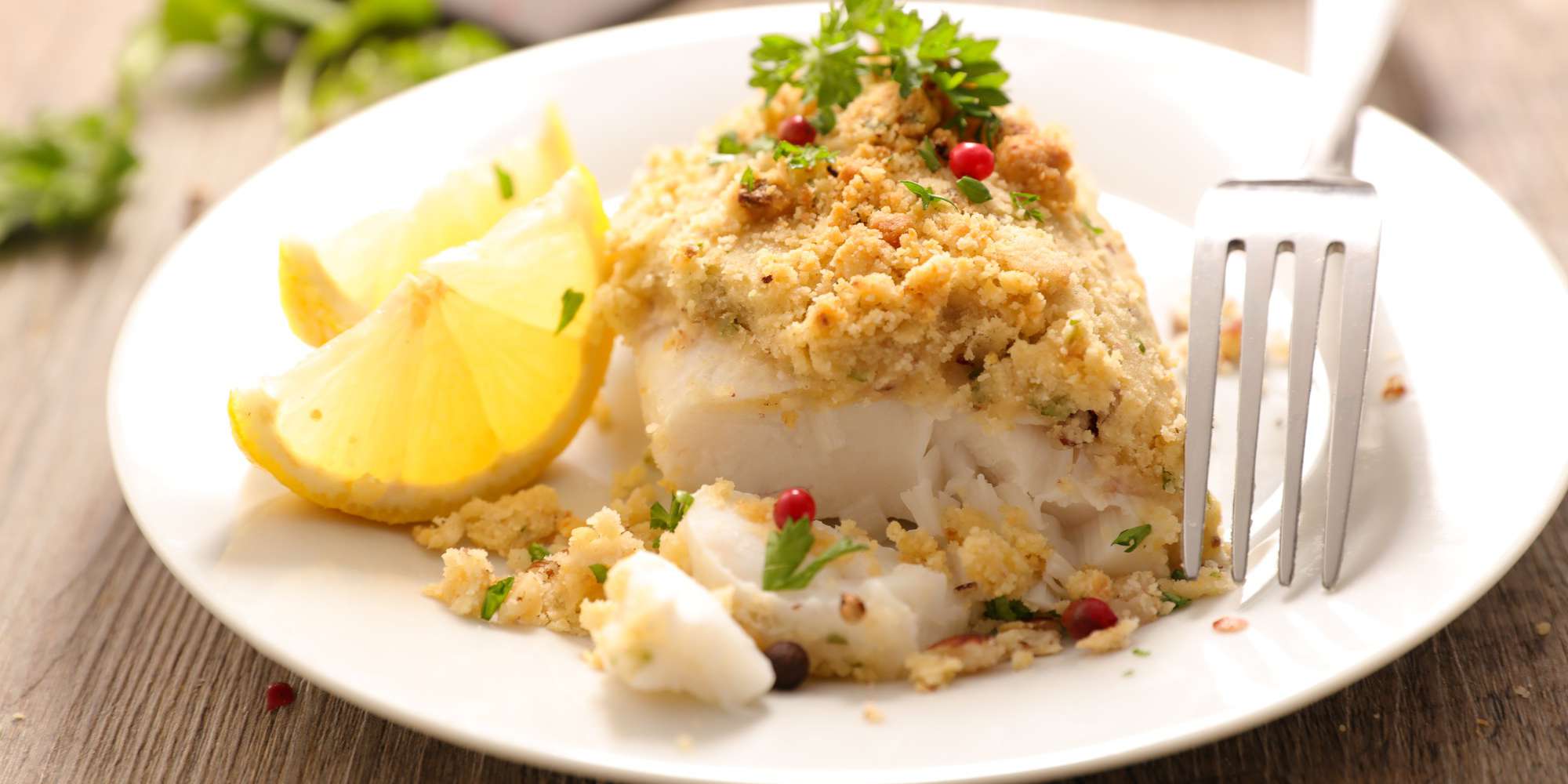 Crispy baked fish that the whole family will enjoy!
Ingredients
| | |
| --- | --- |
| 1/3 cup | Pecans (crushed) |
| 1/3 cup | Bread crumbs, whole wheat |
| 1/2 tsp packed | Brown sugar |
| 1 pinch | Salt |
| 1/8 tsp | Cayenne pepper (to taste) |
| 1 1/2 tsp | Extra virgin olive oil |
| 3 spray (about 1/3 second) | Olive oil cooking spray |
| 2 tsp | Rosemary, fresh (chopped) |
| 1 large egg | Egg white |
| 4 fillet | Tilapia |
Instructions
1. Preheat oven to 350F degrees.
2. In a small baking dish, stir together pecans, breadcrumbs, brown sugar, salt and cayenne pepper. Add the olive oil and toss to coat the pecan mixture.
3. Bake until the pecan mixture is light golden brown, 7 to 8 minutes.
4. Increase the heat to 400F degrees. Coat a large glass baking dish with cooking spray.
5. In a shallow dish, whisk the egg white. Working with one tilapia at a time, dip the fish in the egg white and then the pecan mixture, lightly coating each side. Place the fillets in the prepared baking dish. Press the remaining pecan mixture into the top of the tilapia fillets.

6. Bake until the tilapia is just cooked through, about 10-12 minutes.
Notes:
Quick Tips:
For egg-free
Dip fish fillets in coconut milk, melted butter or olive oil before coating with the breading to help it stick.
For gluten-free
Use gluten-free bread crumbs found at most grocery and health food stores.
Safety
Cooking time will vary depending on the size and thickness of the filets.
Never eat seafood that is raw, or not cooked through. Internal temperature of fish should be 158F or 70C degrees and for shellfish 165F or 74C degrees.
---
Nutritional Highlights:
Tilapia
A good source of protein, B12, selenium and potassium. There is some concern of this species being over-farmed as well as containing an imbalanced ratio of omega 3 to 6. Avoid Tilapia from China and choose wild when possible.
Nutrition Facts
Per Portion
Calories from saturated fat
16.3
Polyunsaturated Fat
2.9 g
Monounsaturated Fat
6.0 g
Dietary servings
Per Portion
| | |
| --- | --- |
| Grain | 0.3 |
| Meat | 1.2 |
| Meat Alternative | 0.4 |
Energy sources