Banana Nut Pancakes
9
17
373
Ingredients
Minutes
Calories
Prep
Cook
Servings
5 min
12 min

2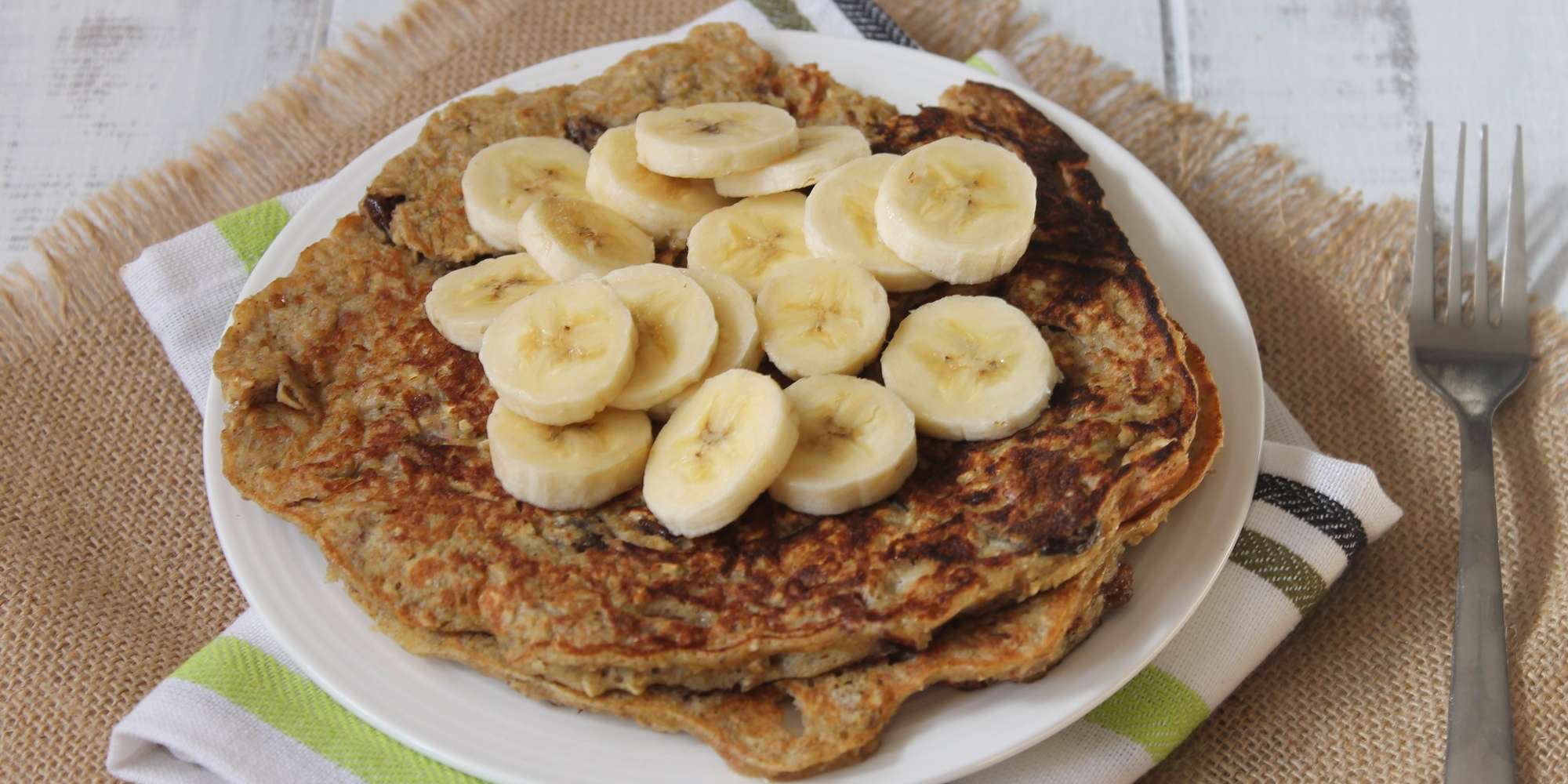 A healthier and nuttier take on the classic pancake recipe.
Ingredients
| | |
| --- | --- |
| 1 medium | Banana (s) (mashed) |
| 2 medium egg | Egg (whisked) |
| 1/2 cup | Quick oats, gluten free, dry |
| 1 tbsp | Coconut milk |
| 1/2 tsp | Vanilla extract, pure |
| 1 tsp | Cinnamon |
| 2 tbsp | Walnuts (crushed pieces) |
| 2 tbsp | Raisins, seedless (sultana) (or cranberries or chopped, dried apples (optional)) |
| 1 tbsp | Coconut oil (for pan) |
Instructions
1. Heat a frying pan on your stovetop over low-medium heat.
2. While your frying pan is heating up, in a large mixing bowl, mash the banana and to it add the eggs. Whisk the eggs into the mashed banana until everything is thoroughly incorporated.
3. Add the oats, coconut milk, vanilla, cinnamon, walnuts and dried fruit of choice into the mixing bowl that contains your egg and banana mixture. Mix everything together until it makes a thick batter and everything is combined. Make sure to leave no oats dry.
4. If you need to, turn your frying pan up to medium heat and add 1/2 tablespoon of coconut oil to the pan. Let it heat for 15 seconds.
5. Scoop 1/2 cup of batter into the frying pan and spread it out with a fork if needed.

6. Cook your pancake until the edges start to brown and it easily lifts off pan (about 3 minutes).

7. Flip the pancake over and cook until done (about 3 more minutes).

8. Repeat with remaining batter and coconut oil. Top with your favourite toppings and enjoy!
Notes:
Quick Tips:
To make this grain-free, substitute oats for almond flour.

Substitute coconut milk for any dairy-free milk of choice. Optional, cook with avocado oil or ghee instead of coconut oil.
Topping options: nut butter, almonds, pecans or fresh jam.
---

Nutritional Highlights:
Fiber
This breakfast is loaded with beneficial fiber from the nuts and oats. Fiber is an important part of breakfast as it helps to regulate your digestive system during the day.
Nutrition Facts
Per Portion
Calories from saturated fat
86
Polyunsaturated Fat
4.3 g
Monounsaturated Fat
3.1 g
Dietary servings
Per Portion
| | |
| --- | --- |
| Fruit | 0.7 |
| Meat Alternative | 0.7 |
Energy sources