BBQ Jackfruit Sandwiches with Avocado Slaw
12
30
500
Ingredients
Minutes
Calories
Prep
Cook
Servings
5 min
25 min

6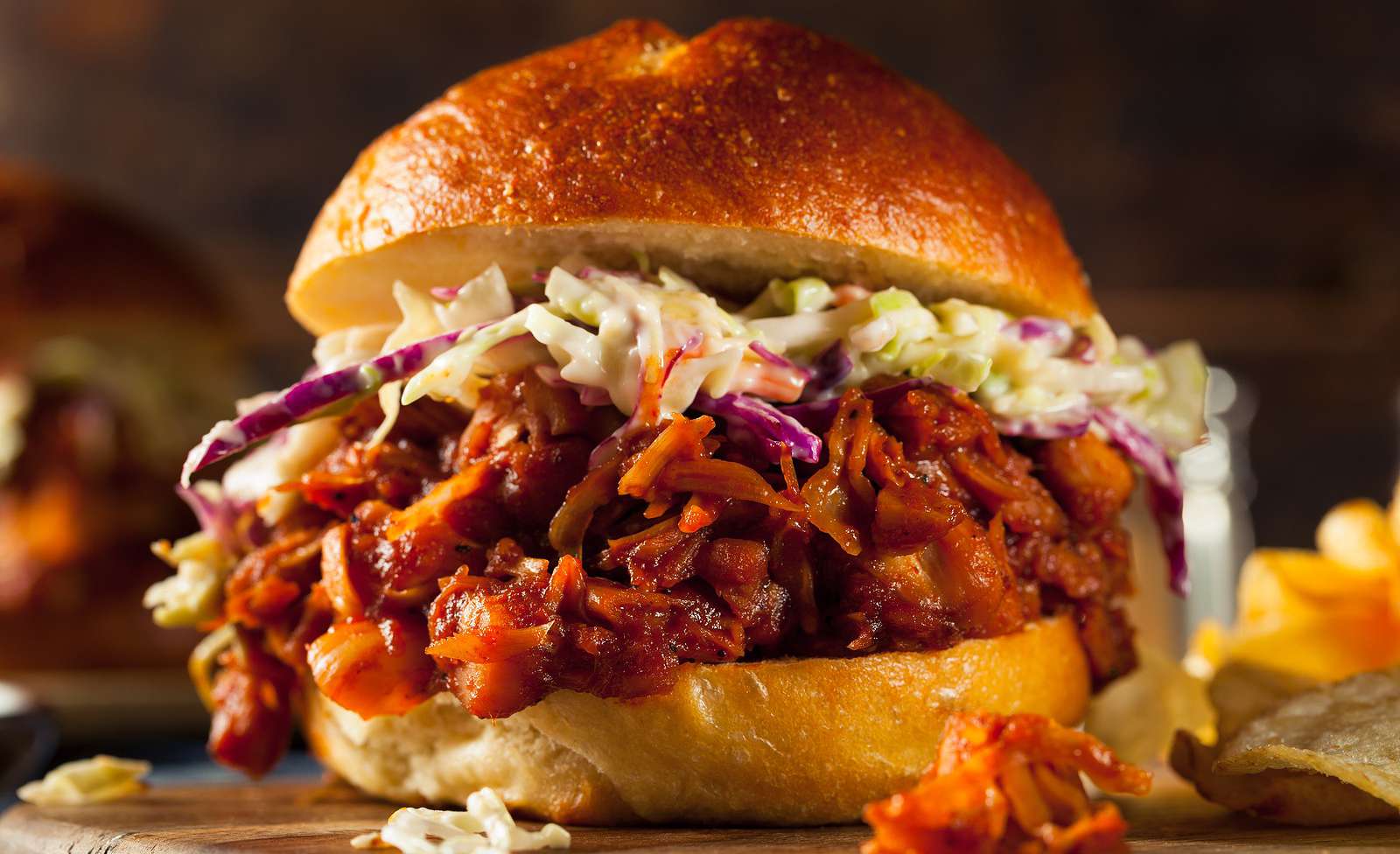 This delicious BBQ Jackfruit pulled "pork" Sandwich will fool meat eaters every time! Serve on your favorite bun and top with housemade tangy Avocado Slaw.
Ingredients
| | |
| --- | --- |
| 2 can (20oz) | Jackfruit, canned, in water |
| 1/4 cup | Barbecue seasoning, McCormick |
| 1 tbsp | Vegetable oil (or cooking oil of choice) |
| 3/4 cup | Barbecue sauce (optional, vegan) |
| 1/2 avocado(s) | Avocado (for slaw) |
| 1 whole lemon(s) | Lemon juice (for slaw, or lime) |
| 1 tbsp | Maple syrup (for slaw) |
| 1 pinch | Salt and pepper (for slaw, to taste) |
| 1 cup grated | Carrots (shredded, for slaw) |
| 1 cup shredded | Green cabbage (for slaw) |
| 6 bun(s) | Bun, gluten free (for serving) |
| 1/2 cup | Cashew nuts, roasted (for serving) |
Instructions
Rinse, drain, and thoroughly dry jackfruit. Chop off the center "core" portion of the fruit and discard. Place in a mixing bowl and set aside.
Mix together BBQ seasoning and add to jackfruit. Toss to coat.
Heat a large skillet over medium heat. Once hot, add 1-2 Tbsp oil of choice and seasoned jackfruit. Toss to coat and cook for 2-3 minutes to achieve some color.
Add BBQ sauce and thin with enough water to make a sauce. Stir and reduce heat to low-medium and cook for about 20 minutes (up to 35 minutes on low for a deeper flavor). Remove lid and stir occasionally. For a finer texture, use two forks to shred the jackfruit as it cooks down.
In the meantime, make the slaw. Add the avocado, lemon juice, maple syrup, salt, and pepper to a small mixing bowl and whisk to combine. Thin with water until a thick sauce is made, then add the shredded carrots and cabbage. Toss to coat and set in the refrigerator until serving.
Once the jackfruit has been properly simmered, turn up the heat to medium-high and cook for 2-3 more minutes to get a little extra color/texture. Then remove from heat.
Place generous portions of slaw on the bottom buns, top with a generous serving of BBQ jackfruit, a sprinkle of cashews, and serve with extra BBQ sauce. Enjoy!
Notes:
Storage Instructions:
Leftover jackfruit keeps for up to a couple of days in the fridge, though best when fresh.
---
Nutrition Highlights:
Jackfruit contains antioxidants which help to boost the immune system. Microminerals and copper in jackfruit may assist with thyroid metabolism!
Cabbage is a good source of fibre and aids in digestion!
Nutrition Facts
Per Portion
Calories from saturated fat
19.9
Polyunsaturated Fat
3.8 g
Monounsaturated Fat
6.6 g
Dietary servings
Per Portion
| | |
| --- | --- |
| Fruit | 1.6 |
| Grain | 2 |
| Meat Alternative | 0.3 |
| Vegetables | 0.7 |
Energy sources