Beet and Orange Salad
11
55
178
Ingredients
Minutes
Calories
Prep
Cook
Servings
10 min
45 min

6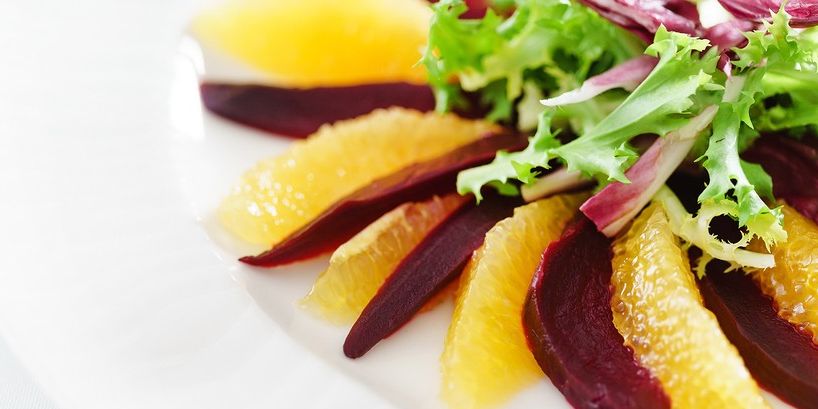 A delicious immune-boosting and liver-loving salad.
Ingredients
| | |
| --- | --- |
| 1 tsp | Honey, raw (vinaigrette) |
| 1 tsp | Dijon mustard (vinaigrette) |
| 1/4 cup | Extra virgin olive oil (vinaigrette) |
| 3 tbsp | Balsamic vinegar (vinaigrette) |
| 1/2 tsp, leaves | Basil, dried (vinaigrette) |
| 1/4 tsp | Salt (vinaigrette) |
| 1 dash | Black pepper (vinaigrette) |
| 3 beet(s) | Beets, raw (scrubbed and greens removed) |
| 3 large | Orange (peeled and sectioned (I love Satsuma when they are in season)) |
| 1 container (5oz) | Arugula |
| 1/4 cup | Pumpkin seeds (pepitas) |
Instructions
1. Preheat oven to 400° F.
2. Whisk the honey, dijon, olive oil, balsamic vinegar, basil, salt and pepper in a small bowl to combine and set aside.
3. Wrap beets tightly in aluminum foil and place on a baking sheet. Cook for 45 minutes, or until the beets can be pierced easily with a sharp knife.
4. Once the beets are cooled enough to handle, trim the top and bottom of the beet. Beet juice can stain your hands so I have a pair rubber gloves that I use just for peeling. Rub the skins gently with your hands to remove them. If any of the skin doesn't come off, use a paring knife. Cut the beets in half and then into 1⁄4" slices.
5. Divide the arugula among six salad plates. Fan out the beets, slice the oranges and place them on top and sprinkle with pumpkin seeds.
6. Drizzle salad with vinaigrette and serve immediately.

Notes:
Quick Tips:

Don't throw those beet greens away! They are great sautéed with a little olive oil and finished with sea salt and freshly ground black pepper.
For protein, add chickpeas, lentils, chicken breast, grass-fed steak or salmon.
Nutrition Facts
Per Portion
Calories from saturated fat
12.5
Polyunsaturated Fat
1.3 g
Monounsaturated Fat
6.8 g
Total Carbohydrate
19.5 g
Dietary servings
Per Portion
Energy sources
Recipe from:
Alethea Copelas, The Inspired Kitchen