Berry Chia Seed Pudding
11
145
486
Ingredients
Minutes
Calories
Prep
Cook
Servings
2 h 15 min
10 min

2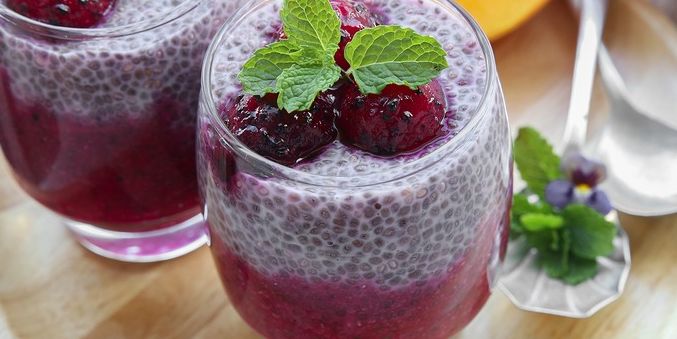 A great way to snack with a little extra protein and healthy fats!
Ingredients
| | |
| --- | --- |
| 1 cup | Coconut milk (full-fat) |
| 1/2 cup | Almond milk, vanilla, unsweetened, Silk (any desired brand) |
| 1 tbsp | Maple syrup, pure |
| 1 tsp | Vanilla extract, pure |
| 1/4 cup | Chia seeds |
| 1 1/2 cup | Frozen berries (berry sauce) |
| 2 tbsp | Water (berry sauce) |
| 1 tbsp | Maple syrup, pure (berry sauce) |
| 1 tsp | Lemon juice (berry sauce) |
| 1/8 tsp | Cinnamon (berry sauce) |
| 1 pinch | Sea salt (berry sauce) |
Instructions
1. Mix together coconut milk, almond milk, maple syrup and vanilla in a medium-sized bowl.
2. Whisk in chia seeds until no clumps remain and place in the fridge for 2 hours to thicken. If you find the pudding has clumps in it when you take it out of the fridge, simply give it a good whisk again to break up any remaining clumps.
Berry Sauce:
1. Add berries and water to medium-sized pot and bring to boil.
2. Lower the heat and add in the maple syrup, lemon juice, cinnamon, sea salt and chia seeds, if using.
3. Let cook for a few minutes until the sauce reduces slightly.
4. Remove from heat and puree with an immersion blender until smooth.
Assembly:
In a large glass, alternate layers of chia pudding with the Berry Sauce, starting with the pudding and ending with the sauce.
Enjoy!
Notes:
Nutritional Highlights
Berries
are packed with antioxidants called anthocyanins, they are a great source of fiber which is important for digestive health.
Chia Seeds
are an excellent source of omega 3 fatty acids, rich in antioxidants, fiber, iron and calcium.
Coconut milk
contains medium-chain triglycerides which balance out unstable gut microbiota and help balance hormones.
Almond milk
is very low in sugar and contains vitamin E, it is naturally lactose-free.
Nutrition Facts
Per Portion
Calories from saturated fat
210
Polyunsaturated Fat
5.4 g
Monounsaturated Fat
1.9 g
Dietary servings
Per Portion
| | |
| --- | --- |
| Fruit | 1.4 |
| Meat Alternative | 0.7 |
| Milk Alternative | 0.2 |
Energy sources