Blackened Tilapia
10
17
151
Ingredients
Minutes
Calories
Prep
Cook
Servings
5 min
12 min

4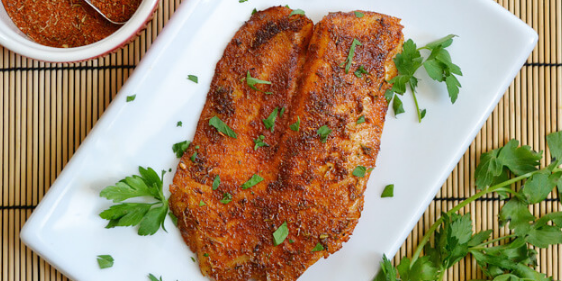 Flavourful fish that's perfect for a quick week night dinner.
Ingredients
| | |
| --- | --- |
| 1 tbsp | Paprika, smoked |
| 1 tsp | Cumin |
| 1 tsp, ground | Thyme, dried |
| 1 tsp | Oregano, dried |
| 1/4 tsp | Cayenne pepper |
| 1/4 tsp | Garlic powder |
| 1/4 tsp | Salt |
| 1 dash | Black pepper |
| 1 tbsp | Extra virgin olive oil (or butter) |
| 4 fillet | Tilapia |
Instructions
1. In a small bowl, combine the paprika, cumin, thyme, oregano, cayenne, garlic, salt, and pepper.
2. Liberally coat both sides of each tilapia filet with the spices. The moisture from the filet will help the spices adhere. If the fish is very wet, pat it dry with a paper towel before beginning, so that it is just damp.
3. Heat olive oil in a skillet over medium heat. Add two of the fish fillets at a time and cook for about 2-3 minutes on each side, or until the spices have turned a deep burgundy colour and the fish is cooked through. Repeat with remaining fillets, adding more olive oil before beginning, if needed.
4. Serve hot with a side of rice, cauliflower rice, baked sweet potatoes or quinoa.
Notes:
Quick Tips:
Safety
Cooking time will vary depending on the size and thickness of the filets.
Never eat seafood that is raw, or not cooked through. Internal temperature of fish should be 158F or 70C degrees and for shellfish 165F or 74C degrees.
---
Nutritional Highlights:
Tilapia
A good source of protein, B12, selenium and potassium. There is some concern of this species being over-farmed as well as containing an imbalanced ratio of omega 3 to 6. Avoid Tilapia from China and choose wild when possible.
Nutrition Facts
Per Portion
Calories from saturated fat
12.6
Polyunsaturated Fat
1.1 g
Monounsaturated Fat
3.3 g
Dietary servings
Per Portion
Energy sources