Buckwheat & Ginger Granola
9
55
410
Ingredients
Minutes
Calories
Prep
Cook
Servings
10 min
45 min

12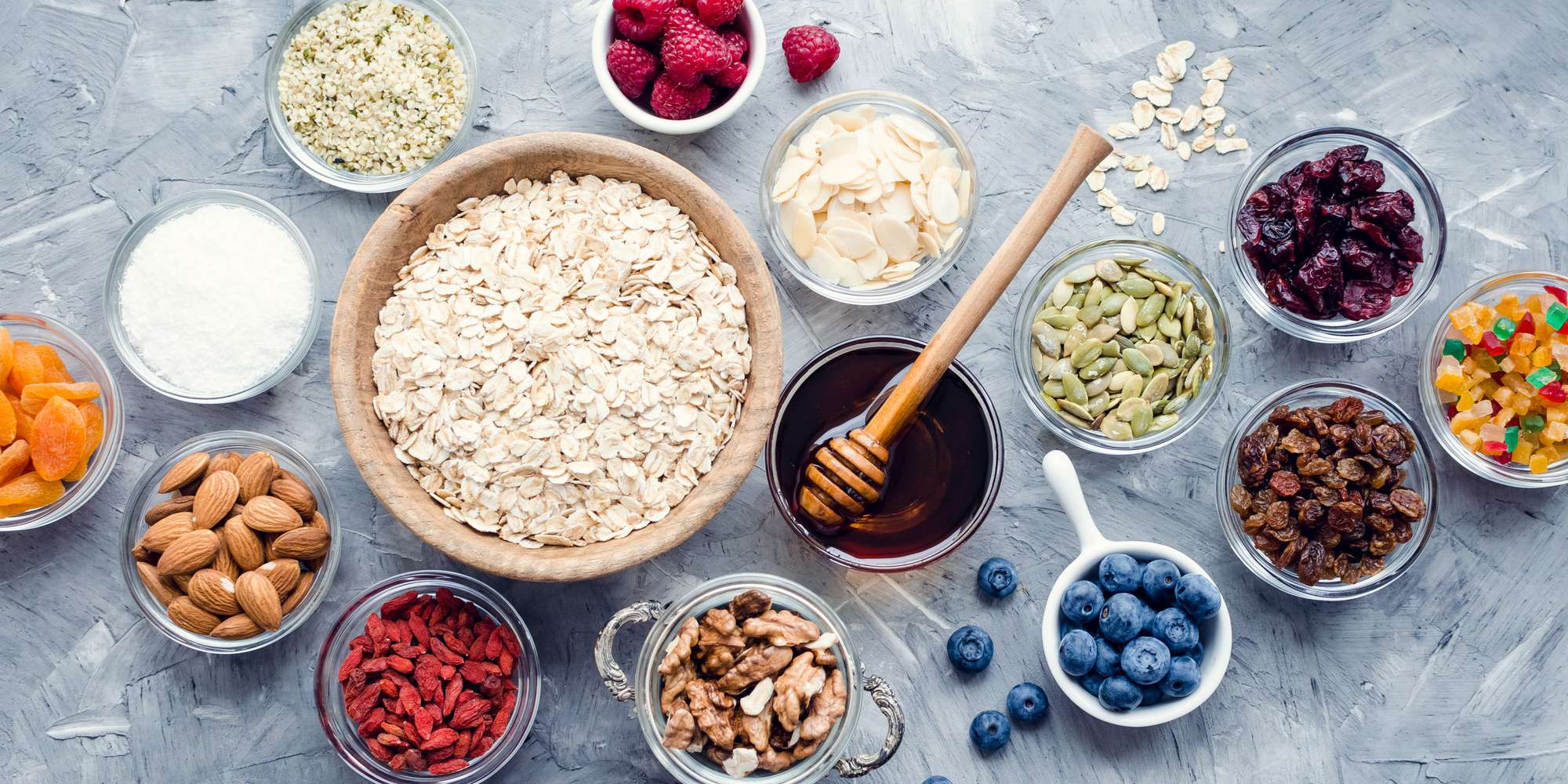 A great snack option to take on the go for extra energy!
Ingredients
| | |
| --- | --- |
| 1 cup | Buckwheat |
| 2 cup | Rolled oats- Gluten Free |
| 1 cup hulled | Sunflower seeds |
| 1 cup | Pumpkin seeds (pepitas) |
| 1 1/2 cup pitted | Dates |
| 1 cup | Applesauce, unsweetened |
| 6 tbsp | Coconut oil |
| 4 tbsp | Cacao powder, raw |
| 1 piece, 1-inch | Ginger root |
Instructions
1. Start by pre-heating the oven to 180C

2. Then place the oats, buckwheat and seeds into a large mixing bowl and stir well

3. Next add the dates, coconut oil and apple puree into a sauce pan and allow them to simmer for five minutes, until the dates are nice and soft

4. While the dates cook peel the ginger and grate it onto a plate, once it's grated mix it into the date pan.

5. When the dates are soft place them (including the melted coconut oil, grated ginger and apple puree) into a blender with the raw cacao powder and blend until the mix is totally smooth.
6. Then pour the mix over the buckwheat, oat and seed mix and stir well so that everything is coated.

7. Grease one large or two medium baking trays with coconut oil before spreading the granola out over them.

8. Place the baking trays in the oven and bake for about 45 minutes. After fifteen minutes remove the trays from the oven and stir everything well so that the top doesn't burn, then keep doing this every five to ten minutes for the rest of the time it's in the oven.

9. Once it's nice and crispy, but not burnt, take the granola out of the oven and allow it to cool before placing it in an airtight container to store.
Notes:
Storage
In an airtight container these bars will stay delicious for about a month or so
Quick Tips
Add or substitute and other nuts and seeds in this recipe, keeping them chopped small if needed
---
Nutritional Highlights
Buckwheat
is naturally gluten-free and non-allergenic, it is rich in dietary fiber and aa great source of vegetarian protein
Dates
are great antioxidants and are low on the glycemic index so they wont spike blood sugar and they are a great desert
Seeds
are a great way to add protein to a snack, they are great sources of fiber and may help to reduce blood sugar, cholesterol and blood pressure!
Nutrition Facts
Per Portion
Calories from saturated fat
65
Polyunsaturated Fat
4.3 g
Monounsaturated Fat
3.8 g
Dietary servings
Per Portion
| | |
| --- | --- |
| Fruit | 0.5 |
| Grain | 2.0 |
| Meat Alternative | 0.6 |
Energy sources