Caribbean Scallop Salad with Pineapple and Avocado
9
25
221
Ingredients
Minutes
Calories
Prep
Cook
Servings
10 min
15 min

4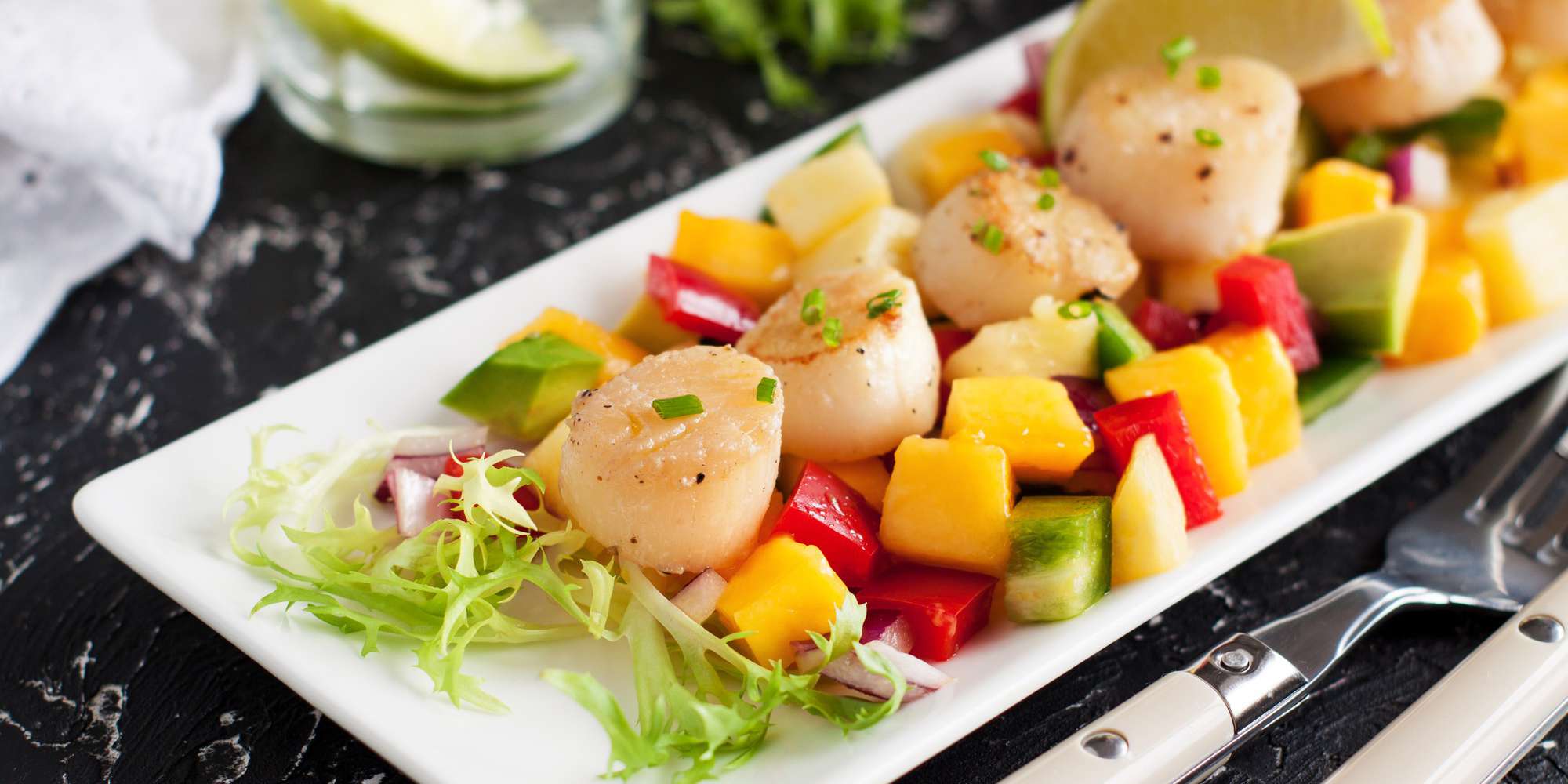 Quick and easy tropical salad.
Ingredients
| | |
| --- | --- |
| 12 large | Scallop, raw |
| 2 tsp | Fish Rub (divided) |
| 5 slice (2cm x 9cm dia) | Pineapple |
| 4 cup | Gourmet lettuce mix |
| 2 cup shredded or chopped | Iceberg lettuce |
| 1/2 avocado(s) | Avocado (peeled, sliced) |
| 2 tbsp | Lime juice (fresh) |
| 2 tbsp | Olive oil |
| 1 pinch | Salt and pepper (to taste) |
Instructions
1. Prepare grill to high heat or skillet on medium-high heat.
2. Pat scallops dry with a paper towel. Sprinkle fish rub evenly over scallops. Place scallops on grill rack; grill 3 minutes on each side or until done. Remove scallops. Add pineapple to grill rack; grill 2 minutes on each side. Remove pineapple from grill; chop pineapple. Alternatively, pan sear scallops with a drizzle of avocado oil and pan-fry the pineapple.
3. Combine lettuce mix, iceberg, pineapple, and avocado in a large bowl.
4. Combine lime juice, olive oil, plus salt and pepper to taste. Add dressing to salad, and toss well. Divide salad into bowls. Arrange 3-4 scallops over each salad. Enjoy!
Notes:
Quick Tips:
Safety
Cooking time will vary depending on the size and thickness of the filets.
Never eat seafood that is raw, or not cooked through. The internal temperature of fish should be 158F or 70C degrees and for shellfish 165F or 74C degrees.
Nutritional Highlights:
Avocado
Loaded with potassium and heart-healthy monounsaturated fats as well as fiber, folate and vitamin C. Avocados help in the absorption of fat-soluble vitamins A, D, E and K.
Scallops
High in selenium, zinc, potassium, iron and magnesium, scallops are wonderful for the nervous system and heart health.
Nutrition Facts
Per Portion
Calories from saturated fat
14.3
Polyunsaturated Fat
1.4 g
Monounsaturated Fat
7.5 g
Total Carbohydrate
22.3 g
Dietary servings
Per Portion
| | |
| --- | --- |
| Fruit | 1.4 |
| Meat | 0.5 |
| Vegetables | 1.7 |
Energy sources