Anti-inflammatory Carrot and Beet Quinoa Salad
13
10
406
Ingredients
Minutes
Calories
Prep
Cook
Servings
10 min
0 min

4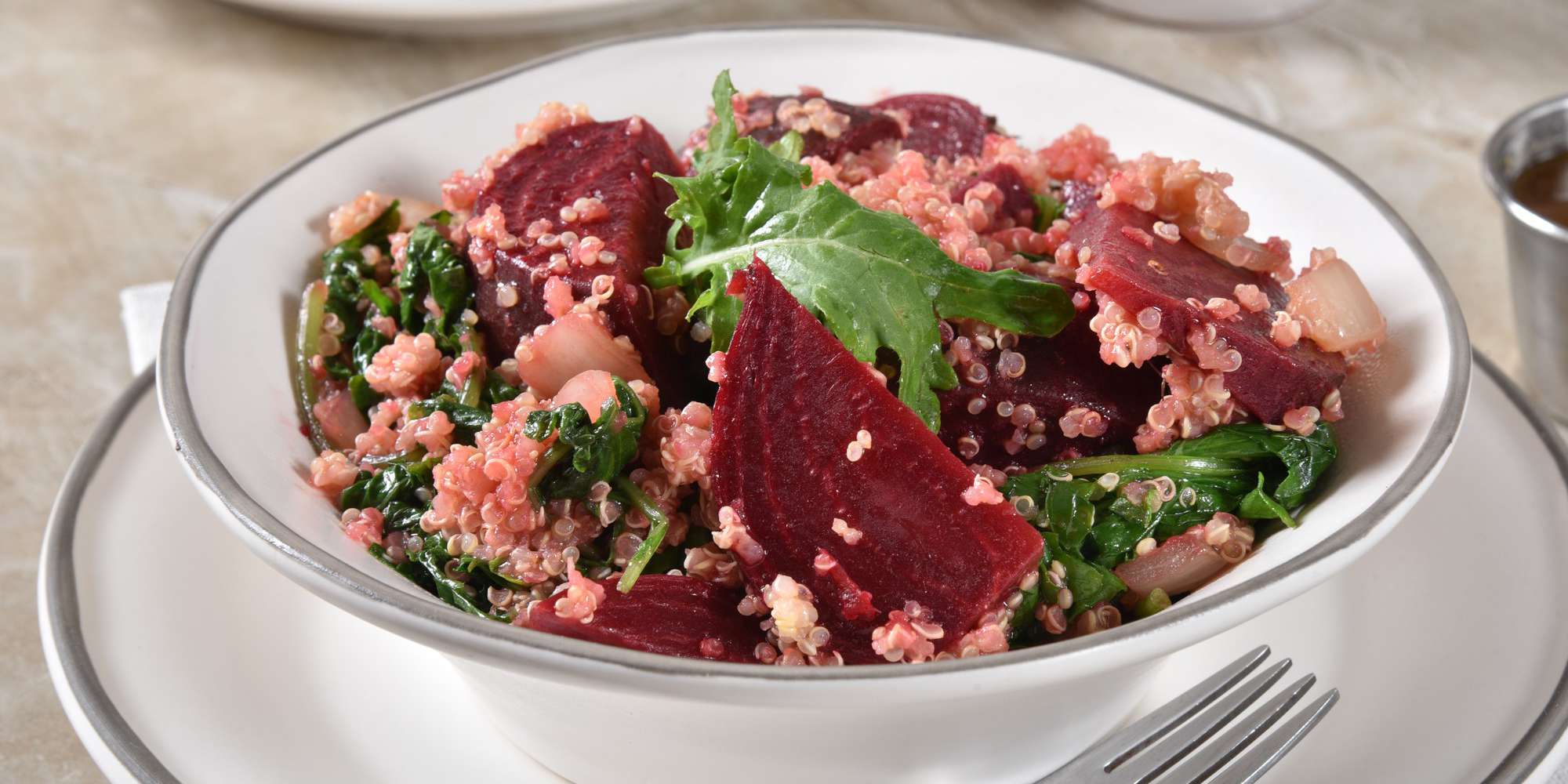 Anti-inflammatory salad that can be served on its own for lunch or as a side.
Ingredients
| | |
| --- | --- |
| 3 cup | Quinoa, cooked (cooled) |
| 1/3 cup | Extra virgin olive oil (dressing) |
| 2 fruit | Lime (juiced; dressing) |
| 2 clove(s) | Garlic (minced; dressing) |
| 1 tsp | Cumin (dressing) |
| 1/4 tsp | Turmeric, powder (dressing) |
| 1/2 tsp | Cayenne pepper (dressing) |
| 1 tsp | Salt and pepper (dressing) |
| 1 medium pepper(s) | Red bell pepper (chopped) |
| 2 medium | Carrots (diced) |
| 2 beet(s) | Beets, boiled, drained (chopped) |
| 1/2 cup | Cilantro (coriander) (chopped) |
| 2 cup | Lettuce, spring mix (mesclun) (optional) |
Instructions
1. If you haven't cooked the quinoa, do it now according to package instructions while you prep the rest of the ingredients. About 1 cup of dry quinoa gives 2 cups of cooked quinoa.
2. Mix olive oil, lime juice, garlic, cumin, turmeric, cayenne, and salt and pepper in a jar and mix well.
3. Add quinoa, bell pepper, carrots, beets, cilantro, and lettuce mix (optional) to a large bowl.
4. Add as much of the dressing as you like and toss to combine. Allow salad to soak all the flavors for 5-10 minutes before serving.
Notes:
Quick Tips:
For quick prep have quinoa ready ahead of time. To save time, purchase vacuum packed boiled beets.
Storage
Store dressing in an airtight container in the fridge for up to 7 days.
You can also store the salad in a sealed container for 3 days. If you're planning for leftovers, don't add mixed greens until right before serving so they don't get soggy.
---
Nutritional Highlights:
Quinoa
A wonderful gluten-free and lo glycemic seed that is a complete protein as it contains all essential amino acids. It's high in fiber, magnesium, folate, zinc and iron.
Beets
Help with oxygen uptake, blood pressure reduction and athletic performance. They also have antioxidant and anti-inflammatory properties and are a top heart healthy food.
Nutrition Facts
Per Portion
Calories from saturated fat
25.0
Polyunsaturated Fat
2.9 g
Monounsaturated Fat
13.8 g
Dietary servings
Per Portion
| | |
| --- | --- |
| Fruit | 0.5 |
| Grain | 2.1 |
| Vegetables | 2.2 |
Energy sources