Cauliflower Crust Pizza
13
60
499
Ingredients
Minutes
Calories
Prep
Cook
Servings
15 min
45 min

4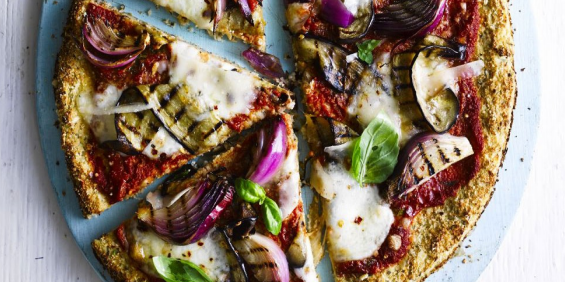 Gotta' love this Grain-Free crust!
Ingredients
| | |
| --- | --- |
| 100 gm | Almond flour/meal, Bob's Red Mill (for base) |
| 1 tbsp | Oregano, dried (for base) |
| 750 gm | Cauliflower (about 750 gm (for base)) |
| 2 large egg | Egg (beaten (for base)) |
| 1/2 bunch | Basil, fresh (for topping) |
| 1 can(s) (16 oz) | Diced tomatoes, canned (for topping) |
| 15 ml | Tomato puree, canned (for topping) |
| 1 clove(s) | Garlic (for topping) |
| 25 gm | Parmesan cheese, grated (for topping) |
| 1/2 eggplant | Eggplant (thinly sliced lengthways (for topping)) |
| 125 gm | Mozzarella cheese, partially skimmed (sliced (for topping)) |
| 2 tbsp | Olive oil (+ extra for greasing (for topping)) |
| 1 small | Red onion (cut in 8 wedges (for topping)) |
Instructions
1. Heat oven to 400.

2. Remove the leaves from the cauliflower and trim the stalk end, then cut into chunks. Blitz half the cauliflower in a food processor until finely chopped, like rice. Transfer to a bowl and repeat with the remaining half.

3. Tip all the cauliflower in a bowl, cover with cling film and microwave on High for 5-6 mins until softened. Tip onto a clean tea towel and leave to cool a little. Once cool, scrunch up the tea towel and squeeze as much liquid as you can out of the cauliflower, then transfer to a clean bowl.

4. Stir in the ground almonds, egg, oregano and plenty of seasoning. Line a baking tray with baking parchment and grease with oil.

5. Mound the cauliflower mix into the centre of the tray, then use a spoon and your hands to spread out into a 30cm round. Make it a little thicker at the edges to create a 'crust'. Bake for 15-18 mins until golden brown and starting to crisp a little at the edges.

6. Brush each eggplant slice on both sides with oil, season and cook for 5-6 mins, turning once, until softened and charred. Transfer to a plate. Brush the onions with oil, season and griddle for 5-8 mins until softened and charred.

7. To make the tomato sauce, whizz the canned tomatoes, tomato purée, garlic and some seasoning in a blender until smooth. Transfer to a small saucepan, bring to a simmer and cook gently for 8-10 mins until thick (you don't want any watery tomato soaking into the cauliflower base).

8. Tear half the basil leaves and stir through the sauce.

9. Once the cauliflower base is cooked, set aside to cool. Turn the oven up to 425. Drain the mozzarella, and pat dry.

10. Spread tomato sauce over the base, sprinkle over the Grana Padano, then arrange the eggplant, red onion and mozzarella on top. Scatter over the chilli flakes and return to the oven for 10-12 mins.

11. Before serving, shave over a little more cheese and scatter with the remaining basil leaves.
Notes:
Cauliflower
is a cruciferous vegetable and is high in fiber and B-vitamins
Nutrition Facts
Per Portion
Calories from saturated fat
64
Polyunsaturated Fat
1.6 g
Monounsaturated Fat
8.1 g
Dietary servings
Per Portion
| | |
| --- | --- |
| Meat Alternative | 1.2 |
| Milk Alternative | 0.8 |
| Vegetables | 6.3 |
Energy sources