Cauliflower Nuggets
9
45
32
Ingredients
Minutes
Calories
Prep
Cook
Servings
15 min
30 min

30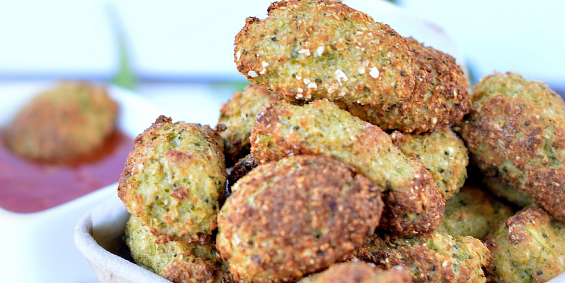 If you're looking for a delicious, kid-friendly way to get your vegetables in, check out these Cauliflower Nuggets!
Ingredients
| | |
| --- | --- |
| 3 cup | Cauliflower (chopped florets) |
| 1/2 cup | Broccoli florets (grated small) |
| 1 small | Yellow onion (peeled, diced) |
| 4 large egg | Egg (or prepare chia eggs) |
| 1 cup | Oat flour (or almond meal/flour) |
| 1/2 tbsp, ground | Basil, dried |
| 1/2 tbsp | Mint, dried |
| 1 pinch | Salt and pepper |
| 1/2 tsp | Olive oil (to coat hands) |
Instructions
1. Preheat your oven to 400 degrees F. Prepare a large baking sheet by adding parchment paper to it. Set aside.

2. Prep your vegetables according to the ingredient instructions.

3. In a food processor with the S blade attachment, blend the cauliflower florets, broccoli florets and peeled and diced yellow onion on high-speed until it forms a raw fine vegetable crumb that looks like cauliflower rice. You should obtain 3 cups and 1/2 cup of tightly packed 'vegetable crumb'.

4. Once you have your vegetable crumb, add the eggs, oat flour, basil, mint, salt and pepper to the food processor. Process again on low speed until everything is thoroughly combined.

5. Transfer your mixture into a bowl and using a spatula combine again until it forms a consistent vegetable paste. If it's too moist, add a bit more flour (1 tbsp at a time, if needed) until it forms a paste that you can easily hold in your hand to form nuggets.

6. Oil your hands with olive oil and using your hands forms small vegetable nuggets (or balls or any small shapes you enjoy to make and are fun to eat). If you like you can coat some of them with extra flour by rolling them in flour into a plate.

7. Place the vegetable nuggets onto the parchment-lined baking sheet.

8. Place your baking sheet in the oven and bake for 25 -35 minutes until crispy and golden/ brown on the outside, but still soft in the centre.

9. Serve hot with a dip of your choice, or as a side dish with meat or fish. It is also very tasty to eat them at room temperature and they make a lovely addition to your kid's lunch box.
Nutrition Facts
Per Portion
Calories from saturated fat
2.7
Polyunsaturated Fat
0.3 g
Monounsaturated Fat
0.5 g
Dietary servings
Per Portion
Energy sources
Notes:
Quick Tips:
Freeze the batter before baking and defrost the day before using. You can also prep the raw batter and form them into balls, placing them in the freezer for a quick heat and serve. Make sure you dust them with flour before freezing as to ensure they don't all stick together in the freezer.
---
Nutritional Highlights:
Cruciferous vegetables
Cauliflower and broccoli are cruciferous vegetables. Cruciferous vegetables contain a compound called glucosinolates. These chemicals are not only responsible for the aroma and flavour of these plants, but they have also been shown to have anticancer effects.