Philly Cheesesteak Stuffed Peppers
11
35
386
Ingredients
Minutes
Calories
Prep
Cook
Servings
15 min
20 min

4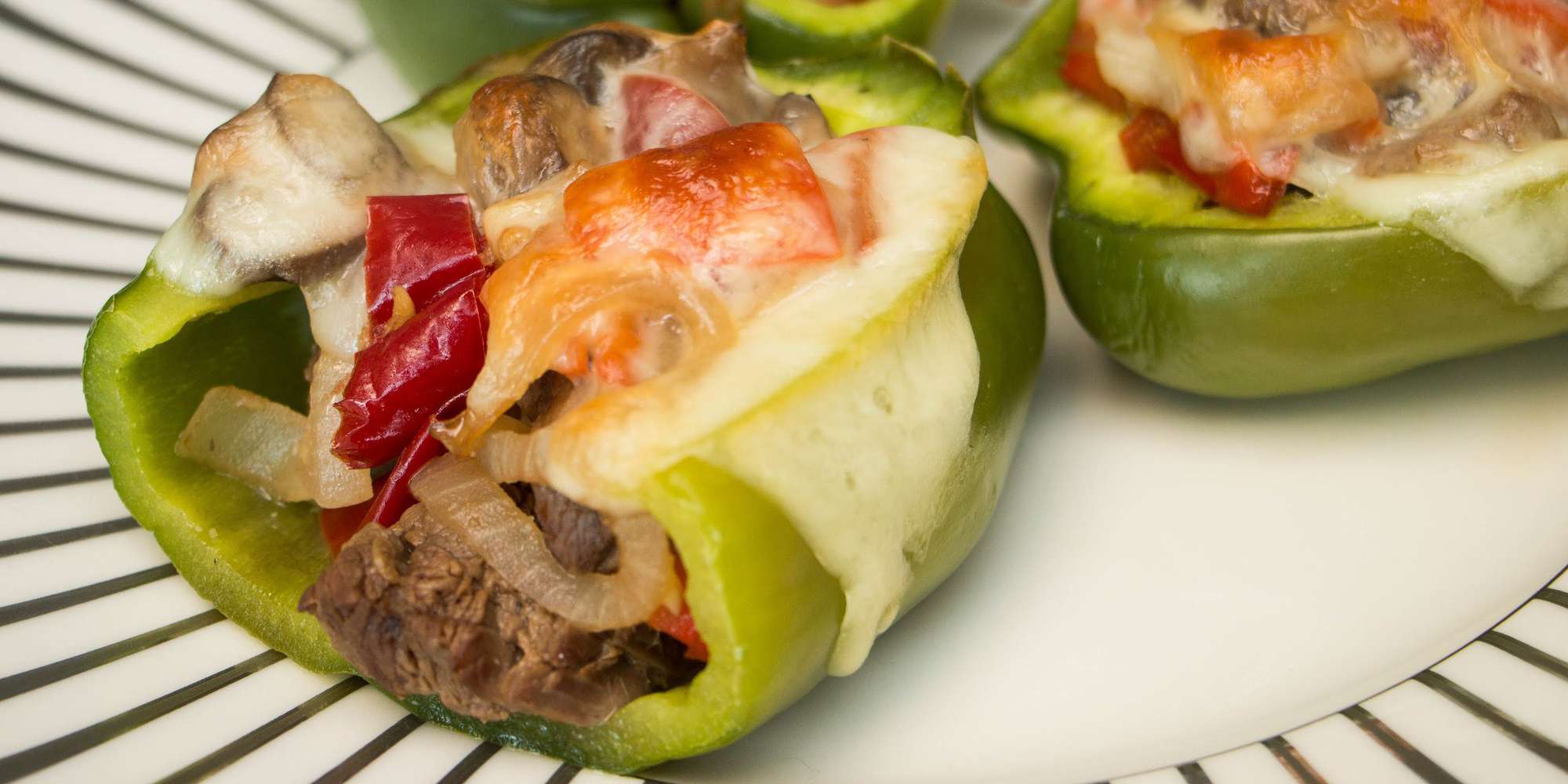 You're going to love these healthy Philly Cheesesteak Stuffed Peppers!
Ingredients
| | |
| --- | --- |
| 2 tbsp | Extra virgin olive oil |
| 2 medium pepper(s) | Green bell pepper |
| 3 clove(s) | Garlic (minced) |
| 114 gm | Cremini (Italian) mushroom (sliced) |
| 1/2 medium pepper(s) | Red bell pepper (diced) |
| 1 medium | Yellow onion (chopped) |
| 454 gm | Beef, flank, lean (thinly sliced) |
| 1/4 tsp | Black pepper |
| 1/4 tsp | Sea salt |
| 1 tsp | Worcestershire sauce |
| 4 slice(s) | Provolone cheese |
Instructions
1. Preheat the oven to 400 degrees F and spray an 8x8 baking dish with olive oil, set aside.

2. Bring a pot of water to a boil on your stovetop over medium-high heat.

3. Slice your green peppers in half, remove seeds and ribs and place them in the boiling water for 3-5 minutes, until they are tender. Remove peppers carefully from the water and place cut side down on a towel and let water drain.

4. Prep your garlic, mushroom, red bell pepper and onion according to ingredient instructions. Slice your steak.
5. Heat a large skillet over medium heat on the stovetop. Add olive oil and let it warm up for 10 seconds. Add garlic, mushrooms, red bell pepper, onion, sea salt and pepper and saute for 4-5 minutes until onions are translucent.

6. Add steak slices and Worcestershire sauce and cook until meat is cooked to your liking.

7. Place green peppers open side up in your baking dish. Fill each pepper with meat mixture until they are overflowing. Top with a slice of provolone cheese.

8. Transfer your stuffed peppers to your oven for 10 minutes until cheese is golden brown. Serve hot! Top with some leftover sauteed onions.
Notes:
Quick Tips:
Cut the cheese slice in half and line the bottom of the pepper with half, fill with meat mixture and then top with the other half.
Use dairy-free cheese slices, such as Daiya for a dairy-free option.
For meat-free option, replace the steak with chickpeas or tofu.
Nutrition Facts
Per Portion
Calories from saturated fat
86
Polyunsaturated Fat
1.4 g
Monounsaturated Fat
11.5 g
Total Carbohydrate
10.0 g
Dietary servings
Per Portion
| | |
| --- | --- |
| Meat | 1.3 |
| Milk Alternative | 0.6 |
| Vegetables | 2.3 |
Energy sources