Cherry Pie Larabars
3
10
231
Ingredients
Minutes
Calories
Prep
Cook
Servings
10 min
0 min

8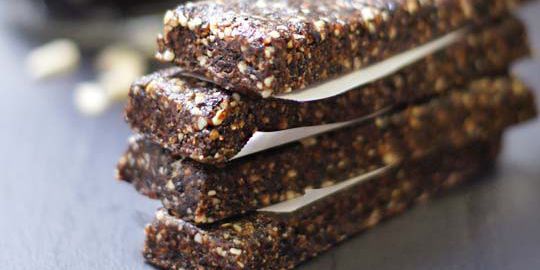 A quick and easy snack bar made with only 3 natural ingredients!
Ingredients
| | |
| --- | --- |
| 1 cup | Dried cherries (dried unsweetened) |
| 1/2 cup | Medjool date (pitted) |
| 1 cup whole | Almonds, raw (raw) |
Instructions
1. In a food processor fitted with an "S" blade, combine the dried cherries and dates and process until a sticky dough is formed. (Be patient, this takes a minute or so!)
2. Add in the raw almonds, then process again until the almonds are broken down and the batter looks uniform. The resulting mixture may appear to be a bit crumbly, but it should stick together easily when you pinch the mixture with your fingers.
3. Line a baking sheet with parchment paper, and transfer the batter to the flat surface. Press the dough into a flat, rectangle shape. (You could use a rolling pin for this, but it works just as well with your hands.) Once the dough is evenly thick, you can slice it into bars. An easier option would be to roll the mixture into balls.
4. Separate the bars and store them in a sealed container in the fridge for best shelf life. When you need to keep a snack in your purse or bag, simply wrap one of these bars tightly in plastic wrap or parchment paper, and it should last an entire day or two at room temperature.
Notes:
Quick Tips:
You can use a variety of nuts and seeds. You can also sprinkle or roll the bars/ balls with sesame seeds, flaxseeds, cacao powder or hemp hearts.
No almonds?
Use walnuts, pecans or cashews instead.
Storage
Store in an airtight container in the fridge for up to 1 week or freezer for up to a month. If storing in the freezer, ensure to separate the bars/ balls with parchment paper so they don't stick to each other. Remove from freezer 10-15 minutes and allow balls to soften before eating.
---
Nutritional Highlights:
Dates
Although high in natural sugars, dates are also incredibly nutritious. They are high in fiber, antioxidants, potassium and magnesium.
Nutrition Facts
Per Portion
Calories from saturated fat
6.9
Polyunsaturated Fat
2.3 g
Monounsaturated Fat
6.2 g
Dietary servings
Per Portion
| | |
| --- | --- |
| Fruit | 0.6 |
| Meat Alternative | 0.5 |
Energy sources