Chicken and Asparagus Skillet Supper
8
30
365
Ingredients
Minutes
Calories
Prep
Cook
Servings
10 min
20 min

4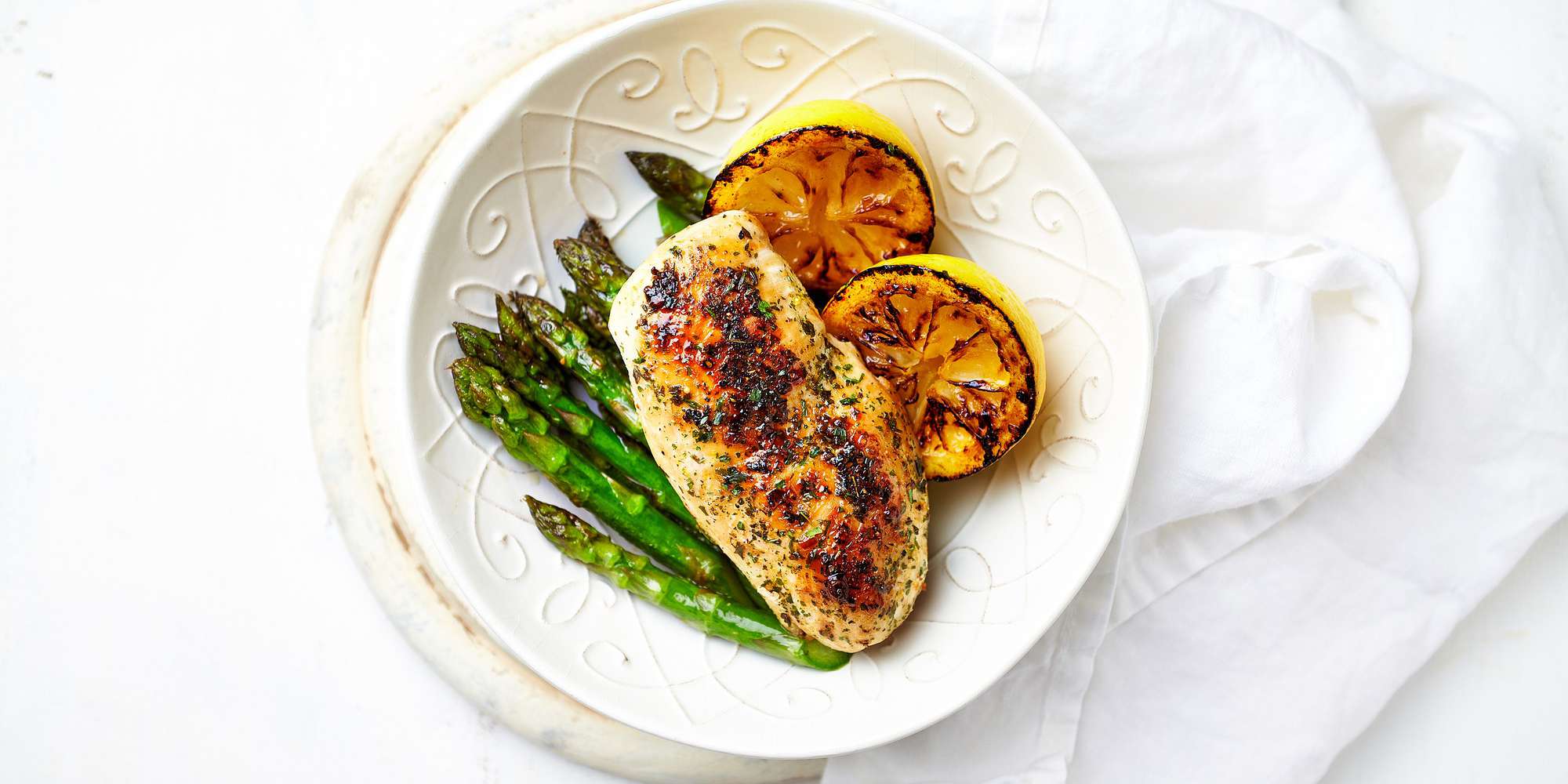 Make this easy and healthy recipe in your skillet in less than 30 minutes.
Ingredients
| | |
| --- | --- |
| 8 thigh(s) | Chicken thighs, boneless, skinless |
| 3 medium slice | Bacon (coarsely chopped) |
| 25 medium spear(s) | Asparagus (trimmed) |
| 1/2 cup | Chicken broth (stock) |
| 1 small | Summer squash (halved crosswise, cut into 1/2-inch strips) |
| 2 tbsp | Water, filtered |
| 1/2 tsp | Salt and pepper (each) |
| 4 green onion (stem) | Green onion, scallion, ramp (cut into 2-inch pieces) |
Instructions
1. Heat a 12" skillet on your stovetop over medium-high heat. Prep your vegetables according to ingredient instructions.

2. Add your chicken thighs and bacon slices to your warm skillet and cook for about 12 minutes, flipping your chicken halfway and turning your bacon to brown evenly.

3. Carefully add the broth to the skillet; cover and cook another 3 to 5 minutes more or until chicken is tender and no longer pink (160 degrees F).

4. Meanwhile, in microwave-safe 2-quart dish combine asparagus, squash, and 2 Tbsp of water. Sprinkle salt and pepper over the vegetables and cover with vented plastic wrap. Cook on 100% power (high) 3 to 5 minutes, until vegetables are crisp-tender, stirring once.

5. Transfer the chicken and vegetables to plates and top the chicken and bacon with the sauce in the skillet. Sprinkle with chopped green onions. Serve immediately. Store leftovers in air-tight containers in your refrigerator for up to 2 days.
Notes:
Nutritional Highlights:
Chicken thigh
Though chicken breasts contain less fat and calories than chicken thighs, chicken thighs still host plenty of nutrients. Chicken thighs contain Omega 3, protein, B vitamins and plenty of minerals.
Asparagus
Asparagus is high in folate, a nutrient that is vital for a healthy pregnancy and many important processes in the body, including cell growth and DNA formation.
Nutrition Facts
Per Portion
Calories from saturated fat
41
Polyunsaturated Fat
2.8 g
Monounsaturated Fat
5.8 g
Dietary servings
Per Portion
Energy sources