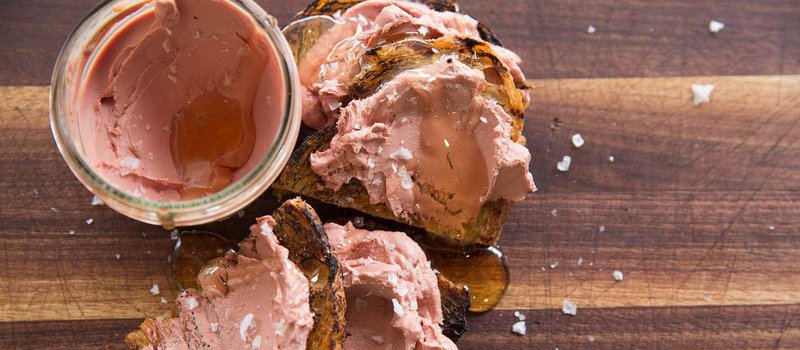 Chicken Liver Mousse
Liver is the most nutritious superfood we have available. Incredibly high in iron, vitamin A, b12, and contains all the building blocks to support the liver.
Prep
Cook
Ready in
Servings
15 min
7 min
22 min

12
Ingredients
| | |
| --- | --- |
| 454 gm | Chicken liver, raw (organic, free range) |
| 2 tbsp chopped | Shallots (minced. Or green onions) |
| 2 tbsp | Butter, unsalted (organic) |
| 1/3 cup | Madeira, wine (or cognac or port) |
| 1/4 cup | Almond milk, unsweetened (or whipping cream or any alternative milk) |
| 1/2 tsp | Himalayan sea salt |
| 1/8 tsp | Allspice, ground |
| 1/8 tsp | Black pepper |
| 1/4 tsp, ground | Thyme, dried |
| 1/2 cup | Butter, unsalted (melted. Or ghee or coconut oil) |
Instructions
1. Look the livers over and remove any greenish or blackish spots.
2. Cut the livers into 1/2 inch pieces.
3. Saute with the shallots or green onions in hot butter for 2 to 3 minutes, until the livers are just stiffened, but still rosy inside. Scrape into the blender jar.
4. Pour the wine or cognac into the saute pan and boil it down rapidly until it has reduced to 3 tablespoons. Scrape it into the blender jar.
5. Add the almond milk (or cream) and seasonings to the blender jar. Cover and blend at top speed for several seconds until the liver is a smooth paste.
6. Then add the melted butter and blend several seconds more.
7. Force the mixture through a fairly fine mesh sieve and taste carefully for seasoning.
8. Pack into the bowl or jar, cover with waxed paper and chill for 2 to 3 hours. Or chill until almost set. Chill for several hours before unmolding.
9. Sprinkle with flake salt if you have.
10. Serve on apple slices, flaxseed crackers, crostini or your favourite fresh sliced sourdough.
Nutrition Facts
Per Portion
Calories from saturated fat
60
Polyunsaturated Fat
0.9 g
Monounsaturated Fat
3.0 g
Dietary servings
Per Portion
Energy sources
Notes:
This recipe may be packed into a decorative jar and used as a spread for cocktail appetizers, or molded in aspic fo an hors d'oeuvre. It is easy to make in an electric blender.
About
Contact Us
Meal Garden, 326 1/2 Bloor Street West, Unit 4, Toronto, Ontario, M5S 1W5, Canada