Simple Chicken Stir-Fry
12
50
325
Ingredients
Minutes
Calories
Prep
Cook
Servings
15 min
35 min

4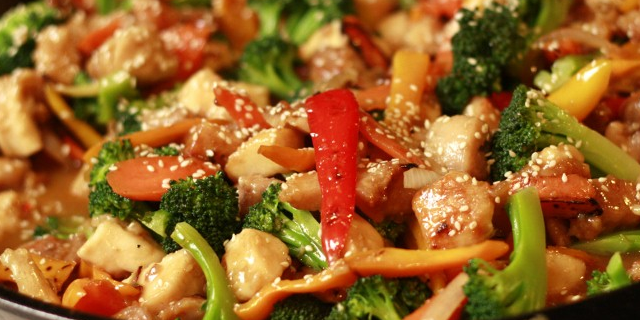 This simple chicken stir-fry is hearty and healthy and fits most dietary preferences.
Ingredients
| | |
| --- | --- |
| 454 gm | Chicken breast, boneless, skinless (for the chicken) |
| 1/2 tsp | Sea salt (+ 1/4 tsp for chicken) |
| 2 tbsp | Extra virgin olive oil |
| 1 cup | Bone broth, Organic (for the chicken) |
| 1 medium | Yellow onion |
| 6 clove(s) | Garlic (minced) |
| 1 piece, 1-inch | Ginger root (peeled, minced) |
| 3 large | Carrots (sliced diagonally) |
| 454 gm | Broccoli, raw (chopped) |
| 1/2 cup | Coconut aminos, Coconut Secret |
| 2 cup | White mushrooms (chopped) |
| 1/2 whole lemon(s) | Lemon juice |
Instructions
1. Prep all of your vegetables according to the ingredient instructions.

2. Bring the chicken breast to room temperature and pat it dry with paper towels. Sprinkle the chicken all over with sea salt.

3. Heat a large skillet or wok on your stovetop over medium heat. Add 2 tbsp of olive oil to your skillet and let it warm up for 15 seconds.

4. Once your oil is warmed, place the chicken breasts top-down in the oil. Add in the broth, cover with a tight-fitted lid and turn down to a simmer (low heat). Cook the chicken for 20 minutes, or until the internal temperature reaches 165 degrees F. Remove the chicken from the skillet and set aside to let cool.

5. Add the onions into the hot skillet and cook them down for 3 minutes, stirring frequently. Add in the garlic, ginger and 1/2 tsp of sea salt and cook, stirring for another minute. Add the carrots, broccoli, and coconut aminos and cover with a tight-fitted lid, cooking for another 10 minutes, stirring occasionally. Add the mushrooms and cook for another couple of minutes, until everything is soft.

6. While the vegetables are cooking, shred your cooled chicken with a fork. Once your mushrooms have cooked down a bit, add the chicken back into the vegetable mixture and stir to heat throughout.

7. Serve with rice or cauliflower rice and enjoy! Store leftovers in an air-tight container in your fridge for up to a week.
Notes:
Quick Tips:
To make this meal much quicker, buy pre-cut vegetables, or pre-packed stir-fry vegetable mix.
Low-sodium & gluten-free soy sauce or tamari are also substitutions for coconut aminos.
Serve with brown rice, quinoa, wild rice or cauliflower rice.

---
Nutritional Highlights:
Vegetables
Stir-frys are great meal options for getting in a lot of nutrient from veggies. Add in vegetables of choice and mix and match your veggies according to preference here.
Nutrition Facts
Per Portion
Calories from saturated fat
13.3
Polyunsaturated Fat
1.4 g
Monounsaturated Fat
5.6 g
Total Carbohydrate
27.3 g
Dietary servings
Per Portion
Energy sources