Cinnamon Date Pumpkin Seed Bagel, GF
11
20
227
Ingredients
Minutes
Calories
Prep
Cook
Servings
5 min
15 min

12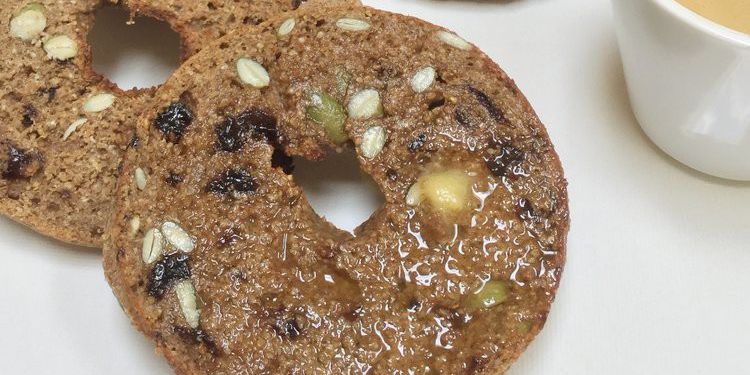 Gluten free, indulgent, high in protein and delicious
Ingredients
| | |
| --- | --- |
| 2 1/2 cup | Steel cut oats, dry |
| 2 tbsp | Chia seeds |
| 4 medium egg | Egg (free-range organic) |
| 1 cup | Kefir |
| 1/4 cup | Honey, raw (local, wild) |
| 1/4 cup | Lemon juice |
| 1 tbsp | Cinnamon (ground) |
| 6 date(s) | Dates (pitted) |
| 2 1/4 tbsp | Baking powder |
| 1/8 tsp | Celtic sea salt (just a pinch) |
| 1/2 cup | Pumpkin seeds (pepitas) |
Instructions
Heat the oven to 350 degrees.
In a dry blender, blend the oats and chia seeds separately until finely powdered. The oats should feel like flour, not grainy, so keep blending until you achieve this consistency. Add to a medium bowl and set aside.
In another mixing bowl add the eggs, yogurt, lemon juice, honey, cinnamon, baking powder and salt. Whisk until combined.
Chop the dates. Add these and the pumpkin seeds to the wet mixture.
Add the dry to the wet and stir until well combined.
Grease the donut pan with a little bit of ghee.
Using a spatula, add the mixture to a piping bag or large ziplock with the tip cut off. Pipe into the donut pan, the more shallow you pipe it, the more crispy your bagels will be.
Sprinkle a touch of salt to the top and place in the oven on the middle rack.
Cook for 15min until slightly golden on top.
Carefully remove and place on a cooling rack.
Repeat for the second batch.
Notes:
Need a non-stick bagel / donut pan
Yields 12 bagels
Can be stored in an air-tight container for 1 week or frozen for 2 months.
Try toasted with ghee, butter or peanut butter. Use as a sandwich with cream cheese.
Nutrition Facts
Per Portion
Calories from saturated fat
13.1
Polyunsaturated Fat
1.7 g
Monounsaturated Fat
1.7 g
Dietary servings
Per Portion
| | |
| --- | --- |
| Fruit | 0.1 |
| Grain | 0.7 |
| Meat Alternative | 0.3 |
| Milk Alternative | 0.1 |
Energy sources