Cinnamon Spiced Almonds
11
35
180
Ingredients
Minutes
Calories
Prep
Cook
Servings
10 min
25 min

18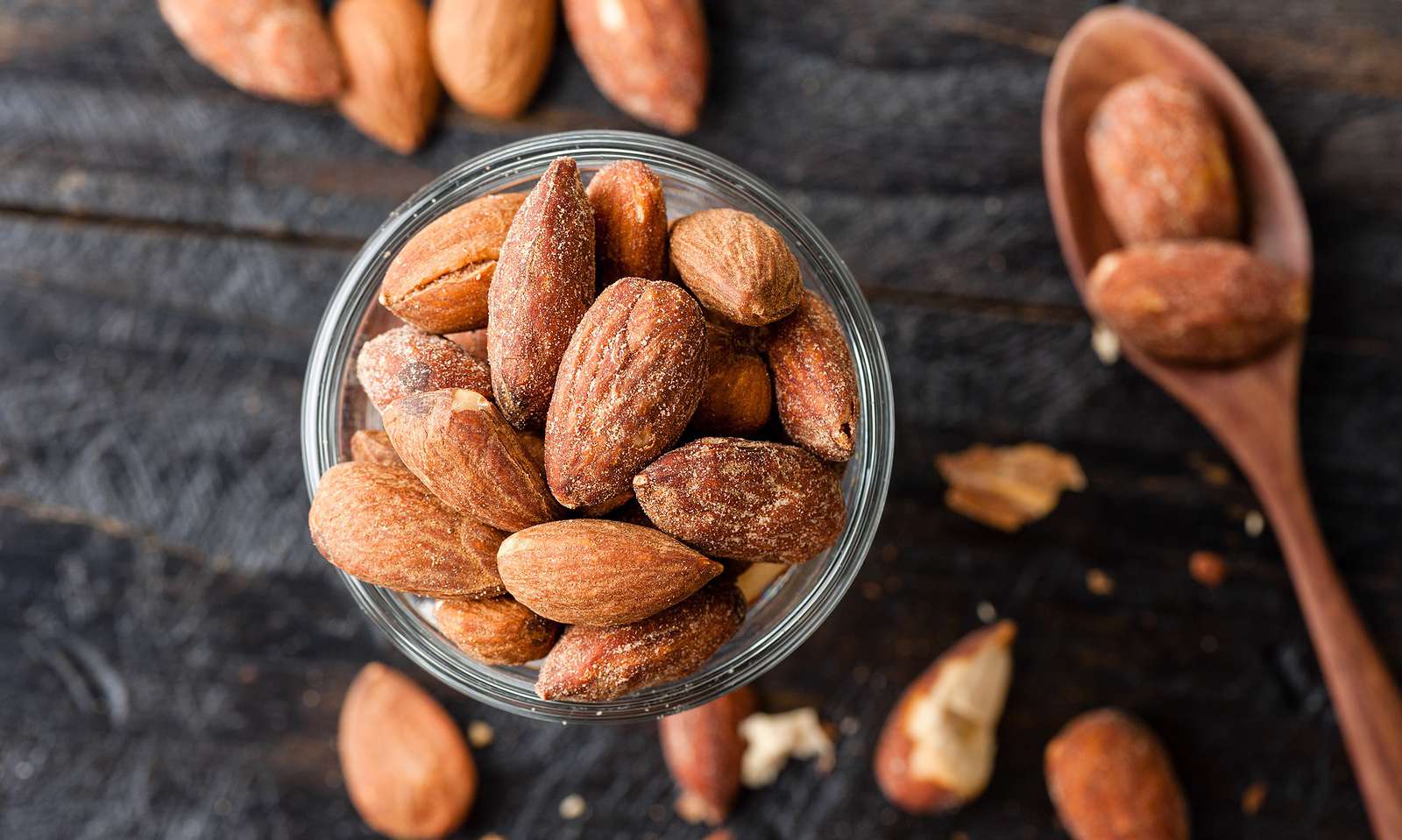 Step up your snack game with these Cinnamon Spiced Almonds. Especially great for the holidays!
Ingredients
| | |
| --- | --- |
| 1 medium egg | Egg white |
| 1/2 tbsp | Water |
| 1/2 tsp | Vanilla extract, pure |
| 1/4 cup | Granulated sugar |
| 1/4 cup unpacked | Brown sugar |
| 1 tsp | Cinnamon |
| 1/4 tsp | Ground cloves |
| 1/4 tsp | Nutmeg, ground |
| 1/4 tsp | Ginger, ground |
| 3 cup whole | Almonds, raw |
| 1 pinch | Sea salt |
Instructions
Step 1: Preheat oven to 300 degrees F and line a baking sheet with parchment paper, set aside.
Step 2: In a medium bowl, whisk together the egg white with the water and vanilla until frothy, about 1-2 minutes. Set aside.
Step 3: In another medium bowl, combine granulated sugar, brown sugar, cinnamon, cloves, nutmeg, and ginger, mix together, and set aside.
Step 4: Pour the almonds into the egg white mixture and stir together until they are all coated.
Step 5: Transfer the sugar mixture to the almonds and toss until coated.
Step 6: Spread the almond mixture onto a prepared baking sheet in an even layer and sprinkle with sea salt. Place into oven and bake for 25-30 minutes, stirring at least once halfway through.
Step 7: Allow cooling until no longer warm, about 1 hour. Then transfer to an airtight container for up to 2 weeks.
Notes:
Tips:
This recipe works well with any type of nut or seed, or you can add a mixture of walnuts, pecans, pumpkin seeds, and cashews. Just be sure to adjust cook time, as the smaller nuts or seeds will burn faster than almonds.
This makes a great appetizer or gift during the holidays.
For a sugar-free recipe, use monk fruit, stevia, or Swerve instead of sugar. You can find all of these sugar substitutes in the health food section at your local grocery store.
Nutrition Facts
Per Portion
Calories from saturated fat
9.0
Polyunsaturated Fat
3.1 g
Monounsaturated Fat
8.2 g
Total Carbohydrate
10.1 g
Dietary servings
Per Portion
Energy sources