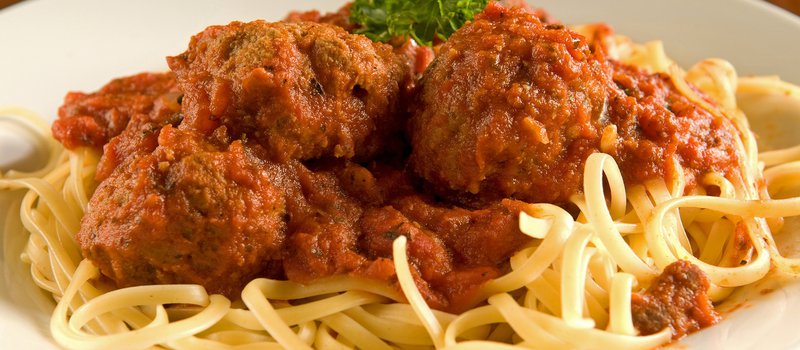 Classic Spaghetti and Meatballs
Prep
Cook
Ready in
Servings
5 min
40 min
45 min

5
Ingredients
| | |
| --- | --- |
| 2 tsp, leaves | Basil, dried (for pasta sauce) |
| 2 leaf | Bay leaf (for pasta sauce) |
| 454 gm | Beef, ground, lean (for meatballs) |
| 1/2 tsp | Black pepper (for meatballs) |
| 1 large egg | Egg (for meatballs) |
| 5 clove(s) | Garlic (1 minced clove for meatballs, 4 minced cloves for pasta sauce) |
| 3 slice | Italian Bread (with crust, for meatballs) |
| 8 tbsp | Olive oil (2 for meatballs and 6 for pasta sauce) |
| 2 tsp | Oregano, dried (dried, for pasta sauce) |
| 2 tbsp | Parmesan cheese, grated (for meatballs) |
| 5 tbsp | Parsley, fresh (1 tbsp minced for meatballs, 4 tbsp minced for pasta sauce) |
| 1/2 tsp | Sea salt (for meatballs) |
| 1/2 cup | Partly skimmed milk, 2% M.F. (For soaking bread, discard the rest) |
| 156 gm | Spaghetti, dry (enough to make 3 cups cooked spaghetti) |
| 2 cup | Tomato sauce, canned (or crushed tomatoes, for pasta sauce) |
| 1 large | Yellow onion (finely chopped, for pasta sauce) |
Instructions
1. To make Pasta Sauce: Heat oil in heavy large pot over medium-high heat. Add onion, and garlic. Sauté until onion begins to colour, about 10 minutes.
2. Add crushed tomatoes and herbs and bring sauce to boil. Reduce heat to medium-low, cover, and simmer until flavours blend, stirring often, about 30 minutes. Season with salt and pepper.
3. Meanwhile, cook the pasta as directed on the package
4. To make Meat Balls: Place milk in a medium size bowl and add the bread slices in. Let it stand until bread is soft - about 7 minutes.
5. Place meat in large bowl. Mix in 2 tablespoons cheese, the egg, parsley, garlic, salt and pepper. Squeeze bread almost dry; discard milk. Mix all ingredients thoroughly. Using 1 rounded tablespoon for each, shape mixture into 24 meatballs.
6. Heat oil in heavy large skillet over medium heat. Add meatballs. Be careful not to overcrowd the skillet. Sauté meatballs until brown and cooked through, turning often to hold shape, about 15 minutes. Set aside.
7. When the pasta sauce is ready, add in the meatballs and drippings in skillet. Simmer to blend flavours, about 10 minutes.
8. Place pasta in large bowl. Add 3/4 - 1 cup sauce and toss to coat. Top with meatballs and remaining sauce.
Nutrition Facts
Per Portion
Calories from saturated fat
83
Polyunsaturated Fat
3.4 g
Monounsaturated Fat
22.5 g
Dietary servings
Per Portion
| | |
| --- | --- |
| Grain | 1.7 |
| Meat | 1.0 |
| Meat Alternative | 0.1 |
| Vegetables | 1.2 |
Energy sources
Notes:
You can also serve these meatballs with zucchini noodles!
About
Contact Us
Meal Garden, 326 1/2 Bloor Street West, Unit 4, Toronto, Ontario, M5S 1W5, Canada