Clean Eating Cobb Salad
11
15
440
Ingredients
Minutes
Calories
Prep
Cook
Servings
15 min
0 min

2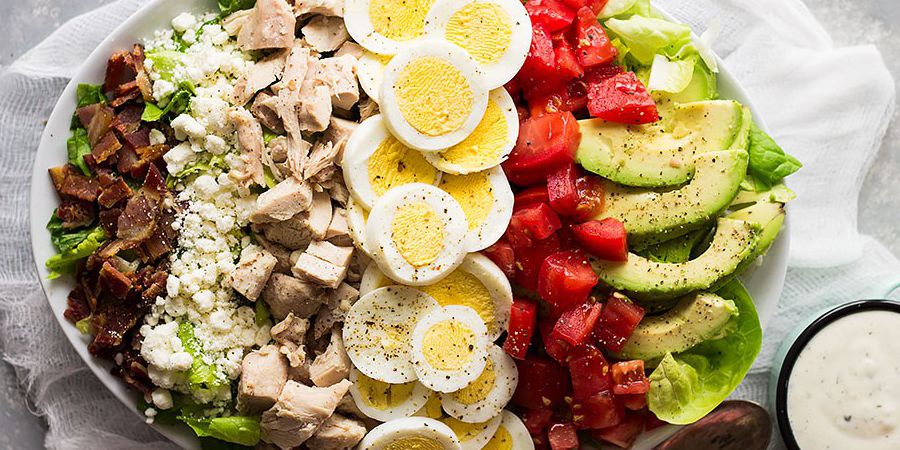 A hearty salad with spinach, eggs and turkey! Great taste!
Ingredients
| | |
| --- | --- |
| 2 cup | Spinach |
| 2 large egg | Egg (hard boiled, cut into quarters) |
| 1 tbsp | Roquefort (blue) cheese (crumbled) |
| 1/2 cup | Cherry Tomatoes (halved) |
| 2 slice | Turkey bacon, cooked |
| 1/4 tsp | Sea salt (for dressing) |
| 1/4 cup | Extra virgin olive oil (for dressing) |
| 1 large egg | Egg yolk (for dressing) |
| 1 tbsp | Dijon mustard (for dressing) |
| 4 tbsp | Lemon juice (for dressing) |
| 1/2 tsp | Black pepper (for dressing) |
Instructions
1. Wash and dry spinach then chop into pieces
2. Add eggs to a pot and cover with cold water by 1 inch. Bring water and eggs to a rolling boil at medium/high heat for about 8-10 minutes. Remove eggs from heat, drain and cool in ice water and peel
3. Crumble cheese with hands, cut cherry tomatoes in half or leave full if they are bite size
4. Cook turkey bacon by placing strips on a skillet and turn every 2-3 minutes, adjusting heat if necessary for about 8-10 minutes until bacon reaches your desired crisp. Transfer strips using tongs to a paper-towel lined plate to absorb some of the excess oil. Cut bacon into bite size pieces for salad
5. Combine salad ingredients in a large bowl.
6. separate 1 large egg yolk in a separate large bowl, whisk
7. Blend egg yolk, mustard, salt, lemon juice, pepper in a food processor or blender until smooth. Slowly add oil until emulsified.
8. Add all salad ingredients together, drizzle with dressing. Serve and enjoy!
Notes:
For additional protein
add cooked chicken breast strips to this recipe
for a vegetarian option add your choice of cooked beans
For additional nutrients
add more of your favorite raw vegetables cut into bite size pieces
---
No spinach?
you can use kale, swiss chard or turnip greens
---
Dairy Free?
omit the blue cheese
---
Nutritional Highlights
Eggs
are a high quality protein source, as long as its stated on the carton eggs have a high content of Omega 3 fatty acids
Turkey Bacon
is a great healthy alternative to other bacon cuts, and has a fair amount of protein
Nutrition Facts
Per Portion
Calories from saturated fat
71
Polyunsaturated Fat
5.0 g
Monounsaturated Fat
24.8 g
Dietary servings
Per Portion
| | |
| --- | --- |
| Fruit | 0.2 |
| Meat | 0.1 |
| Meat Alternative | 0.9 |
| Vegetables | 1.4 |
Energy sources