Coconut Butter Chicken
14
39
171
Ingredients
Minutes
Calories
Prep
Cook
Servings
4 min
35 min

15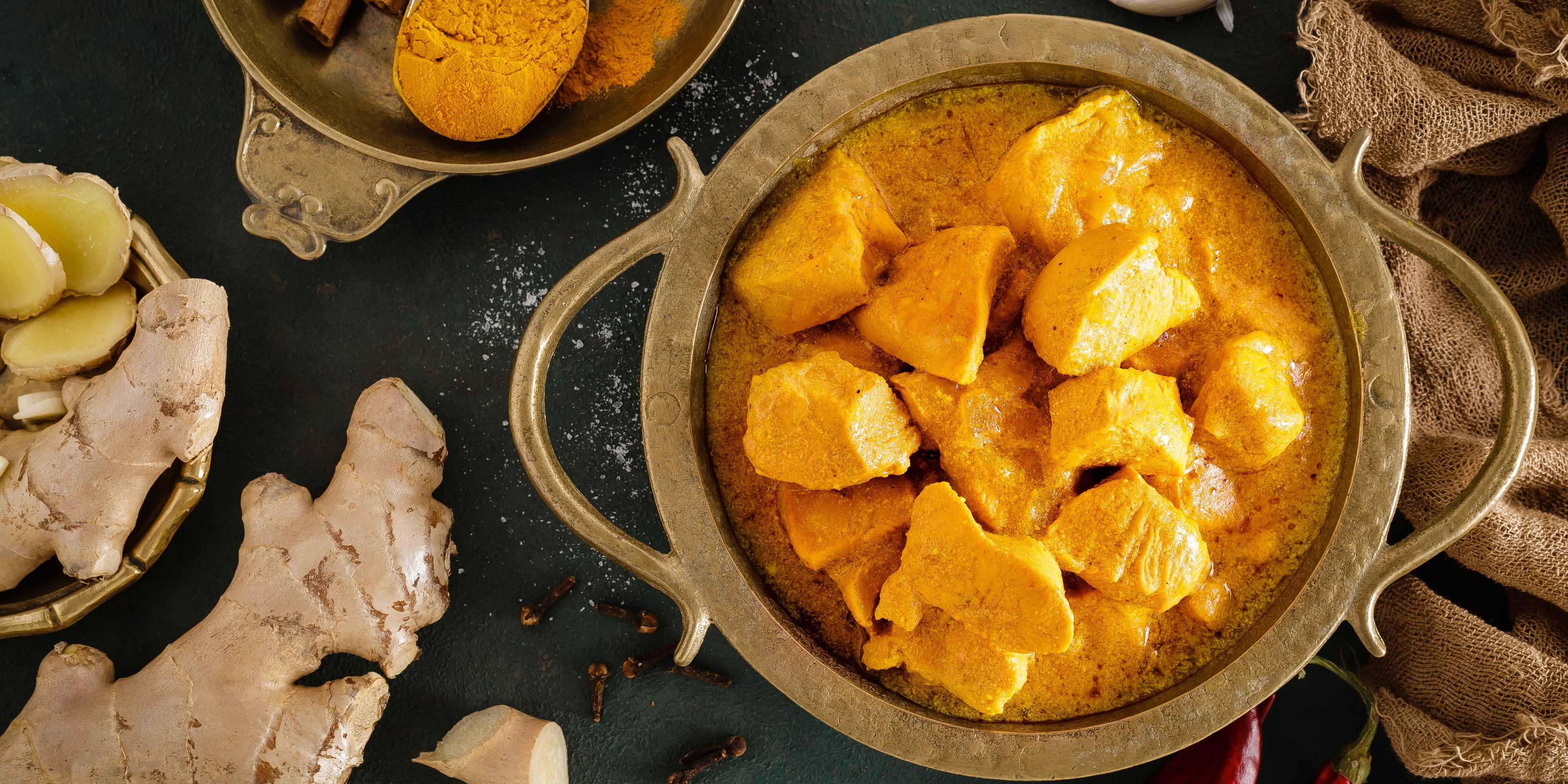 This is a healthy chicken recipe that is quick to make and perfect for a weeknight meal.
Ingredients
| | |
| --- | --- |
| 4 chicken breast (196 g) | Chicken breast, boneless, skinless, grilled |
| 115 gm | Baby spinach |
| 25 gm | Ginger root |
| 1 bunch | Cilantro (coriander) |
| 4 clove(s) | Garlic |
| 30 gm | Mint, fresh (1 bunch) |
| 213 ml | Tomato sauce, canned |
| 210 gm | Basmati rice, dry |
| 400 ml | Silk Original Coconut Milk |
| 1/2 cup | Plain yogurt, 1- 2% M.F. |
| 2 tbsp | Coconut oil |
| 4 tsp | Salt |
| 2 cup | Water |
| 3 tsp | Black pepper |
Instructions
Thinly slice ½ the garlic. In a medium pot, heat 1 tbsp of oil on medium. Add the garlic and cook stirring frequently, 1 to 2 minutes, until golden. Add the rice, 1 tsp salt and 2 cups of water; bring to a boil. Once boiling, cover and reduce the heat. Let simmer, 14 to 16 minutes, or until the liquid has been absorbed and the rice is tender. Remove from the heat and set aside (covered) for 5 minutes. Fluff the finished rice with a fork. Set aside in a warm spot.
Peel and mince the ginger. Mince the remaining garlic. Pick the cilantro leaves off the stems. Pick the mint off the stems; roughly chop the mint leaves. In a small bowl, combine the yogurt and chopped mint; season with 1/2 tsp of salt and pepper each to taste.
In a large pan, heat a generous 1 tsp oil on medium-high. Pat the chicken dry with paper towel and slice into 1-inch cubes; season with 1 tsp salt and 1 tsp pepper and 1 1/2 tsp of your favourite butter chicken spice blend. Add the seasoned chicken to the pan and cook, 4 to 6 minutes, turning often to brown all sides.
Reduce the heat to medium and add the ginger, remaining garlic and remaining spice blend. Cook, stirring occasionally, 1 to 2 minutes, or until softened and fragrant. Add the tomato sauce and coconut milk (shaking the can just before opening); season with 1 tsp salt and 1 tsp pepper and stir until thoroughly combined. Bring to a boil. Reduce the heat and let simmer, 12 to 15 minutes, or until the chicken is cooked through and the sauce has thickened.
Add the spinach to the pan of chicken and sauce; season with 1/2 tsp salt and 1/2 tsp pepper. Cook, stirring frequently, 1 to 2 minutes, or until the spinach is wilted. Divide the cooked rice between your dishes. Top with the finished chicken and sauce. Garnish with the cilantro leaves (roughly chop before adding) and serve with the mint yogurt on the side.
Nutrition Facts
Per Portion
Calories from saturated fat
19.9
Polyunsaturated Fat
0.5 g
Monounsaturated Fat
0.8 g
Total Carbohydrate
14.5 g
Dietary servings
Per Portion
| | |
| --- | --- |
| Grain | 0.4 |
| Meat | 0.7 |
| Vegetables | 0.6 |
Energy sources