Coconut Flour Crackers and Grissini
5
40
186
Ingredients
Minutes
Calories
Prep
Cook
Servings
20 min
20 min

7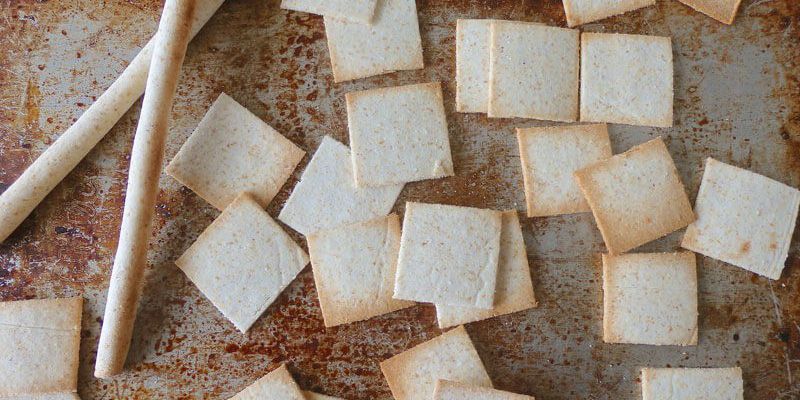 Low carb & grain-free crackers for dips, soups, salads & more!
Ingredients
| | |
| --- | --- |
| 1/2 cup | Coconut flour |
| 1/4 cup | Flaxseed meal (ground) |
| 1/2 tsp | Salt |
| 1/4 cup | Coconut oil (melted) |
| 1/2 cup | Coconut milk (unsweetened) |
Instructions
1. Preheat oven to 350F degrees (177C).
2. Into a medium bowl sift coconut flour. Add flax seed meal and salt, whisk to combine. This is your dry mixture.
3. In a small bowl add melted coconut oil and unsweetened coconut milk, whisk to combine.
4. Pour liquid ingredients into dry mixture, stir combine. Mixture will gradually form a dough as coconut flour begins to absorb moisture.
5. Form dough into a ball and place onto a piece of parchment paper the size of your baking sheet. Flatten dough with your hands, fingers into a 7 – 8 inch square. Cover dough with another piece of parchment paper and with a rolling pin, roll to about a 1/4 inch thickness and about a 13 – 14 inch square. Using a ruler and a sharp knife or pizza cutter, cut dough into crackers about one and a half inch square, and separate slightly. Transfer parchment paper and crackers to a baking sheet. With remaining dough scraps, shape into pencil shapes for grissini and place on baking sheet with crackers.
6. Bake for 10 minutes and remove any outer crackers that have browned nicely as they bake more quickly. Continue to bake remaining crackers for another 10 minutes, checking and removing crackers as edges begin to turn golden brown. Remove grissini when ends are golden brown. Cool crackers and grissini completely. Serve with dips, soups, salads or alone as a snack.
Notes:
Quick Tips:
Store in an airtight container for up to a week.
You can find coconut flour at health food stores, at Whole Foods or on Amazon.
---
Nutritional Highlights:
Coconut flour
Gluten-free flour that's high in fiber and promotes healthy digestion and blood sugar management.
Nutrition Facts
Per Portion
Calories from saturated fat
125
Polyunsaturated Fat
1.9 g
Monounsaturated Fat
1.2 g
Dietary servings
Per Portion
Energy sources