Coconut Oat Smoothie Bowl & Sesame Quinoa Cereal
19
55
426
Ingredients
Minutes
Calories
Prep
Cook
Servings
10 min
45 min

12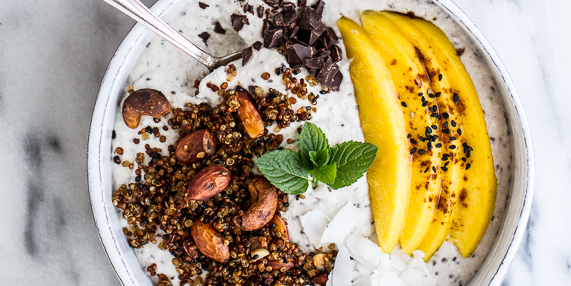 Ingredients
| | |
| --- | --- |
| 1 cup whole | Almonds, raw (roughly chopped, for quinoa cereal) |
| 1/2 medium | Banana (s) (for smoothie) |
| 1/2 cup | Cashew nuts, raw (roughly chopped, for quinoa cereal) |
| 1 tbsp | Chia seeds, ground (for smoothie) |
| 2 tbsp | Coconut flakes (topping) |
| 1 cup | Coconut milk (for smoothie) |
| 1/4 cup | Coconut oil (melted, for quinoa cereal) |
| 2 tbsp | Dark chocolate chips (topping) |
| 1/4 cup | Flaxseeds (for quinoa cereal) |
| 3/4 cup | Honey (for quinoa cereal) |
| 1/2 mango | Mango (chopped, sliced, topping) |
| 4 leaf | Mint, fresh (topping) |
| 3 1/4 cup | Quinoa, cooked (for quinoa cereal) |
| 1/3 cup | Rolled oats, dry (for smoothie) |
| 1 pinch | Salt (for smoothie) |
| 1 pinch | Salt (for quinoa cereal) |
| 1/2 cup | Sesame seeds, black (or white seeds, for quinoa cereal) |
| 1/2 tsp | Vanilla extract, pure (for smoothie) |
| 1/2 tbsp | Vanilla extract, pure (for quinoa cereal) |
Instructions
To make the Crunchy Black Sesame Quinoa Cereal:
Preheat the oven to 350 degrees F. Line 2 baking sheets with parchment or a silpat.
In a large bowl add the quinoa, almonds, cashews, sesame seeds and flax seeds. Stir in the honey, coconut oil, vanilla extract, instant coffee (if using) and a pinch of salt, Mix well. Dump the mixture out over the 2 prepared baking sheets and spread evenly. Bake for 35-50 minutes, stirring every 15 minutes until lightly golden brown all over. Remove from the oven and allow to cool before storing.

To make the Coconut Banana Oats:
Mix together the oats, 1/2 cup coconut milk, chia seeds, vanilla and salt in a small bowl. Cover and place in the fridge for for at least 30 minutes or preferably overnight. (Now is a good time to make the quinoa cereal). The next morning add the mixture to a blender along with the remaining 1/2 cup coconut milk and banana. Blend until smooth and creamy.

To Assemble the Bowl:
Pour the creamy oats into a bowl. Top with the crunchy quinoa cereal, sliced mango and chocolate chips. Add some mint and coconut flakes if desired!
Notes:
*Optional to add 1 tsp of instant coffee to quinoa cereal.
Nutrition Facts
Per Portion
Calories from saturated fat
91
Polyunsaturated Fat
5.0 g
Monounsaturated Fat
7.8 g
Dietary servings
Per Portion
| | |
| --- | --- |
| Fruit | 0.1 |
| Grain | 0.8 |
| Meat Alternative | 0.9 |
Energy sources