Collard Green Wraps
9
20
322
Ingredients
Minutes
Calories
Prep
Cook
Servings
15 min
5 min

3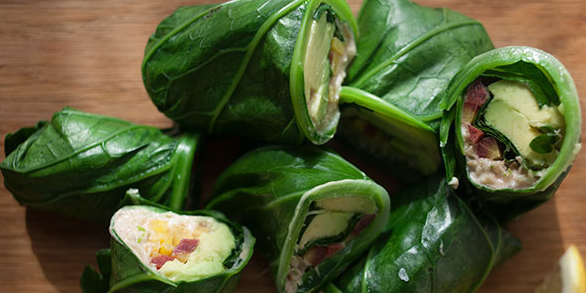 Tired of salads? Try these grain-free and plant-based wraps.
Ingredients
| | |
| --- | --- |
| 6 leaf | Collard greens |
| 1 medium | Lemon (cut into wedges, divided) |
| 1 cup | Hummus |
| 1 tsp | sumac, ground (optional) |
| 1 cup | Alfalfa sprouts |
| 2 large | Carrots (peeled, julienned) |
| 8 leaf | Mint, fresh |
| 4 sprig | Parsley, fresh |
| 1 avocado(s) | Avocado (halved, sliced) |
Instructions
1. As the collard leaves are pretty large, a very wide saucepan is ideal. If you don't have it, feel free to use a large pot. Fill the saucepan or pot with about three-inches of water, and set over high heat. Add a few pinches of salt and a squeeze of lemon to the water.
2. When the water reaches a simmer, turn the heat down to medium. Add the collard green leaves, one at a time, for about 30 to 40 seconds each. They will change colour starting at dark green to a brightly-hued kelly green. Remove the leaves from the water and set aside on paper towels to cool. Continue with the collard green leaves until you have worked your way through all of them.
3. While the leaves cool, get all your ingredients set up. Mix in about a teaspoon of ground sumac into the hummus for added flavour. This is optional.
4. Place a heaping tablespoon of hummus toward of the top of the collard green leaf. Top with a small handful of sprouts, a few carrots, a mint leaf, a few leaves of parsley and a couple of slices of avocado. Squeeze in some lemon (optional).
5. Roll the wrap like you would a burrito, tucking in the sides as you roll. Slice it half and set aside. Continue the stuffing and rolling until all of the collard green leaves are completed. Serve and enjoy!
Notes:
Quick Tips:
Substitutions
Feel free to get creative with the fillings. You can use bell peppers, beets, other types of sprouts. You can add sunflower or hemp seeds.
For added protein
Add turkey or chicken slices, mashed chickpeas, tempeh, tofu, salmon or sardines.
---
Nutritional Highlights:
Collard Greens
Incredibly nutritious, they contain vitamins A, C and iron. 1 cup of collard greens also contains nearly 850% of your dairy recommended amount for Vitamin K. Vitamin K works with Vitamin D to help prevent the loss of calcium from your bones.
Nutrition Facts
Per Portion
Calories from saturated fat
24.3
Polyunsaturated Fat
4.4 g
Monounsaturated Fat
10.0 g
Total Carbohydrate
28.7 g
Dietary servings
Per Portion
| | |
| --- | --- |
| Fruit | 0.3 |
| Meat Alternative | 0.5 |
| Vegetables | 2.8 |
Energy sources