Auto-Immune Diet
Most of the recipes are formulated by Dr. Terry Wahls. Her incredibly story took her from wheel-chair bound by MS to hiking, cycling and living an active lifestyle all through eating this way. She is feeding her mitochondria, the energy centre of every cell by giving it the correct ratio of nutrients from vegetables and protein from meat,fish, game and offal along with seaweed and proper fats.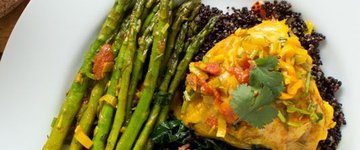 Nutrient-Dense, Clean Eating Made Delicious
I am a Certified Nutritional Practitioner with 30 years experience as a food-obsessed Italian girl. As a former chef, I love experimenting with the best tasting food that will improve your energy, digestion and inner glow. Life is about balance. Food that is eaten with guilt is so much more harmful to the body. If it makes you feel bad afterward, is it really a treat? Whatever you eat, eat it with gusto and be proud of what you put in your body! I'll show you how to indulge and anticipate every meal while loving the effects it has both mentally and physically.
About
Contact Us
Meal Garden, 326 1/2 Bloor Street West, Unit 4, Toronto, Ontario, M5S 1W5, Canada