Creamy Beet & Tahini Dip
8
70
179
Ingredients
Minutes
Calories
Prep
Cook
Servings
10 min
1 h

6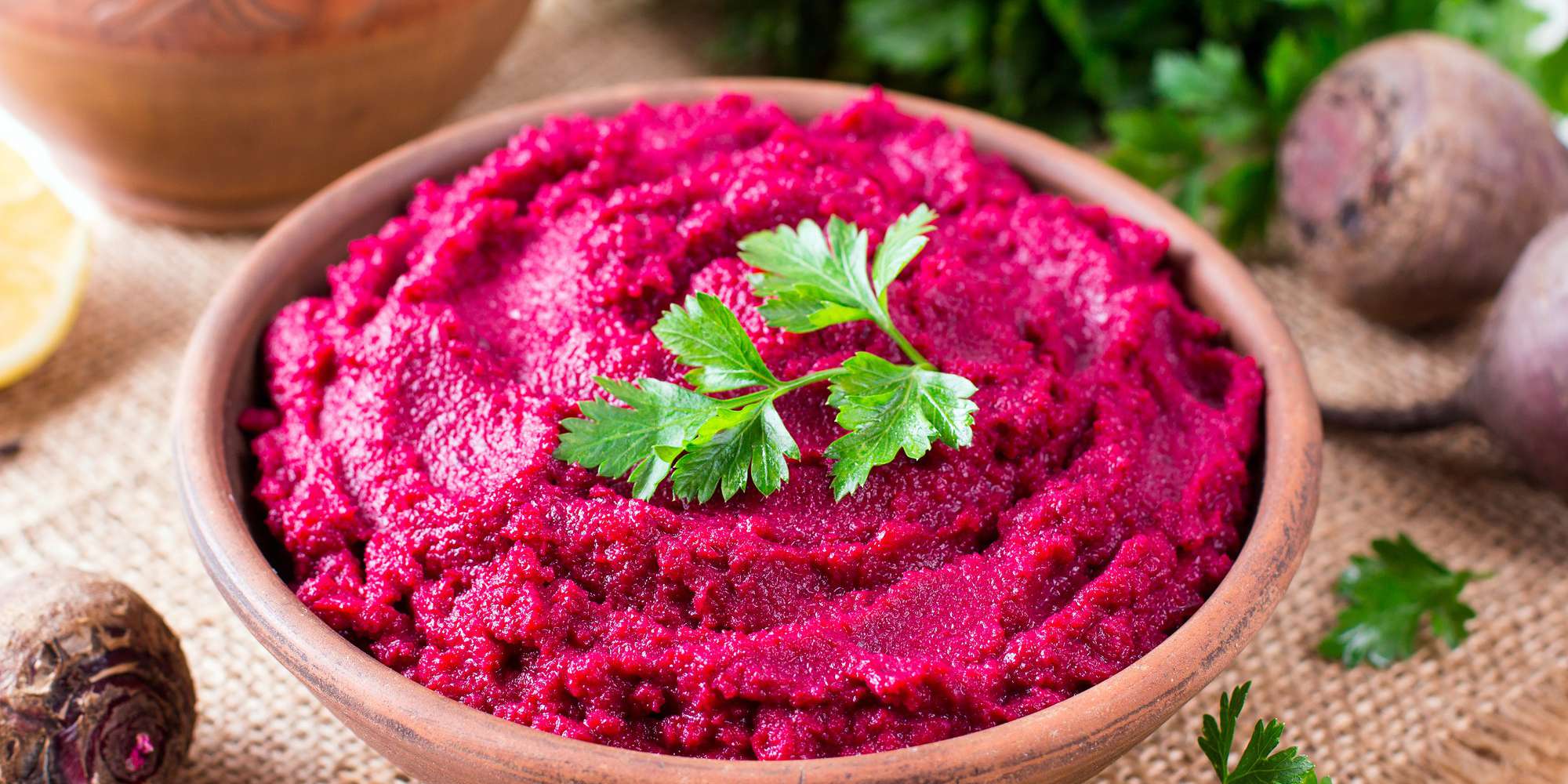 A delicious pink dip loaded with liver-loving benefits of beets.
Ingredients
| | |
| --- | --- |
| 3 beet(s) | Beets, raw (washed, trimmed) |
| 2 clove(s) | Garlic (quarted) |
| 1/2 cup | Tahini |
| 1/2 cup | Sour cream, light |
| 1 tbsp | Lemon juice |
| 1/2 tsp | Kosher salt |
| 1 dash | Black pepper |
| 1 tsp | Extra virgin olive oil (to serve, optional) |
Instructions
1. Preheat the oven to 375 degrees F and line a large baking sheet with aluminum foil.
2. Prep your beets and place them on top of the baking sheet and fold the edges of the foil over to create a pouch (the beets should be completely enclosed in foil). Lay pouch on top of a baking sheet to avoid any dripping onto the bottom of the oven and roast until tender, about 1 hour. Let cool.

3. Once the beets are cool, slough away the beet skins with your fingers (or a paper towel) and discard. Cut beets into wedges and transfer to a food processor. Add the garlic, tahini, sour cream, lemon juice, salt and a few grinds of fresh pepper into the food processor and process until smooth and creamy. Taste and season with additional salt and pepper if needed.

4. Scoop into a small serving bowl. Drizzle a spoonful or two of olive oil over the top of the dip if desired. Serve with pita, crackers or wedges of crusty bread. Store leftovers in the refrigerator in an airtight container for up to 3 days.
Notes:
Quick Tips:
Use full-fat Greek yogurt instead of sour cream.
Use dairy-free yogurt (Soygo or Silk) instead of sour cream for a dairy-free, vegan alternative. You can find dairy-free yogurt in your health food section at your local grocery store.
---
Nutritional Highlights:
Beets
Beets are low in calories and a great source of nutrients, including fiber, folate and vitamin C. Beets also contain nitrates and pigments that may help lower blood pressure and improve athletic performance.
Nutrition Facts
Per Portion
Calories from saturated fat
26.6
Polyunsaturated Fat
4.8 g
Monounsaturated Fat
5.2 g
Dietary servings
Per Portion
| | |
| --- | --- |
| Meat Alternative | 0.6 |
| Milk Alternative | 0.4 |
| Vegetables | 0.6 |
Energy sources