Crispy Warm Black Bean Tacos
13
30
554
Ingredients
Minutes
Calories
Prep
Cook
Servings
10 min
20 min

4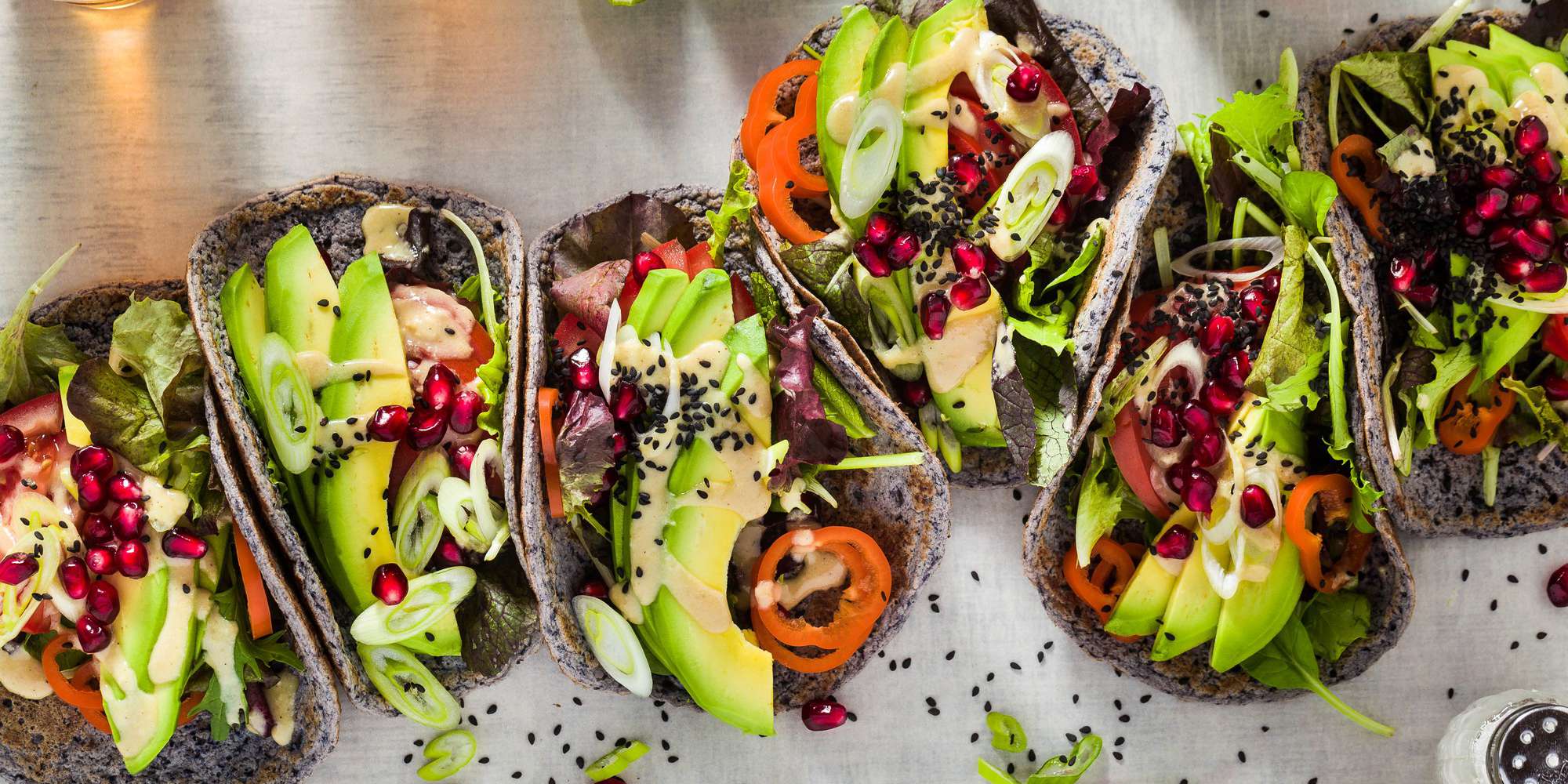 A cross between a hard-shell taco and quesadilla. Feel free to get creative with the fillings by changing the type of bean or using chicken or steak instead.
Ingredients
| | |
| --- | --- |
| 2 tbsp | Grape seed oil (for frying) |
| 1 can (15oz) | Black beans, canned (drained & rinsed; Bean Filling) |
| 1/2 cup | Red onion (minced; Bean Filling) |
| 2 clove(s) | Garlic (minced; Bean Filling) |
| 2 tbsp | Cilantro (coriander) (minced; Bean Filling) |
| 1/2 tsp | Cumin (Bean Filling) |
| 1 tsp | Paprika, smoked (Bean Filling) |
| 1 pinch | Salt (Bean Filling) |
| 8 medium tortilla(s) | Tortilla, corn |
| 1 cup, shredded | Cheddar cheese, sharp (topping) |
| 1 avocado(s) | Avocado (topping) |
| 1/4 cup | Salsa, ready-to-serve, low sodium, hot/medium (topping) |
| 1/4 cup | Sour cream, 14% M.F. (topping) |
Instructions
1. In a large, non-stick skillet add oil and heat over medium-high heat.
2. Mix the bean filling by combining beans, onion, garlic, cilantro, cumin, paprika and salt in a bowl and tossing.
3. Add one corn tortilla at a time and let each get hot in the oil for a few seconds. Then add about 1/4 cup of the bean filling to one half of the tortilla. Top with a sprinkle of grated cheese. Try not to overfill the tacos, or you might have issues flipping them without losing filling. (see notes)
4. Using a spatula, carefully fold the other half of the tortilla over to form a shell. Press down lightly on the tortilla so it holds its shape. As the first taco cooks, move it to the side and begin a second one. Depending on the size of your pan, you can cook two or three tacos at once. A griddle will hold even more.
5. Cook each taco until they are nicely browned and crispy, about 3 minutes per side. When flipping the taco to cook on the other side, use a spatula and flip the taco toward the fold so the filling doesn't fall out. If your pan is very dry between batches, add more oil.
6. Place the cooked tacos in a warm oven while you finish the rest. If the tacos are very greasy, blot them with a paper towel before moving them to the oven.
7. Serve tacos with avocado, salsa and sour cream or toppings of choice. Enjoy!
Notes:
Quick Tips:
To make this super easy, you can simply skip warming the tacos and simply fill the taco shells with the ingredients and toppings.
---
Nutritional Highlights:
Black Beans
High in fiber which may help to lower the amount of cholesterol in the blood and decrease the risk of heart disease. Beans are also help in blood sugar management and weight loss.
Cilantro
This amazing herb has anti-inflammatory and antioxidant properties and has also been studied in helping the liver detoxify heavy metals.
Nutrition Facts
Per Portion
Calories from saturated fat
85
Polyunsaturated Fat
7.2 g
Monounsaturated Fat
10.2 g
Dietary servings
Per Portion
| | |
| --- | --- |
| Grain | 1.9 |
| Meat Alternative | 0.6 |
| Milk Alternative | 0.9 |
| Vegetables | 1.7 |
Energy sources