Crispy Tofu with Sesame-Ginger Dipping Sauce
10
30
277
Ingredients
Minutes
Calories
Prep
Cook
Servings
10 min
20 min

4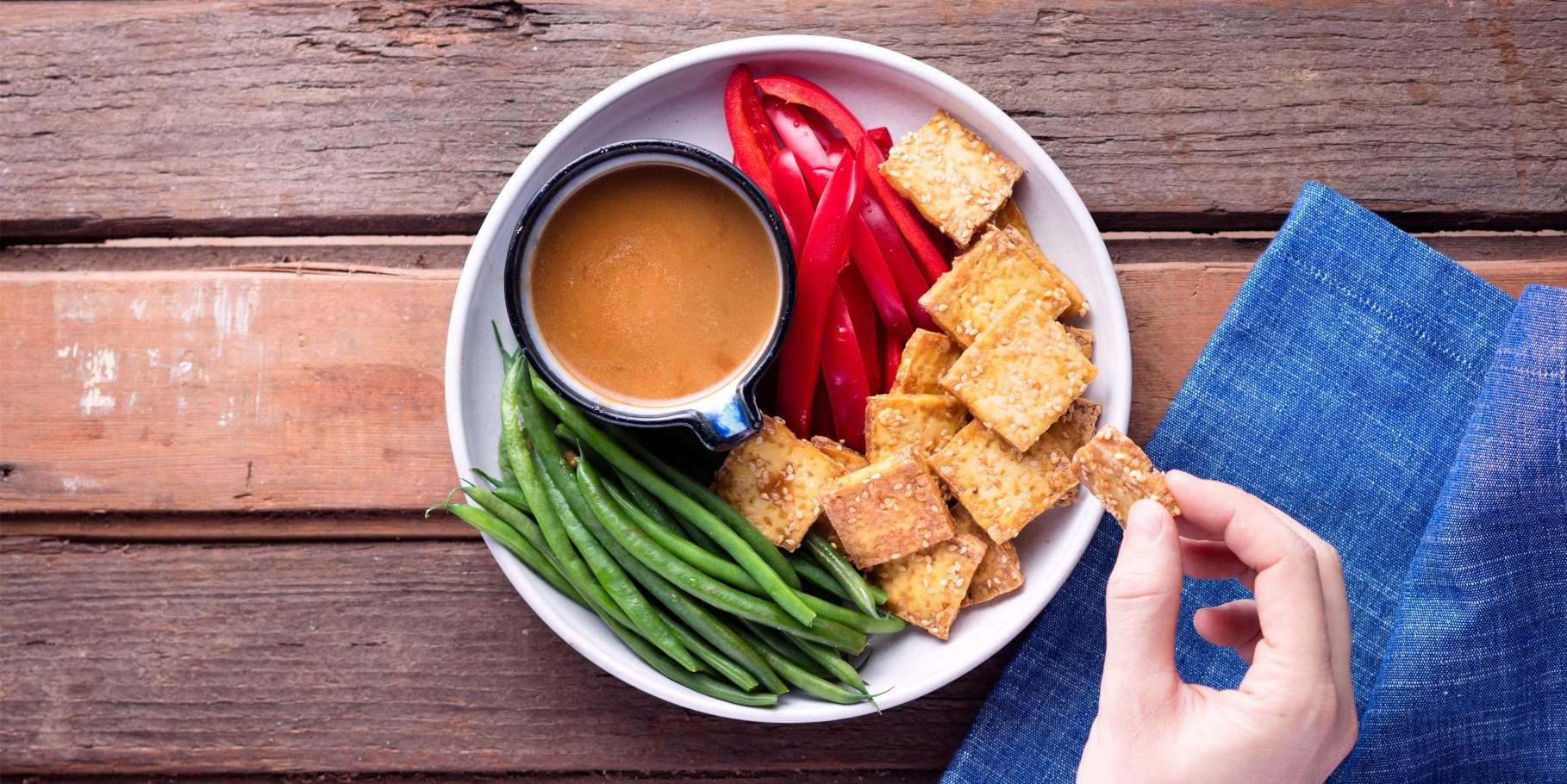 This crispy tofu is loaded with flavour and is paired with a fun sesame-ginger dipping sauce.
Ingredients
| | |
| --- | --- |
| 1 package | Tofu, regular, firm (drained of liquid) |
| 1 tbsp | Sesame oil |
| 1 tbsp | Sesame seeds |
| 1 tsp | Sea salt |
| 1/4 cup | Tahini (sauce) |
| 1 tbsp | Honey, raw (sauce) |
| 1 tsp minced | Ginger root (sauce) |
| 1 1/2 tbsp | Coconut aminos, Coconut Secret (sauce) |
| 1 clove(s) | Garlic (minced) |
| 1 whole lime(s) | Lime juice (fresh) |
Instructions
1. Preheat oven to 400 degrees F and prepare a large baking sheet with parchment paper.

2. Unwrap your tofu block and place it between two thick sheets of paper towels and place a flat, heavy object, such as a cookbook, on top. Leave to drain 5 minutes.
3. Cut the tofu into thin, 1-inch squares. Arrange in a single layer on the baking sheet, brush each side with sesame oil, and sprinkle with sesame seeds and salt. Bake in oven 15 to 20 minutes until crispy and golden.

4. While your tofu is cooking, prepare your sauce by adding the tahini, honey, ginger, coconut aminos, garlic and lime juice to a small bowl and whisk all of the ingredients together until thoroughly combined. If you'd like to thin it out a little bit add 2 to 3 tablespoons water to the bowl and whisk until smooth.

5. Serve tofu squares immediately with the sauce on the side for dipping.
Notes:
Quick Tips:
This dish makes a great side or snack but also acts as a salad topper or the main option for protein. Add sauteed vegetables and rice to the side to make it a meal.
Low-sodium tamari or gluten-free soy sauce work if you don't have coconut aminos.
Nutrition Facts
Per Portion
Calories from saturated fat
22.9
Polyunsaturated Fat
8.5 g
Monounsaturated Fat
6.0 g
Total Carbohydrate
13.8 g
Dietary servings
Per Portion
Energy sources