Crockpot Chicken
2
510
201
Ingredients
Minutes
Calories
Prep
Cook
Servings
30 min
8 h

12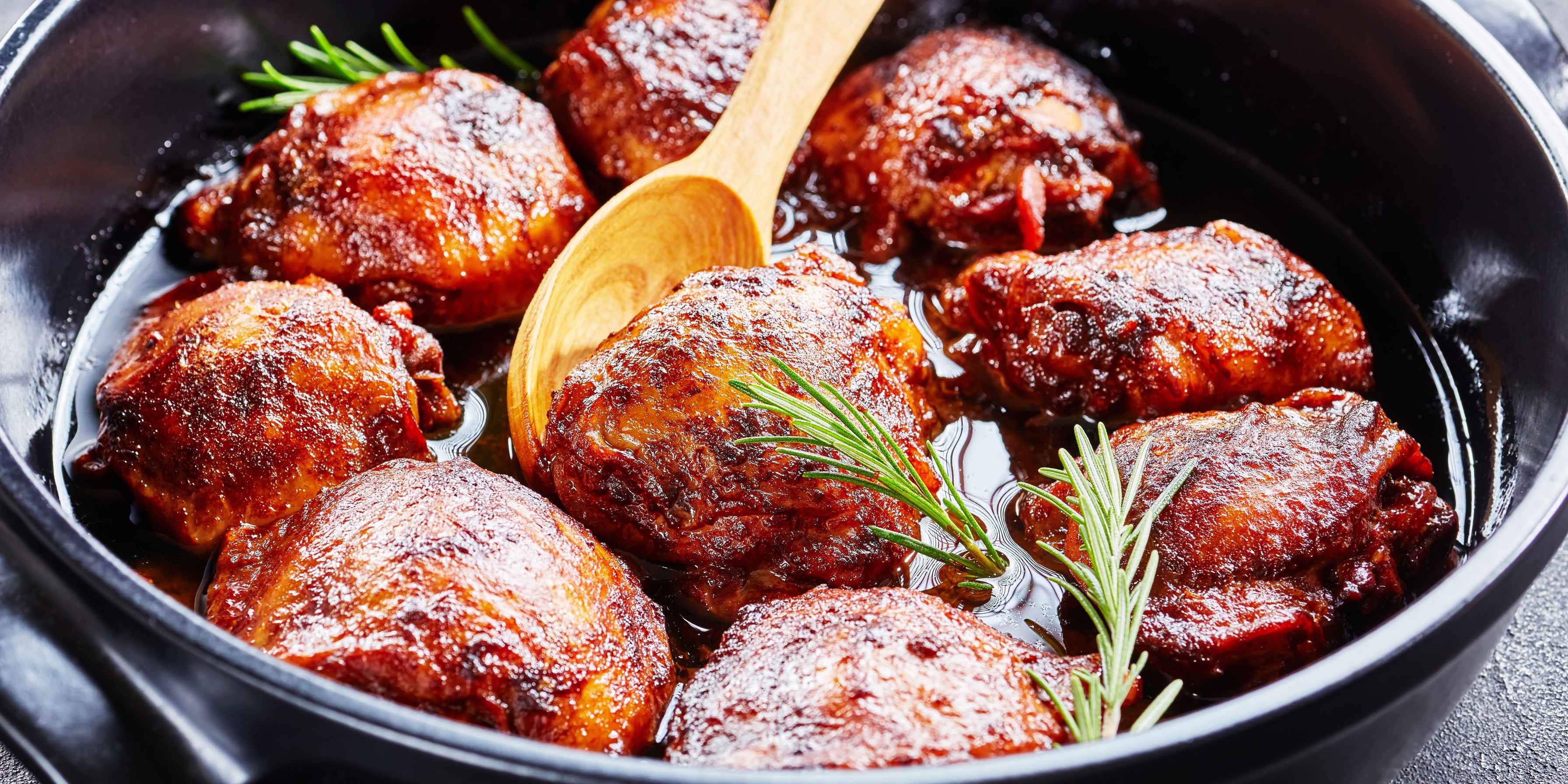 A hassle-free and easy meal that you can come home too
Ingredients
| | |
| --- | --- |
| 1 medium/large bird | Whole Chicken (about 5 pounds) |
| 4 cup | Water, filtered |
Instructions
Rinse the chicken. Reserve the neck and organs for stock.
Put the chicken breast side down in the crockpot. Add water. This water will self-baste the breast of the chicken during cooking, especially helpful for heritage breed chickens that may be tougher. Cover the crockpot. Turn to low and allow the chicken to cook for 6 to 8 hours.
Cooking time depends on your crockpot's heat output. In general, newer crockpots tend to run hotter than old crockpots. Optionally, turn the crockpot on high for the first hour of cooking, then turn down to low. This can be helpful if using an older, less hot crockpot. An older crockpot may require 10 to 12 hours of cooking time.The chicken is done when the meat falls off the bone easily. It is very easy to see this if the breast side is up (see picture, right), as the thighs will be splitting away. When the breast side is down, you can check for this manually by easing the thigh away from the body and checking for moist, tender, fall apart meat.
Transfer the chicken to a bowl, using two kitchen utensils as a platform, such as big spoons or spatulas. Cover lightly and let cool for a half-hour to 1 hour. Leave the cover to the crockpot partially off to let the drippings cool. When the chicken is cool enough to handle, remove all the meat from the bones, storing it in an airtight refrigerator container, or putting aside to freeze for future meals.
Save the bones for stock. When the drippings are cool, pour into a glass jar and store in the refrigerator.
Combine with the finished stock you are going to make, or use for making gravy or cooking grains or other soups and stews. If not using right away, store in the freezer for several months. When cooled, the fat on the drippings may be skimmed off for sautéing purposes, or spread on toast. You may also keep it with the drippings for gravies, cooking grains or soups.
Nutrition Facts
Per Portion
Calories from saturated fat
37
Polyunsaturated Fat
3.1 g
Monounsaturated Fat
6.0 g
Dietary servings
Per Portion
Energy sources