Crunchy Superfood Granola
11
40
512
Ingredients
Minutes
Calories
Prep
Cook
Servings
5 min
35 min

8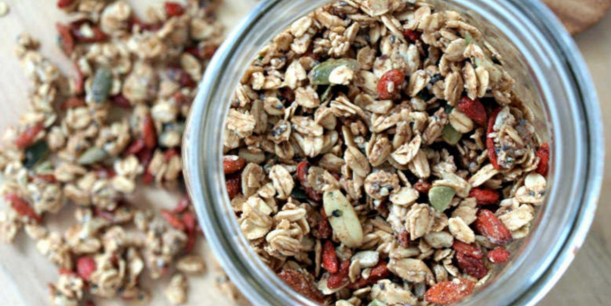 This superfood granola is loaded with plant-power and is easy to put together.
Ingredients
| | |
| --- | --- |
| 4 tbsp | Ghee (or coconut oil for vegan version) |
| 1/2 cup | Maple syrup |
| 1/2 tsp | Vanilla bean powder (mix with ghee for flavour) |
| 2 1/2 cup | Rolled oats, dry |
| 1 cup | Quinoa, uncooked |
| 1 cup | Sliced almonds |
| 1/2 cup | Flaxseed meal (ground) |
| 1/2 tsp | Salt |
| 1/4 tsp | Cinnamon |
| 1/2 cup | Cacao nibs, raw, Sunfoods |
| 1/2 cup | Goji berries (optional) |
Instructions
1. Preheat oven to 325 degrees F and prepare a large baking sheet with parchment paper.

2. Heat a medium saucepan on the stovetop over medium heat. Add the ghee to the warm saucepan, and let it heat for 10-15 seconds (be sure to not let it burn).

3. Next, stir in the maple syrup and vanilla bean powder (optional) and cook the maple syrup and ghee for about 30 seconds, until everything is combined.


4. In a large mixing bowl, mix together oats, quinoa, toasted almonds, ground flaxseed, salt and cinnamon. Stir well to mix. Pour wet ghee mixture over dry oat mixture and stir until all dry mixture is evenly coated. Spread evenly and thinly on the large baking sheet.
5. Add the baking sheet to the hot oven and bake for approximately 30 minutes, stirring halfway through. Granola is ready when it becomes dry and turns golden brown. Be careful to not overcook, the granola can go from done to overdone very fast.

6. Remove the granola from oven and let cool. Once cooled, add the granola to a medium mixing bowl and mix to combine cacao nibs, goji berries and any other toppings you desire. Store in jars for snacking or serve with yogurt, almond milk or applesauce. Enjoy!
Notes:
Quick Tips:
For grain-free recipe, replace oats and quinoa with chopped nuts and seeds.
Use coconut oil instead of ghee for dairy-free vegan version.

Nutritional Highlights:
Goji Berries
are excellent antioxidants, they may have anti-aging benefits, boost energy levels and are low GI and high in fiber


Nutrition Facts
Per Portion
Calories from saturated fat
84
Polyunsaturated Fat
5.9 g
Monounsaturated Fat
6.6 g
Dietary servings
Per Portion
| | |
| --- | --- |
| Fruit | 0.3 |
| Grain | 1.9 |
| Meat Alternative | 0.6 |
Energy sources