Curried Lentils, Sweet Potato and Cauliflower
11
45
276
Ingredients
Minutes
Calories
Prep
Cook
Servings
10 min
35 min

4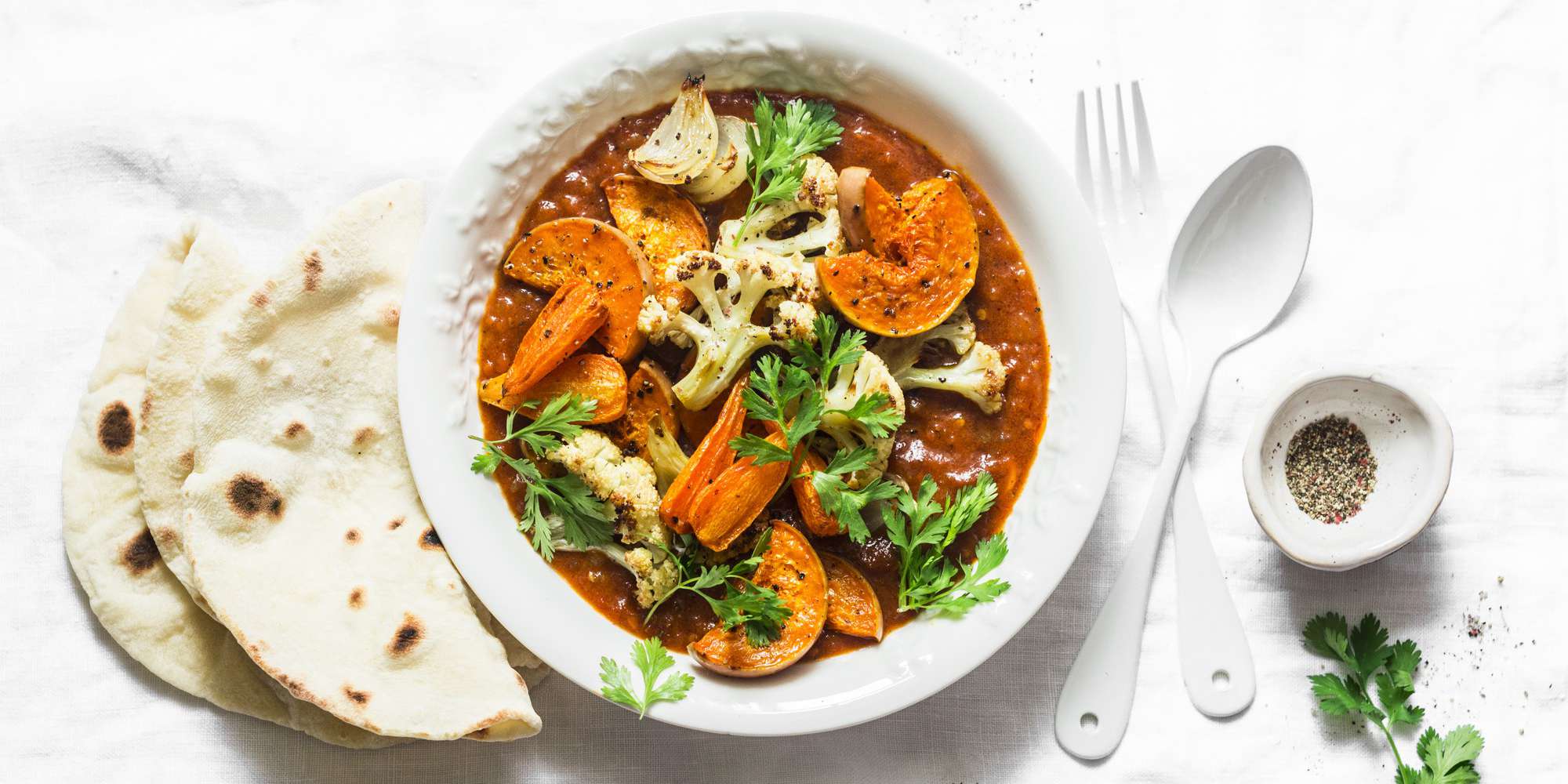 A hearty and flavourful vegetarian dish.
Ingredients
| | |
| --- | --- |
| 3/4 cup | Brown lentils, raw |
| 1 tbsp | Avocado oil |
| 1 large | Yellow onion (coarsely chopped) |
| 3 tbsp | Indian curry paste |
| 10 pods | Cardamom pods |
| 2 medium potato | Sweet potato (peeled and cut into 1/2 inch pieces) |
| 2 cup | Vegetable stock/broth |
| 1 small head | Cauliflower (chopped) |
| 1/4 cup | Cilantro (coriander) (chopped) |
| 1 pinch | Salt and pepper (or to taste) |
| 4 tbsp | Plain yogurt, 2-4% M.F. (optional) |
Instructions
1. Rinse lentils in cold water and drain. Prep all your veggies. Wash and then chop onion, cauliflower, sweet potatoes and cilantro.
2. Heat large, heavy saucepan over medium heat. Add avocado oil, onion and curry paste, stirring paste thoroughly into onion; cook, stirring constantly, for 2 to 3 minutes until fragrant.
3. Smash cardamom pods with large knife or meat mallet. Remove small brown seeds (discard pods) and stir into onion mixture along with sweet potatoes; cook for 2 to 3 minutes.
4. Stir in lentils and broth; cover and bring to boil over high heat. Reduce heat and simmer, covered, for 15 minutes.
5. Add cauliflower and return to boil; reduce heat and simmer for 8 to 10 minutes or until lentils and vegetables are tender.
6. Remove from heat; stir in cilantro. Season to taste with salt and pepper. Let stand a few minutes before serving with a dollop of yogurt if desired.
Notes:
Quick Tip:
Storage
Double or triple the batch and freeze leftovers for quick dinners. Ensure to fully warm through when re-heating to an internal temperature of 165F or 74C degrees.
Soaking
You don't have to pre-soak lentils before cooking, however lentils like beans have some anti-nutrients that are greatly reduced when cooked. Soaking further reduces those anti-nutrients as well as makes lentils easier to digest. You can choose to pre-soak lentils overnight for this purpose.
---
Nutritional Highlights:
Lentils
A heart healthy legume high in plant-based protein, fiber, B vitamins and iron.
Nutrition Facts
Per Portion
Calories from saturated fat
18.1
Polyunsaturated Fat
3.3 g
Monounsaturated Fat
8.1 g
Dietary servings
Per Portion
| | |
| --- | --- |
| Meat Alternative | 1.0 |
| Vegetables | 3.4 |
Energy sources